Dell Technologies and Amazon today announced that Amazon EKS Anywhere has been validated on Dell EMC VxRail hyperconverged infrastructure and Dell EMC PowerStore storage systems. EKS Anywhere is a new deployment option for Amazon EKS that enables customers to easily create and operate Kubernetes clusters on-premises while allowing for easy connectivity and portability to public cloud environments.
Dell Technologies collaborates with a broad ecosystem of public cloud providers to help our customers support multi-cloud environments that help place the right data and applications where it makes the most sense for them. Deploying EKS Anywhere on Dell Technologies infrastructure streamlines application development and delivery by allowing organizations to easily create and manage on premises Kubernetes clusters.
Across nearly all industries, IT organizations are moving to a more developer-oriented model that requires automated processes, rapid resource delivery and reliable infrastructure. In order to drive operational simplicity through Kubernetes orchestration, Amazon EKS Anywhere helps customers to automate cluster management, reduce support costs, and eliminate the redundant effort of using multiple open source or 3rd party tools for operating Kubernetes clusters. Dell infrastructure intelligence and automation streamlines operations, reducing downtime by 92% and making IT infrastructure teams over 68% more efficient.¹ The combination of automated Kubernetes cluster management with intelligent, automated infrastructure is truly a match made on-premises allowing IT organizations to provide infrastructure as code and empower their DevOps teams to be the innovation engine for their businesses.
Today's announcement includes certification of two infrastructure configurations based on our fully curated and turnkey VxRail hyperconverged infrastructure (HCI) system. The VxRail advantage is based on our unique VxRail HCI System Software which provides end to end orchestration and automation for all day to day operations and single click, full HCI stack lifecycle management for ease of operations. Customers can easily run traditional and cloud native apps on their VxRail deployments, eliminating the potential of DevOps silos. As the only HCI system jointly engineered with VMware, VxRail is the ideal platform for EKS Anywhere, which utilizes VMware vSphere to run VM-based Kubernetes clusters.
Amazon EKS Anywhere has been validated on VxRail with vSAN persistent block and file storage and our VxRail dynamic nodes have been validated to run with our groundbreaking Dell EMC PowerStore scalable all flash, intelligent and adaptable storage platform for primary, persistent block storage. Customers will enjoy the incredible compute performance, storage flexibility and ease of operations of Dell Technologies infrastructure and the flexibility of the EKS managed service.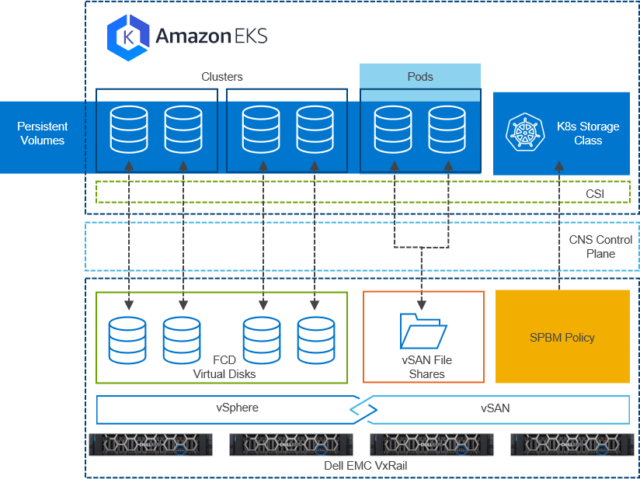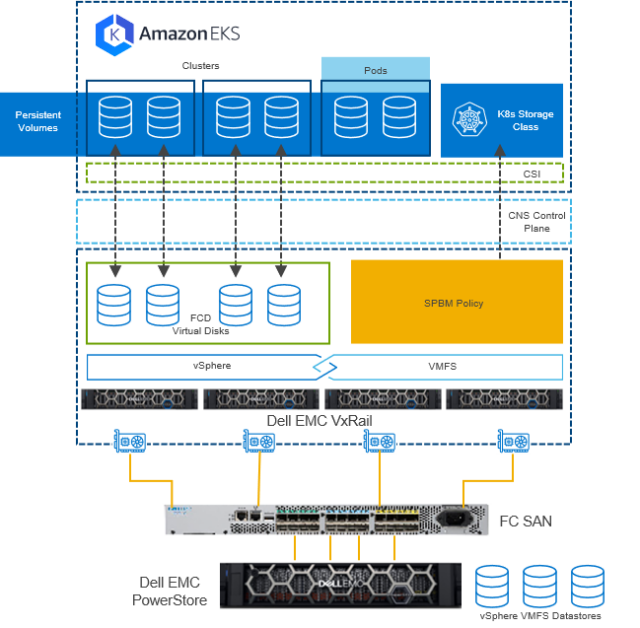 In each of the two validated infrastructure configurations, VMware Cloud Native Storage and its corresponding Kubernetes CSI driver are used. The CSI driver is leveraged by DevOps and platform teams to deliver dynamic and automated provisioning capabilities of EKS Anywhere Persistent Storage Volumes utilizing native Kubernetes APIs, enabling infrastructure as code operations.
VMware Cloud Native Storage in vSphere and vSAN enables customers to adopt a consistent operating model for cloud native storage with support for any vanilla Kubernetes distribution, all on their choice of underlying infrastructure architecture. In both VxRail configurations, DevOps and platform teams benefit from the same consistent operational experience that empowers them to innovate and deliver value for their organization.
Our work with Amazon reinforces the importance of on-premises infrastructure and Kubernetes orchestration integration in driving the future of IT. Customers can run their Kubernetes orchestration in the public cloud or on premises through a single console with EKS Anywhere, while at the same time having the reliability, security, ease of operations and global support that only Dell Technologies infrastructure can offer. At Dell Technologies, we are committed to transforming businesses and shaping the future of innovation and look forward to collaborating with AWS now and in the future on additional infrastructure platforms to make this vision a reality.
Additional information on EKS Anywhere can be found in today's announcement blog. For additional details on Dell EMC VxRail, visit DellTechnologies.com/VxRail and for more on Dell EMC PowerStore, visit DellTechnologies.com/PowerStore.
1 IDC White Paper: The Business Value of Dell EMC VxRail and VMware Cloud Foundation on Dell EMC VxRail. November 2020.