During the past year we have come to understand how critical IT is to business and how it must be a priority moving forward. The operating costs of data centers are becoming the largest expense of IT. IDC reports that the OPEX spend on IT will be around 300% more than CAPEX by 2023.
Most organizations prefer to consume infrastructure without worrying about the day-to-day operations. They often look to public cloud as the answer, as it allows them to focus on deploying and managing their workloads and applications rather than worrying about managing and maintaining the infrastructure.
While public clouds is an option, there are risks:
Data Density and Gravity: There has been huge growth in data. Many business applications require data to be as close as possible to the edge to optimize performance.
Cost: Cost becomes a factor when managing large sets of data. Ingress and egress costs also become a major hurdle.
Regulations: Due to strict governance and compliance rules related to data privacy and security, some companies might not be able to consider public cloud.
Many organizations like the public cloud model, where they can consume workloads without worrying about infrastructure, but encounter major obstacles as well. Dell hybrid cloud solutions and APEX eliminate these obstacles.
Dell hybrid cloud solutions… buy versus build
In order to build a hybrid cloud, IT organizations have many decisions to make around vendors, virtualization technology, automation, orchestration, security, monitoring, chargeback/showback, etc. Once those decisions are made and the components of the hybrid cloud solution are procured, they need to be installed, configured and integrated together.
So many decisions, so many areas of integration, so many things to integrate. And that is only for getting the environment up and running. What about upgrading this infrastructure? Or even updating the different software and firmware of all those components? IT needs to run through tens of compatibility matrices to make sure that software and hardware are compatible with each other and have to handle separate upgrade stacks on their own.
This is what Dell Technologies hybrid cloud aims to solve. Having a single platform that has infrastructure and a hybrid cloud solution that gets installed, configured and maintained as a single product, not only reduces time to market, but also day two operations, which reduces the risk of unplanned downtime.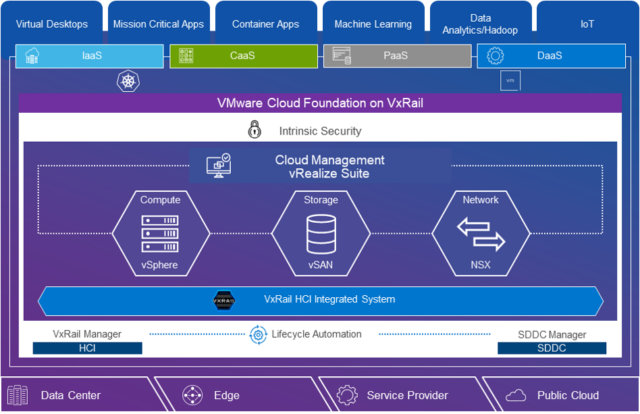 VMware Cloud Foundation on Dell EMC VxRail provides customers with a platform that is jointly engineered with VMware as a full stack, while taking into consideration day two operations with integration between software update stack and hardware update stack, to offer an end-to-end sustainability experience across the full solution.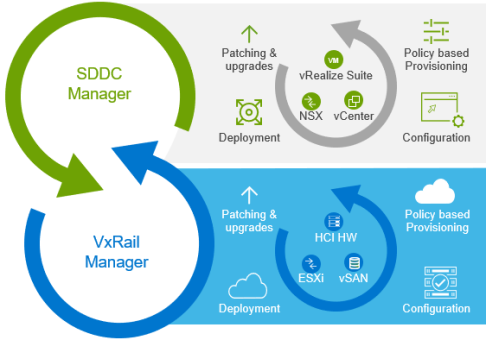 By deploying a standardized and validated network flexible architecture with built-in full stack lifecycle automation for the entire cloud infrastructure stack including hardware, VMware Cloud Foundation on VxRail makes operating the data center fundamentally simpler by bringing the ease and automation of the public cloud in-house.
In addition, VMware Cloud Foundation on VxRail includes end-to-end security built into every level of the infrastructure, from compute and management security, to micro-segmentation at the networking layer, to encryption at the storage layer. Understanding that security is one of the top priorities of the data center, it extends down into the hardware.
All of this is available with single vendor support through Dell Technologies along with choices for infrastructure delivery and flexible financial consumption options.
For those looking to extend to the public cloud, VMware Cloud Foundation is available as a service from VMware Cloud on AWS, Azure, Google, IBM, Rackspace and other cloud service providers, enabling a true hybrid cloud, based on a common and compatible platform that stretches from on-premises to off-premises for your VMs and containerized modern apps.
But wait, there's more – APEX
Another reason why IT organizations look at Public Cloud models is due to the flexible payment models that they offer. Many organizations want a custom, cloud-like experience on-premises. This is why Dell Technologies unveiled APEX earlier this year.
APEX allows Dell Technologies customers to consume solutions as-a-service and with different payment models such as: APEX Flex on Demand, APEX Data Center Utility, APEX Cloud and APEX Data Storage Services.
Each of these services allows IT organizations to consume Dell Technologies solutions with the same payment experience as the public cloud. Customers can simply log into the APEX Console to query, read and approve pre-invoice usage reports and pay only for what they are consuming. All while hosting the infrastructure on-prem.
These payment solutions can be coupled with managed services to take the load off of the organization's IT team and let Dell Technologies handle the nitty gritty details. With that, customers will have a true public cloud experience on-prem with a public cloud payment model so they can focus on consuming infrastructure and delivering new IT services rather than spending their time on keeping the lights on. This is a game changer.