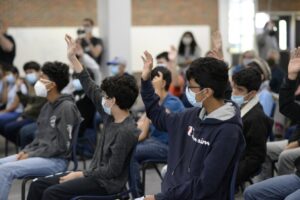 In the ever-increasing digital economy, every job will be rooted in science, technology, engineering or math (STEM). Dell Technologies is providing a real opportunity for students to discover where their career interests lie by bringing a simulated workplace to school. When students are given exposure to real-world devices in a professional environment, they discover their passion and turn what they love into a lifetime of persona fulfillment and career success. For nearly a decade, Dell Technologies has invested more than $70 million in STEM education to provide predominantly underserved youth access to the skills and technology needed to thrive in the digital world. Just last month, we took action to address the digital divide in our hometown of Austin by applying technology, digital literacy and connectivity to students.
Austin STEM Center Launch
Days ahead of the US Grand Prix in Austin, Austin Independent School District (AISD) and Dell Technologies celebrated the opening of a new STEM learning center at Northeast Early College High School by inviting McLaren Racing F1 drivers, Lando Norris and Daniel Ricciardo, to help tell students how they use their STEM skills in Formula 1. The drivers inspired the students to keep pursuing STEM, showing them that those skills could land them in any career they want — even on an F1 racing team.
The new STEM learning center will support AISD's career and technology training program, Pathways in Technology Early College High School (P-TECH), while offering students the opportunity to take college courses at no charge to the student and earn an associate's degree from Austin Community College in cybersecurity. The center also allows students to explore the latest in technology, including virtual reality systems, Alienware devices for e-sports, high-powered computer labs with Dell Precision workstations and an on-site data center that allows students to have hands-on experience.
Community and Industry Partnership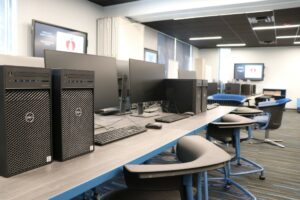 What started as an idea in 2016 to bring K-12, higher education and industry together to properly prepare students for high-demand tech jobs has grown and evolved alongside the technology itself. Dell was one of the first industry leaders to participate in P-TECH in Austin, guiding curriculum objectives and volunteering as mentors to give students the exposure needed to kick-start their careers. By going through P-TECH, students will graduate with both a high school diploma and an associate's degree – the majority of whom will be first-generation college students. Upon graduating from the P-TECH program, these students will be eligible to interview at Dell Technologies.
We've also partnered with several school districts, universities and companies on a variety of initiatives to drive interest and inclusivity in STEM including: Girls Who Game, Substitute Teacher, Student Tech Crew, AI for Workforce Program, and Connected Learning Centers. These authentic and engaging programs are intended to spark an everlasting interest through teaching students how to use science, technology, engineering, or mathematics to solve society's most pressing problems. These students are the future innovators, visionary entrepreneurs and leaders that will make the world a better place.