For kids growing up in East Palo Alto, a historically underserved community in the affluent Bay Area, having access to safe and enriching after-school programs has been a hurdle for many years. The city has long had to deal with challenges in the community. In recent times, though, much progress has been made. The chance to support these young students in their academic journeys struck a chord with us. It also aligned with one of our corporate pillars to support education, especially activities in science, technology, engineering, and mathematics (STEM).
From judging local STEM fairs to mentoring students at after-school enrichment programs to teaching coding classes at community libraries and more, our Global Giving and Doing team has supported the development of young leaders who will change the world. And we have an exciting new accomplishment to add to our list!
Launching a New After-School Youth Tech Lab
Western Digital, in partnership with the San Jose Sharks Foundation and American Council of Teachers, recently opened a technology lab for youth in East Palo Alto. The community space features brand-new laptops, tablets, printer, projector, furniture, and more for students to focus on learning — all within a friendly after-school space. Watch the video below to see how this year-long project came to life!
Refreshing this youth center didn't just happen overnight, though. Starting in 2018, our dedicated volunteers spent many weekends alongside passionate community members to renovate the space. They put hours into cleaning, putting together desks and bookshelves, repainting walls, setting up new equipment, and even more activities. In the end, we're proud to have contributed to a vibrant, kid-friendly technology lab that will help young learners succeed now and in the future. Here are just a few photos of our incredible volunteers hard at work!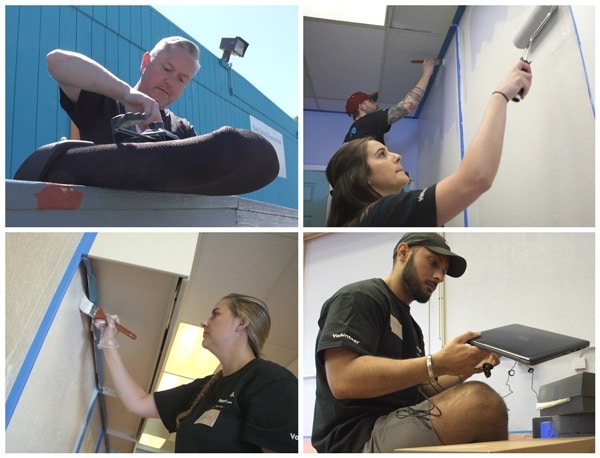 Accessible Technology Helps Students Succeed
During the grand reopening ceremony, Jonathan Smith, Vice President, North America Channel Sales at Western Digital, was interviewed about our role in supporting education through volunteering and technology. He shared the importance of building a communal place with accessible technology that welcomes and unites students in their studies.
"What we've done is help them build out this lab and bring technology into it: all-new computers, networking equipment, we put air-conditioning in and remodeled it. We just made it a very nice environment for [students] to learn." – Jonathan Smith, Western Digital
We are thankful to our incredible partners for making this space possible. With the ribbon officially cut and school year in full-swing, the possibilities of this new youth tech lab are exciting and inspiring!
Thanks to the @SharksCare and @westerndigital, the ribbon is officially cut on this amazing Youth Space in East Palo Alto! ??? pic.twitter.com/sXFDvOmEJ0

— San Jose Sharks (@SanJoseSharks) September 4, 2019
More about Our Community Impact: