Emily Yarid, aka Emily the Engineer, is a Mechanical Engineering graduate of Clemson University. Passionate about (re)creating props, Emily's come a long way since she built her first Iron Man suit out of foam and hot glue at age 14. She now regularly shares updates on her creations with her followers across TikTok, YouTube, and Instagram.
As a #DellInsideCircle member, Emily is constantly looking to outdo her previous creations and her Dell Precision 5750 mobile workstation and Dell UltraSharp 27-inch monitors¹ play an important role in making this happen. I recently sat down with Emily, to talk about her journey as a creator – both of things and content – and how technology supports her in her work.
Matt: What – or who – inspired you to pursue engineering as a career?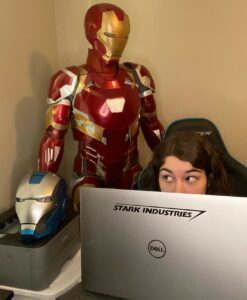 Emily: I always knew I wanted to do something STEM related. My dad is an engineer and had a workshop at home. He was always more than willing to show me how certain tools worked and what they were used for. By the time I was a senior in high school, I was certain I wanted to go into engineering. I had developed an interest in troubleshooting, figuring things out, learning about new materials I could use to build cool things. I also had a physics teacher who encouraged me towards the field when I was trying to navigate what to study at college. 
Matt: How did you get into 3D printing?
Emily: Our makerspace at Clemson University had lots of 3D printers, and I quickly became obsessed. I had always assumed that these printers were way too expensive for someone to own in their home but learned that wasn't necessarily the case. After printing some smaller things at my university, I decided to purchase one for myself to attempt bigger projects like the Iron Man suit.
Iron Man was particularly fun, because it involves recreating pieces of armor that have to work with one another, move, light up and so on. I look forward to tackling other functional props.
Matt: What attracted you to design stuff based on superheroes?  
Emily: My dad took me to see the Avengers when I was 13, and I became obsessed. The next summer it rained almost every day, so I spent a lot of time indoors and saw some builders on the internet recreating replica Iron Man suits out of foam. I thought I'd take a crack at it and built my first foam Iron Man suit that summer. I was proud of the project but didn't touch it much until several years later. Fast forward to junior year of college, after learning about 3D printing, I looked back on that project and knew I could do much better if I tried again.
Matt: What role does Dell Technologies play in your work?
Emily: Dell Technologies has played a huge role in my work. My Dell Precision workstation has been an absolute workhorse in helping me do my work while on the go, with anything from light browsing to hardcore modeling. And my new 27" Dell UltraSharp Monitors have already been the biggest help with multitasking, prepping models and more. So far, they have been insanely reliable and I enjoy using my PC setup more than ever.
Matt: What are your five tech must-haves?
Emily: My tech must-haves have changed over the years as my career has pointed more towards 3D printing and content creation. My PC and 3D printers are my top two tech must-haves, for obvious reasons. Without my PC to prep models, and my 3D printer to print, it would be a lot harder to do what I do. Behind those come my phone, microphones and cameras for the sake of content creation!
Matt: Which project are you most proud of and why?
Emily: I'm most proud of my most recent Iron Man suit. I built a suit for a recent convention, and was able to sand, paint, wire, solder, and strap everything together in around 2 weeks. There are things I'd like to fix, but for the limited time I had I was super proud of how it looked and how mobile it was!
Matt: As a creator, who inspires you?
Emily: Through high school, I enjoyed watching other builders on YouTube and seeing what they could come up with. Around the time I built my foam suit, I began watching the Hacksmith, and have always been inspired by what he and his team have been able to accomplish.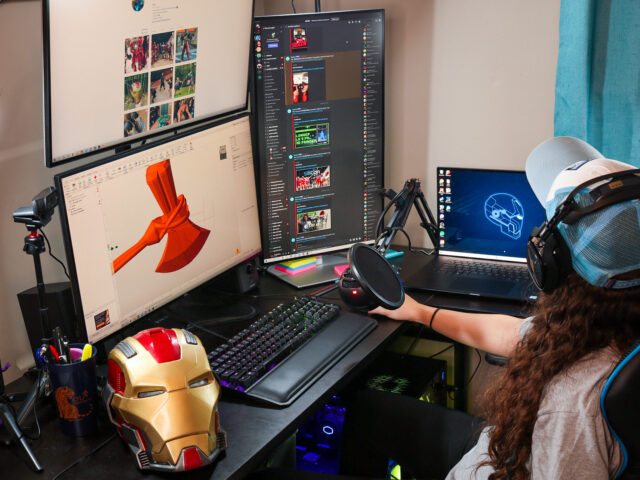 Matt: What advice do you have for engineers who are just starting out?
Emily: Get your hands dirty! Build things, assemble things, disassemble things to figure out how they work, etc. Throughout this hobby, I've learned a ton about 3D printing, different materials and how parts work together. What I learned on my own, outside of classes, not only translated to projects I had for school, but also helped me in different areas of work at internships.
Matt: Could you tell us more about your internships?
Emily: My favorite internship was at a manufacturing plant that created parts for cars. I was assigned to a specific line, so I was able to deep dive into that specific area. I learned how to troubleshoot and develop simple tools that may make a technician or operator's job easier which often required the creation of a physical part. We'd usually relay designs to a workshop, but they were so busy and backed up. So I asked if I could get the materials, cut a part or two and assemble it myself. I was able to ease their workload, get the job done quicker, and gain hands-on experience putting things together, which I enjoyed. I learned a lot from the workshop team about assembling things, and I learned a lot from the engineers and technicians concerning troubleshooting and developing solutions. 
How did you become a video content creator and YouTuber? Do you have any tips for content creators who are starting out?
Emily: I use my experience as a viewer to decide what I record and how I record it. Growing up, I watched a lot of videos about building and creating things, whether it be movie accurate props or a cool functional device. I specifically liked when the video creators weren't acting too seriously. As the viewer, it was the most fun to watch someone build something when they were having fun. As I started my career on TikTok and YouTube, I've taken that into account, and thankfully people have enjoyed it so far.
I'd encourage anyone in content creation, be it builders or others, to just have fun with whatever they're posting. Chances are, if you enjoy making the video, your audience will enjoy watching it as well!
What's next for Emily the Engineer?
Emily: As far as projects go, I have a lot of followers requesting a Star Wars related build, so I'll be looking into that and maybe some smaller functional props. As far as my career goes, I've thoroughly loved the content creation scene and getting to share my builds with people in general. Next, I will hopefully obtain a workshop of some sort, so I have space to work on my projects. As of now, I'm operating out of my apartment, so getting a designated space for my work is my next goal.
In the future, if I were able to streamline everything and have all my tools/machines in one place, I would be interested to launch a store to sell prints or designs.
Featured photo credit courtesy of Emily Yarid.
¹ Dell UltraSharp 27 4K USB-C (U2720Q) and UltraSharp 27 (U2722D) Monitors