We are excited to announce the release of Ditto Director — an app that allows you to remotely manage and moderate screen mirroring connections from an iPhone or iPad. 
Get Ditto Director for free on the App Store.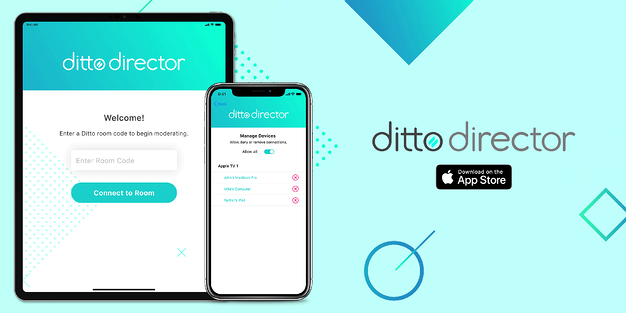 Ditto Director is a free companion app to our Ditto screen mirroring solution. The app allows users to act as a moderator during wireless collaboration sessions. Use it to approve or deny incoming mirroring requests before a device can mirror to your TVs or other displays. Additionally, it provides an option to remove devices that are already connected. 
Ditto Director makes in-person wireless collaboration more organized. It's ideal for classrooms, presentations or meetings. The designated moderator, such as a teacher, meeting leader or producer, can use Ditto Director to dictate who can share content as well as when they can share.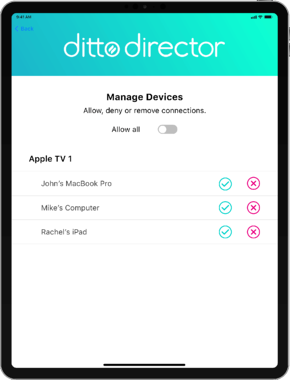 Education-ready
Moderation capabilities were heavily requested, especially in school environments. Ditto had existing methods to prevent unwanted screen mirroring connections from individuals looking to disrupt class, such as masked connection information and required on-screen codes. The release of Ditto Director puts more control in the teacher's hands. When a Ditto receiver is moderated, students will not be able to share content to classroom displays without teacher approval. 
How Ditto Director works
An active Ditto account is required to use Ditto Director. Moderation with Ditto Director is enabled on all accounts by default. The Ditto account admin can disable Ditto Director for their organization in the Ditto Account Portal.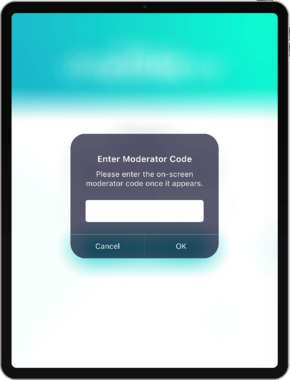 The moderator downloads Ditto Director on their iPhone or iPad from the App Store. Enter a room code for the Ditto receiver(s) you would like to moderate. Then enter the moderator code. Depending on your Account Portal settings for Ditto Director, this code will either (1) appear on your Ditto receiver-enabled display or (2) will be a custom password known to the moderator. That's it! You will now have moderation capabilities over devices trying to wirelessly connect to the Ditto receivers in that space. 
Get complete Ditto Director user instructions here. 
Note: Only one iPhone/iPad running Ditto Director can be paired to the receivers in a "Ditto room" at a time. In other words, you can't have more than one director in the same space. However, an iPhone/iPad running Ditto Director can pair and connect to other Ditto rooms. Additionally, Ditto Director is not compatible with legacy Ditto receivers. Compatible Ditto receivers include Apple TVs running tvOS and Windows devices.  
Get Ditto Director
Ditto Director is available on iOS and iPadOS for free on the app store.
Share wirelessly like a pro at work or school
Ditto brings cross-platform, multi-display and multi-device screen mirroring capabilities to any space. It's the best and easiest way to share content wirelessly in collaborative environments. Ditto is trusted by some of the biggest names in tech and education. Try Ditto free for 30 days. 
Related Reading