Small and medium-sized businesses can manage their networks just fine with a few basic tools, but enterprise-level businesses with high-density, demanding environments need much more. Resorts, universities, luxury condos, senior living communities, and distributed enterprise networks with hundreds—even thousands—of devices need a host of high-level management features designed to give administrators better control and higher visibility.
Massive networks are not only difficult to manage, but they are also highly vulnerable to cyberattacks.
An astonishing 90 percent of enterprise data breaches are caused by phishing attacks, costing businesses billions of dollars every year in lost revenue and downtime. Rogue devices are often the gateway to such attacks. Large industries operate at pervasive levels and handle highly sensitive data that could devastate businesses and customers if it were to fall into the wrong hands.
To make matters worse, the proliferation of IoT and edge devices has created even more wireless attack surfaces than ever before, putting even more companies at risk. To handle these threats, there are at least ten management features massive networks must have.
Professional Network Management Features You Need
1  Wireless Intrusion Detection/Prevention Systems (WIDS/WIPS)
The bigger the company, the more relentless the cyberattacks on it. Special security access points have dedicated radios that scan the environment non-stop for such attacks—evil twins, rogue APs, flood detection, man-in-the-middle attacks, and radio frequency jammers—without degrading network performance at all. These APs are different from basic APs that scan only during non-peak times.
2  Spectrum Analysis
An enterprise IT team needs to know when dense pockets of users or other circumstances suddenly interfere with an access point. Wi-Fi spectrum analysis is a professional grade analysis tool used to determine what (physical objects, wireless appliances, other networks) might be interfering with signal strength.
3  Client Timeline
A client timeline allows IT admins to track the behavior of a user. To get an intuitive and historical view of client devices, the tool allows admins to easily see how clients associate, authenticate, and roam among access points. It is extremely useful when you need to debug or trace your wireless network.
4  Pre-Shared Keys
Pre-shared keys allow you to automatically assign a unique password to each client on a network. The EnGenius tool MyPSK allows you to create up to 500 unique passwords instantly for each network (SSID). If you have more than 500 users, you can create another SSID to handle the next set of users up to 1,000, and so on. It saves serious time if you have hundreds or thousands of clients.
5  VLAN Pooling
To prevent broadcast traffic from flooding the network, the access point will randomly assign a VLAN (from a pool of user-defined VLANs) to each client device. The user will stay connected to the same VLAN even if they roam within range of other access points. This segments the users and their traffic to increase network efficiency and prevent traffic flooding on a single network.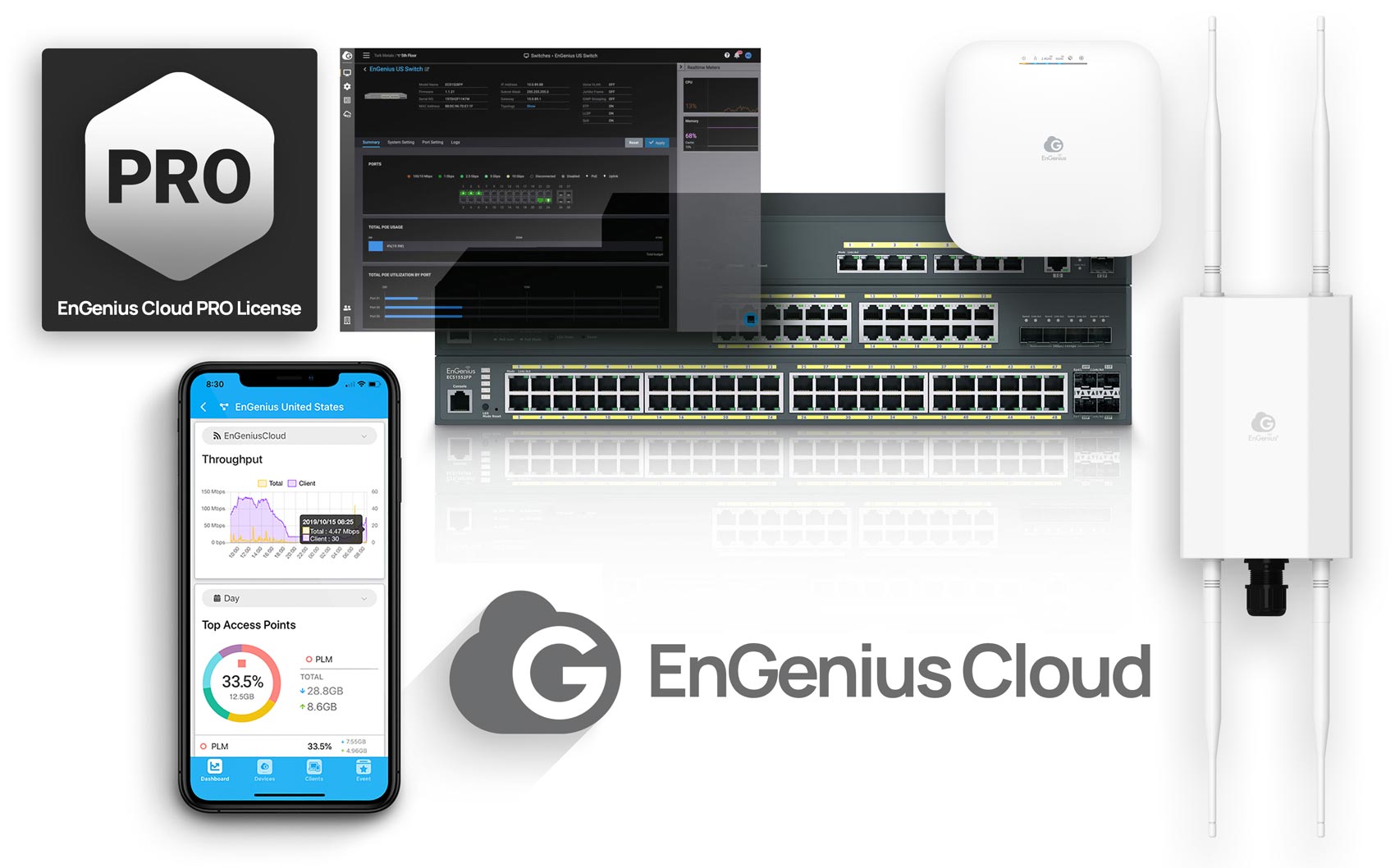 6  Customized Network Reports
For tracking the status of your network, you can get network reports customized to your needs. Some platforms allow you to quickly design the cover, select the content, and schedule the report to be delivered automatically to its recipient.
7  Advanced Alerts
You can minimize potential issues by setting up event-based alerts and receive push notifications through the EnGenius Cloud app. Advanced alerts also allow you to monitor your network 24/7 for rogue devices and other security threats.
8  General User Settings
The EnGenius PRO platform allows an increased number of network admins, increased number of cloud radius users, and increased number of cloud voucher users.
9  Backup and Restore
Protect your network settings with the backup and restore feature, which allows two backups of network and individual device settings. The protect function prevents a backup from being accidentally overwritten.
10  Switch Template
The switch template allows the administrator to configure many switches at one time. Admins can easily create profiles for a group of like switches.
Getting Your Hands on These Essential PRO Features
These "professional" features give your IT department the control it needs to easily manage, monitor, control, and troubleshoot dense networks with multiple users. And now EnGenius has its own version of this advanced platform called EnGenius Cloud PRO. Contact us to learn more about how it works!
For a limited time only, we are offering the EnGenius Cloud PRO package free for one year. Learn more and get yours today!
---