By Monica Hauser
If you were to search #WeAreLenovo, you would normally find an array of posts from Lenovo employees doing innovative technology demos or showing off their Lenovo pride, teamwork, or volunteerism in the community. However, since Giving Tuesday, the #WeAreLenovo has been taken over by employees' #Unselfie, showcasing the causes they care about most.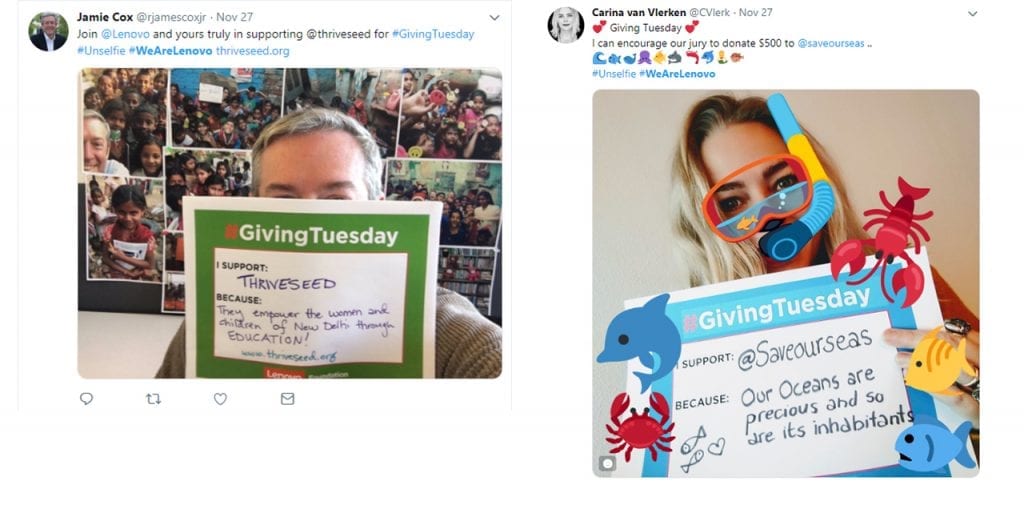 #GivingTuesday is a global giving movement fueled by the power of social media and collaboration. It is always celebrated the Tuesday after Thanksgiving (in the U.S.) following the Black Friday and Cyber Monday consumer holidays. This year, #GivingTuesday resonated with people around the world as a reminder to give back to charitable causes during the holiday season.

As a global company, Lenovo has a special opportunity to engage its employee base in Giving Tuesday, providing the #Unselfie social media campaign as a platform for employees to share the causes they care most about. Employees who participated by using #Unselfie and #WeAreLenovo hashtags in their posts were automatically entered in a random drawing to win $500.00 USD for the charity they highlighted. The randomly selected winners are below, but you can also view some very creative posts below.
Thanks to everyone who participated in the #Unselfie campaign!
A few favorite posts from the day: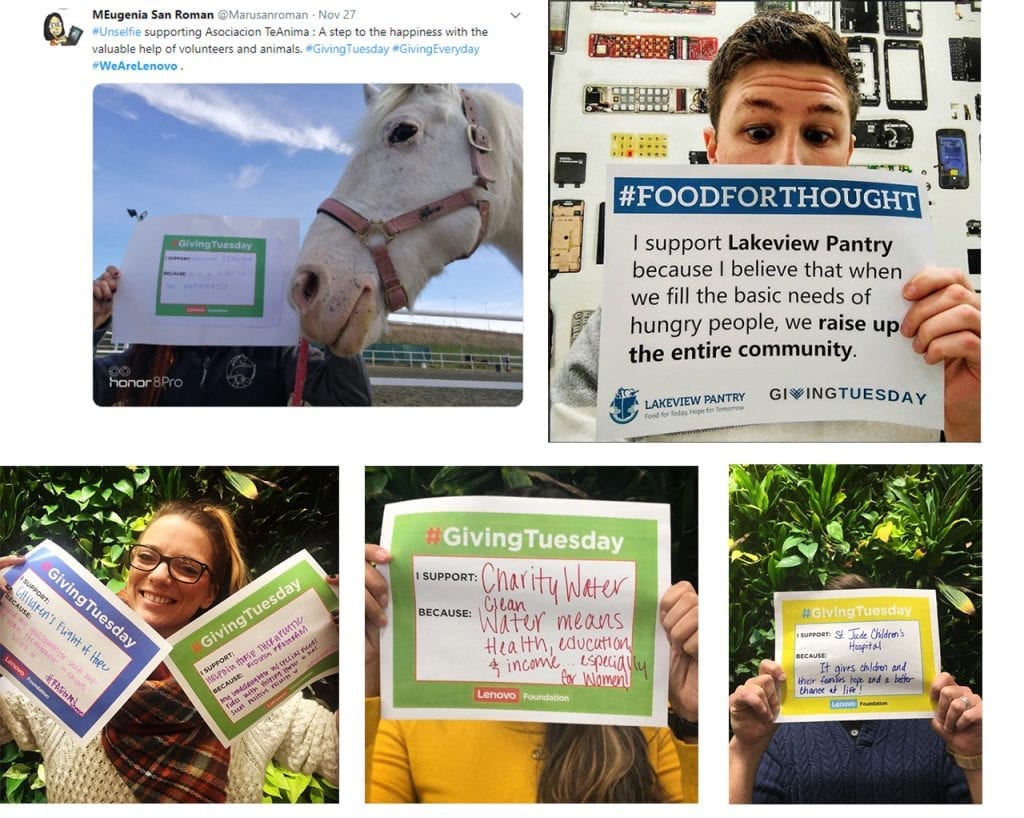 $500 Winners (Selected at random):
Posted by Ryan Piggie, Inside Account Sales Manager II in Morrisville, USA
The Alzheimer's Association's mission is to eliminate Alzheimer's disease through the advancement of research; to provide and enhance care and support for all affected; and to reduce the risk of dementia through the promotion of brain health.
Posted by Maria Eugenia San Roman Rosano, DCG Sales Operations in Madrid, Spain
Teanima's main objective is to improve the physical, psychological, social and emotional health of people through animal therapy.
Posted by Laura Greenberg, Senior Inside Account Rep in Morrisville, USA
The Cystic Fibrosis Foundation is the world's leader in the search for a cure for cystic fibrosis. Nearly every CF-specific drug available today was made possible through funding provided by the Cystic Fibrosis Foundation.
Posted by Philippa Heath, Inside Channel Sr. Sales Manager in Chatswood, Australia
Monika's Doggie Rescue is a no-kill animal shelter that rescues and re-homes dogs from Sydney, Australia shelters.
Posted by David Casmer, Inside Account Sr. Sales Manager in Morrisville, USA
St. Baldrick's is committed to supporting the most promising research to find cures for childhood cancers and give survivors long and healthy lives.