Highlights
Although patient recruitment is essential for starting a clinical study, participant retention is even more critical to ensuring trial success.

Clinical trial retention largely hinges on how well research organizations can connect and communicate with participants.

An omnichannel communications platform maximizes retention by helping organizations conduct effective pre-trial interviews, develop comprehensive patient profiles, enhance information access, facilitate remote follow-ups, and get actionable insights for process improvements.
---
Bringing a drug to market is often a lengthy and demanding process. It can take an average of 7 to 10 years and, according to a recent study published in JAMA, ​it can cost as much as $1 billion to develop and launch a new drug when you factor in the cost of failed projects. Most of this time and money is spent on trials. Still, despite all the effort, clinical trials' success rates are shockingly low. According to an Oxford Academic report, only around 12% of all studies succeed.
Clinical drug trials fail for several reasons, ranging from a flawed design and not recruiting enough patients for the study to ineffective communication with participants, which contributes to high drop-out rates. HealthITAnalytics reports that, on average, 30% of patients abandon a trial halfway through, and 40% are only responsive until the fifth month.
Fortunately, research organizations have begun experimenting with technology to address the many challenges in clinical research. Thanks to advancements in omnichannel communications platforms, trial managers can now connect better with participants, minimize churn, and achieve superior trial results.
How omnichannel communications enhance retention and improve outcomes
Omnichannel communications can enhance patient retention and improve critical trial outcomes by helping organizations:
Conduct effective pre-trial interviews

with potential participants before enrolling them into a study

Develop comprehensive patient profiles

by aggregating data from numerous sources

Enhance information access

through a diverse range of engagement solutions

Facilitate remote follow-ups

, which minimizes the need for physical visits during and after trials

Get actionable insights

for process improvements by analyzing patient data
Conducting effective pre-trial interviews
A trial's success largely depends on the quality of candidates. Therefore, the more you know your participants before accepting them into the research, the better your shot at recruiting the patients that will see the trial through to the end. Omnichannel communication opens up your organization to a broader pool of potential participants and gives you the tools you need to reach out effectively.
Once you identify the ideal patients for your trial, you can conduct preliminary interviews using quick, convenient channels like video calls and online chats. These tools enable you to zero in more accurately on the suitable candidates before meeting them face to face or making significant progress with the trial.
Developing comprehensive patient profiles
Omnichannel communication uses various digital interaction channels, all of which collect different forms of historical and real-time data. For instance, using a mobile or web app to interact with participants and deliver questionnaires can help you gather valuable information about each patient's needs, preferences, schedules, and habits.
With this data, you can create tailored guidelines that ensure every patient adheres to the study's requirements and continuously feel motivated to participate.
Enhancing information access
In today's interconnected world, most people have developed a preference for rapid and seamless information access. Considering the complexities of clinical trials and what they demand from participants, it is critical that organizations provide timely and easy access to all necessary information. Rather than scouring through study pages for answers to simple questions, you can use an omnichannel communications platform to give participants direct responses from your engagement agents through a host of channels, including phone calls, instant messages, online chats, voice assistants, and virtual meetings.
The ability to access relevant information instantly not only improves trial performance but also enhances participant experience and empowerment, increasing their desire to continue with the study.
Facilitating remote follow-ups
An omnichannel communication solution includes remote engagement options like virtual calls and meetings, online chats, and voice assistants. These channels can help facilitate clinical trial data collection processes, verify the completion of care pathway activities, and enable participants to report health concerns, all without planning a physical visit.
Remote engagement options can also act as trial companions by offering participants some much-needed guidance, tips, and answers along their journey. That way, patients can feel valued and trust that the trials have their best interests at heart.
Getting actionable insights
Top-line omnichannel communications platforms use advanced analytics to provide valuable insights from collected data. With this intelligence, you can better understand and respond to participants' needs. The insights you acquire can also help you develop more informed conversations with patients by clearly revealing their history and motivation for participation.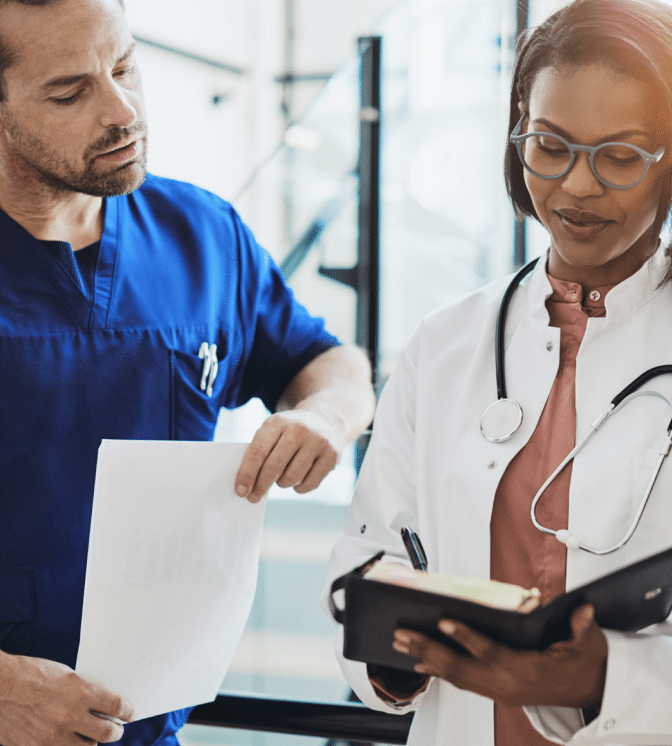 Clinical trial participant checklist
RingCentral can help you maximize patient retention for exemplary trial results
Recently, thanks to technology advancements and a growing acceptance of telehealth, interest in virtual trials has been rising, and more organizations are exploring how omnichannel communications platforms can help them execute studies efficiently without compromising research quality. Using a cloud contact center to enhance information access, facilitate remote interviews and follow-ups, develop comprehensive participant profiles, and retrieve valuable insights can help minimize patient drop-offs and significantly shorten deployment times.
RingCentral is the leading provider of omnichannel communication services. Working with us gives you a secure, scalable, and cost-effective cloud contact center tailored to your trial's specific requirements.
Contact a RingCentral expert today and learn how we can help you optimize communication between your team and patients for exemplary trial results.
Originally published Nov 02, 2021, updated Nov 03, 2021