Smartphones have revolutionized photography, offering an accessible and convenient option for capturing life's moments. However, the ease of smartphone photography has presented an ongoing challenge – the effective management of albums and storage. Thus, it is paramount for users to find a reliable solution for consistent organization and maintenance of photo albums.
Synology Photos is an on-premise photo management solution designed to accommodate the needs of smartphone users, making it easy for them to store and organize their memories while their personal data remains fully private.
However, on-premise photo management solutions often grapple with challenges such as power outages or network connection interruptions that can hinder album access. Below, we delve into how the Synology Photos team has overcome these obstacles to provide users with a seamless app experience, featuring smooth photo browsing, mobile accelerator, and efficient backups:

Discover Synology Photos
1. Seamless photo browsing at local speeds
Synology Photos requires a network connection to browse albums from mobile phones, meaning access times may be affected by unstable network environments. To mitigate the impact of network instability, Synology Photos employs three mechanisms to make mobile photo browsing as smooth as local browsing:
Photo caching of previously viewed photos
Photos browsed on the Synology Photos app are stored in the cache of the mobile phone so there's no need for another network transmission when viewing the same photos again, significantly speeding up photo access. When the cache exceeds the usage limit, the least viewed cached photos are removed first, to keep a healthy balance between storage and access speed.
Preloading non-viewed photos for instant display
When browsing the photos on the app, other photos are preloaded so that images can be fully browsed with no loading times when swiping to the next photo, allowing for faster access transmissions.
Local mobile photo matching
During photo backup, the Synology Photos app matches backups to the photos stored locally in the phone so that photo displays can be accessed without any network transmissions.
2. Leveraging mobile accelerator to boost performance
The Synology Photos app employs mobile accelerator to perform tasks with higher processing requirements. The processed results are sent back to the NAS, improving thumbnail generation, video conversion, and object recognition performance in the following ways: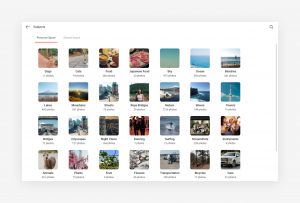 Accelerating thumbnail generation and video transcoding
Thumbnail generation and video transcoding can be resource-intensive processes that affect NAS performance. Therefore, during photo backup, Synology Photos simultaneously generates thumbnails, transcodes videos, and uploads them with the original files to the NAS. Once the file upload is complete, the NAS no longer needs to generate thumbnails and transcode videos, saving resources for other tasks.
Improving object recognition speed and accuracy
Most smartphones these days are equipped with a Neural Processing Unit (NPU) to accelerate machine learning tasks. During photo backup, the Synology Photos app leverages the mobile NPU for object recognition tasks before sending the results back to the NAS. This allows the NAS to focus on object classification while reducing memory usage on the NAS. All photos undergo a standardization process using bilinear interpolation to downscale images and normalize their size and format for optimal recognition results.
Local process and 100% data ownership
Synology's Machine Learning Team prioritizes user privacy whilst developing AI object recognition models. Data obtained with user consent is strictly used for training models and remains fully within the user's device. With robust privacy measures, Synology Photos enables users to actively contribute to AI model improvement while ensuring complete ownership and control over their data.
3. Maximizing backup efficiency
To conserve battery life, most mobile operating systems force apps to stop running in the background after a certain period, including backup tasks. To ensure continuous and secure photo backup, Synology Photos utilizes three mechanisms:
Background tasks
Synology Photos utilizes the mobile system's background task mechanism to perform photo backup tasks in the background when the phone is being charged.
Background push notifications
Background operations in mobile operating systems are unpredictable and may not always be stable. To address this, Synology Photos implements a background push mechanism. Timed push notifications are sent to the app, ensuring that backup tasks are performed regularly in the background even if the user hasn't opened the app for an extended period.
Focused Backup mode
When performing backups of a large number of photos, background backups may not be efficient enough. In such cases, enabling the Focused Backup Mode when your phone is idle is recommended. This lets Synology Photos turn off the screen and perform backups in the foreground, to efficiently back up a large number of photos within a shorter time frame.
| | Background Task | Background Push | Focused Backup |
| --- | --- | --- | --- |
| Backup Efficiency | Low | Medium | High |
| Background Execution | Yes | Yes | No |
| Limitations | Requires the phone to be charging; App might be forcefully closed due to iOS/Android limitations, interrupting backup processes | The timing of backup notifications is subject to limitations imposed by iOS/Android | Can only be executed in the foreground on the phone |
| Usage Scenario | Backup photos while the phone is charging | Continuously and periodically backup a small number of photos | Backup a large number of photos from phone to NAS in a short period |
Synology Photos is dedicated to providing a streamlined user experience with reliable mobile photo browsing, mobile accelerator, and backup services. The Synology Photos team is committed to overcoming technical challenges related to network connectivity and mobile operating systems. With the app, Synology Photos empowers users to conveniently store, manage, share, and revisit their memories at their fingertips.
Discover Synology Photos