Business, technology, and market conditions are changing faster and are having a bigger impact than ever before, accelerating organizations' digital transformation plans. At the same time, it's creating unique IT challenges and increasingly IT teams are being asked to shift from a center of operations to a center of innovation.
To accomplish this, IT teams need to deliver business outcomes by increasing speed, efficiency and productivity while also controlling costs. Many are looking to the ease and agility of as-a-Service models to help enable this. These models deliver on-demand scalability while shifting the burden of IT management back to the equipment provider, freeing up time to prioritize higher-value tasks.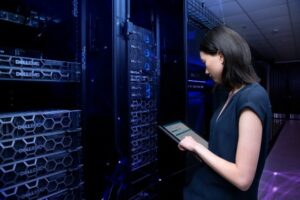 Dell Technologies APEX is our breakthrough portfolio of as-a-Service offerings that simplify digital transformation by delivering as-a-Service capabilities wherever they are needed with simplicity, agility, and control. With APEX, organizations can focus less on managing infrastructure and more on business outcomes by shifting the burden for IT management back to Dell Technologies – all with on-demand scalability.
Dell Technologies and Intel recently commissioned IDC to conduct a Business Value study to identify the value and benefits that organizations can realize with APEX.
IDC interviewed 17 current APEX customers to understand APEX's overall impact on IT operations, costs, business agility and bottom-line results. Study participants highlighted that the APEX flexible consumption model gives them enhanced flexibility and greater control over cost, allowing them to move towards a more cloud-like infrastructure environment without the need to fully migrate to the public cloud.
Study participants identified three primary benefits:
As you can see, Dell Technologies APEX adds a lot of value and can be a significant enabler for an organization's digital transformation. To learn more, read the full IDC report, The Business Value of Dell Technologies APEX As-a-Service Solutions.
Disclosure: Based on an IDC White Paper commissioned by Dell Technologies and Intel: The Business Value of APEX as a Service Solutions, August 2021. Estimates based on survey of 17 organizations using APEX as a Service Solutions, aggregated and combined into a composite organization. Actual results may vary. Full report