Lengthy healthcare waiting times cost lives – and form a key policy challenge in locations across the world. Over the last 20 years, governments have sought to combat this pressing issue, which has been exacerbated by significant population growth, and the onset of the COVID-19 pandemic.
With Dell Technologies poised to collaborate on next-gen healthcare transformations, the promise to build resiliency into organizations and deliver better, more accessible care for all patients means delays in wait times can firmly be addressed.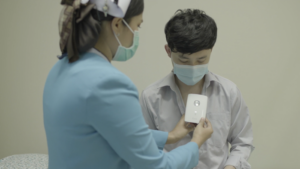 Look no further than Thailand's leading healthcare provider Ramkhamhaeng Hospital (RAM) for an excellent example of digital innovation that puts patients first. With a network of seven sister hospitals and 40 medical facilities, its healthcare leaders recognised the need to improve services with digital technologies. Answering to increasing pressures throughout the pandemic – with the need for greater accessibility and growing patient workloads – they set the wheels in motion for a tech collaboration that would accelerate national recovery and define a new frontier of healthcare.
Cutting patient wait times with digital transformation
Together with Dell Technologies, RAM boosted staff efficiency is enabling an extra 400 patients per day to be seen, while reducing the time patients spend in hospital from 3.5 to 2 hours. This was achieved through the implementation of a digital health platform that supports remote patient consultations, giving clinicians flexible access and telehealth capabilities while maximizing uptime. This represented a milestone in the hospital's digital journey, providing a springboard for the delivery of new healthcare services with innovation at the core. This is just the beginning of a long-term partnership, the kind that will underpin the region's public health, societal and economic progress with more efficient and robust healthcare services – and healthier citizens.
Despite the many nuances and differences between healthcare systems around the world – the desired goals are universal. Dell Technologies is acutely aware of this, as we work with global healthcare providers to realize ambitious targets relating to the provision of more accessible services, higher quality patient outcomes and clinical support for staff. Meanwhile, RAM understood the important role of technology in enabling care providers to enhance the effectiveness of their services – and is now in the middle of its digital transformation journey.
Trusted partnerships: the foundation of future healthcare
"None of this can be achieved without a strong IT infrastructure and strong IT partner to deliver our goals," says Dr. Somburanasin, Executive Director, Ramkhamhaeng Hospital Group.
As part of this partnership with Dell Technologies, the hospital's management team set about achieving key objectives relating to wait times and patient care. This included modernizing the entire data center with advanced IT to automate management in a private cloud environment. RAM also started moving away from desktop and workstation-based data access to more mobile devices, so clinicians had the information required at the point of care. This approach is not only improving existing practices but integrating new ones such as telehealth.
Telehealth has been a lifeline for patient services throughout the pandemic and enabling the continuation of this progress is critical to future care. The hospital now has a solid foundation for improvements in care quality and access, as well as the data processing and storage capacity to run the kinds of applications that will continue to transform its healthcare services.
RAM has software built into its digital health platform to allow secure, remote data access for thousands of devices and highly effective day-to-day administration. Two thousand clinicians now have real-time access to securely encrypted patient data across client devices, including mobile, and can deliver virtual care to patients through video conferencing.
We have the partner we need with Dell Technologies to help us along our digital journey well into the future." – Dr. Pitchaya Somburanasin, Executive Director, Ramkhamhaeng Hospital Group
Technology enabling better patient outcomes
Driving this holistic success is the Dell Technologies Unified Workspace Technology – a portfolio of solutions that enables data security, simplifies management, and enables the ability to work remotely. Unified Workspace includes PowerEdge servers and VMware technology at its core, with ProSupport Plus services for enhanced IT support.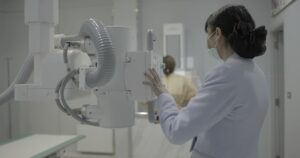 There is no workload more sensitive or critical than healthcare and as technology continues to transform its day-to-day services, ensuring uptime is maintained is more vital than ever before. "We have to be careful about the infrastructure we deploy and the providers we work with because the hospital is often dealing with life-or-death situations. We have a lot of trust in Dell Technologies, who is enabling us to deliver critical services with zero downtime."
As healthcare leaders around the world focus on boosting organizational efficiencies in the quest to shorten patient wait times and turbocharge care, it's vital that they look to trusted technology partners to share the burden. Together, we can catalyze progress that will benefit everyone, reinforcing more sustainable, equitable societies. In this global community, sharing expertise and embracing technological support is a critical enabler of our shared futures.
Learn more about the Ramkhamhaeng Hospital transformation and how to cut patient wait times through digital transformation.
Dr. Somburanasin says, "We view Dell Technologies as a partner that can help us grow and evolve. The Dell Technologies team understands healthcare well enough to provide us with the solutions we need."