The latest Ditto release brings new digital signage scheduling functionality that makes it easier than ever to display signage on your screens where and when you need it. 
Ditto users can now schedule digital signage to run during specific date ranges, days of the week and hours of each day.
Previously, users could only select which hours of the day a signage item appeared on-screen. This limitation required frequent maintenance for users and organizations with complex and ever-changing signage schedules. The new advanced signage scheduling functionality in Ditto provides greater flexibility and less time spent managing signage.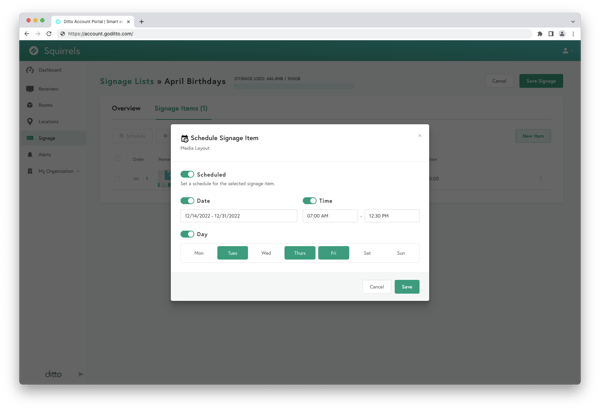 Advanced digital signage scheduling in action
For example, you could build and schedule a Ditto digital signage list (lists contain the items you want to display — images, videos, announcements, weather, etc.) to play on Mondays, Wednesdays and Fridays. Get even more granular with individual signage items in the list. Maybe the lunch menu should only appear from 11 a.m. to 2 p.m. on those days. Perhaps the live traffic cam begins to show at 4 p.m. so people can prepare for their commutes accordingly. Other signage items may need to show all day. 
The scheduling possibilities are nearly endless. Ditto gives you the power to choose what works best so you can keep signage maintenance time to a minimum.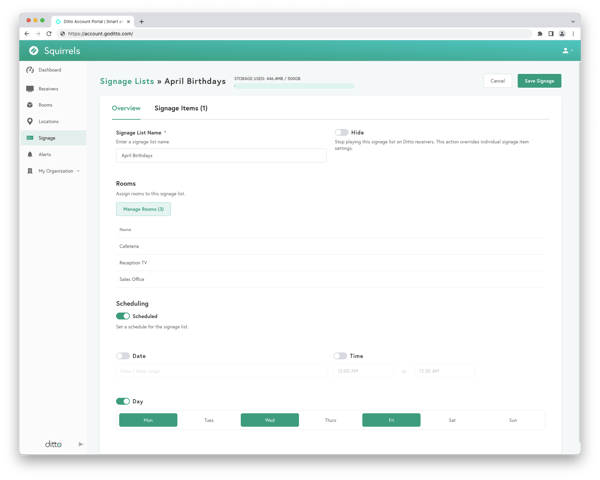 Signage item duration
Existing Ditto signage list functionality allowing users to set the duration between each signage item in the same list remains available.
Ditto Account Portal UI/UX updates
The digital signage section of the Ditto Account Portal was redesigned to make the user experience more consistent across the portal. The redesign will help users master Ditto tools, features and navigation faster than before.
Additional updates
We listened to customer feedback and added "mass action" functionality to key areas of the Ditto digital signage experience to make managing and scheduling signage more efficient. Instead of scheduling each individual signage list or item one at a time, users have the option to apply settings in bulk. This update further reduces signage management time and provides a better overall signage experience with Ditto.
How to schedule digital signage with Ditto
Want more details? Get step-by-step instructions for using the latest Ditto digital signage scheduling and management features.
Get Ditto 
A Ditto account is required to use digital signage. Create an account and try Ditto free for 30 days.
Collaborate wirelessly like a pro at work or school
Ditto brings cross-platform screen mirroring and digital signage capabilities to any space. It's the best and easiest way to share and display content in your spaces. Ditto is trusted by some of the biggest names in tech and education.
Related Reading