At a glance
Today, we'll look at what winning customer engagement in financial services actually entails and what strategies work best, including:
Make a good first impression with a well-planned and -executed onboarding program.
Develop a customer experience map.
Customize the user experience with personalized features.
Offer comprehensive, cross-channel service and support via a unified communications solution.
---
🖥️ 💸 📱👩🏼‍💻 The digital age in financial services has arrived. Are your digital engagement strategies ready? Grab our eBook to get up to speed.
---
Even with industry emphasis on digitization, it is customer engagement that remains the most critical success factor in the financial services sector. The good news is that your tech infrastructure gives your business the tools to engage a digital-centric market. The challenge is to combine your tech capabilities with a customer-first culture.
4 strategies to optimize customer relationships
The following is an overview of some of the most effective strategies your financial services business can employ to optimize customer relationships and results.
1. Make a good first impression
The tone for customer engagement is established at the onset of a customer's relationship with your business. People and businesses put a lot of faith and trust into the banks and credit unions with whom they entrust their money. Thus, making a good first impression is critical to reassuring that trust and starting a good relationship.
An onboarding process is a planned sequence of communication with new clients. This process begins with welcome and introduction messages immediately after a customer establishes a relationship with your business. It continues with regular messages educating the customer on your business and their particular accounts.
Other topics typically included during financial services onboarding include:
Information on the local branches near the customer

Tutorials on topics related to the customer's accounts

Guide to your website and mobile app

Instructions on privacy and security best practices
Your onboarding sequence pace is important as well. A common strategy is to send daily messages during the first week of a relationship with a customer. These daily messages should address the key facets of your user experience and the customer's accounts. Following that initial week, the pace of delivery often spreads out to a week, and then a month. The ideal scenario is to engage customers actively to strengthen the connection without overwhelming them.
2. Know your customer's journey
To engage your customers effectively, you have to know where they are in their buying journey and why. To get there, develop a customer experience (or journey) map, which identifies all of the critical steps in the buying process from initial research through post-purchase implementation.
Throughout that typical journey, there are touch points where the prospect is interacting with your website, app, or in person at a branch. The first stage in the buying journey is the initial research, which brings prospects to your digital platforms. For each of your pathways (website, app, branch, or other), map out the steps involved to evaluate product options, complete applications, and finalize accounts.
After you map out the entire journey, focus on the pain points (points of frustration or anger) and opportunity points (points of indifference). Consider how you could more effectively engage the prospect during the key points to address common questions or issues that get in the way. This proactive approach to engagement at critical junctures will boost conversion rates and customer satisfaction.
3. Customize the user experience
User experience is the sentiment your customers have regarding all aspects of their interaction with your business. According to McKinsey & Company, the majority of U.S. consumers, 71 percent, expect companies to offer some level of personalization in the experience they provide. And even more, 76 percent, become frustrated with companies that do not personalize.
In a digital-centric environment, much of the user experience takes place on digital platforms, such as your website and mobile app. A custom user dashboard is central to a personalized UX. You can include only the features, account details, and resources that matter to each individual client. This information is gleaned from primary research or through behavioral data analysis.
The following McKinsey chart indicates results from a McKinsey survey in which customers were asked which personalization actions matter most during a first-time purchase with a business. An experience that's "easy to navigate" received the highest response, with 76 percent noting its importance.
The majority of items identified in the survey involve some type of engagement between the provider (digital or interpersonal) and the customer, including relevant recommendations, tailored messaging, purchase follow-up, and personally addressed communications.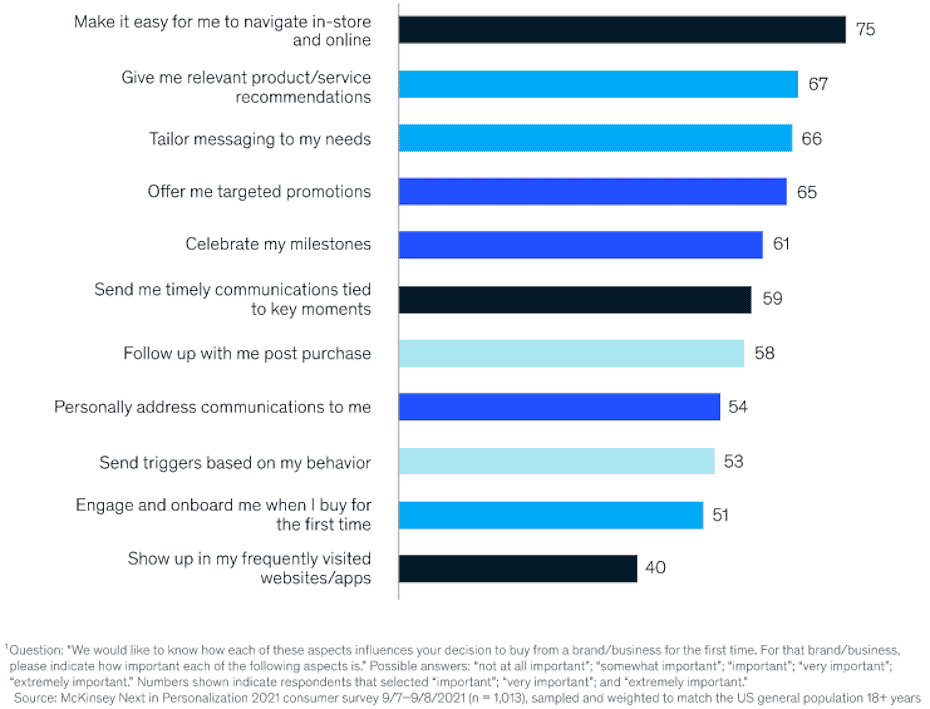 4. Offer comprehensive cross-channel support
Perhaps the most impactful time for personalization is when a customer has questions or needs help. Personalized service and support require a process of listening first, and presenting answers or the best resolution to the individual customer's circumstance. It is quite different from a standard, cookie-cutter approach.
A unified communications system is necessary for optimized, personalized support. The personalization begins with skill-based call routing. After a few question prompts, the customer is routed to the support rep that has the requisite skills or experience to help.
Cross-channel solutions allow each of your reps to engage with customers across all common communication methods, such as chat, email, phone, and web conferencing. Notes from calls are recorded and organized so each subsequent interaction allows for easy reference. If customers have a preference for a particular agent, it is easy for your employees to transfer the customer.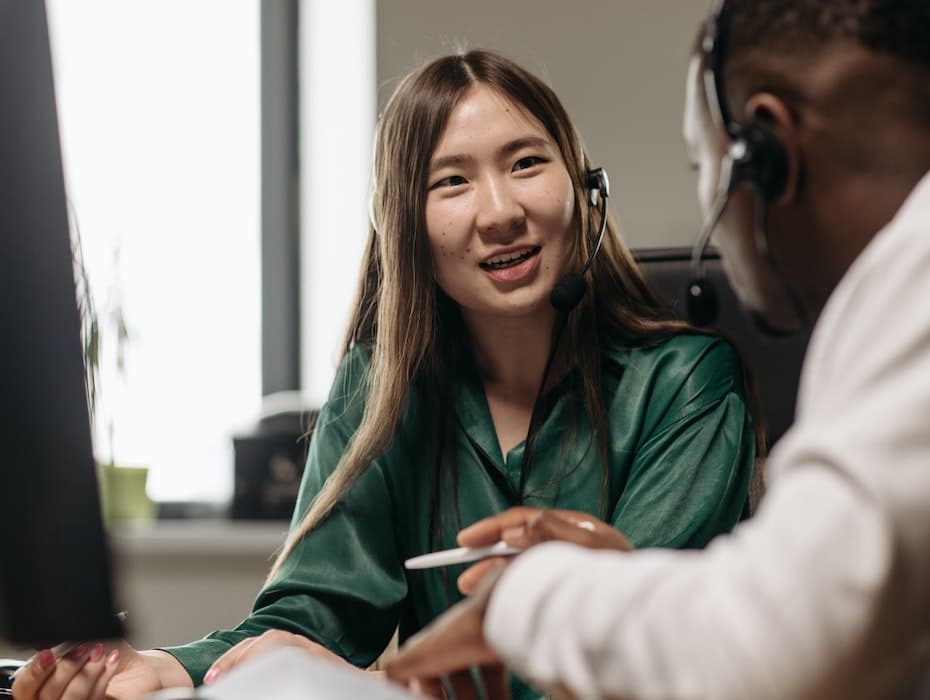 Prevent agent burnout with new financial services contact center strategies
Let RingCentral help engage your customers 
The synergy between a customer-oriented culture and advanced digital technology is powerful. Financial services companies that manage to find balance in both of these areas are most likely to survive in an extremely competitive industry.
A unified communications solution is one of the most integral tech tools to strike that balance. RingCentral's comprehensive, cloud-based solution gives you the ability to seamlessly support your customers across all popular communication channels. It is foundational to efficient and effective internal collaboration. It also has best-in-class security protocols. See how it works today!
Originally published Jul 18, 2022, updated Aug 04, 2022
Work together from anywhere with messaging, video conferencing, and phone calls—all in a single platform.