Putting up with lousy phone equipment but don't want to replace your current phone system? If the complaints below sound familiar, we have the solution:
• "I can't reach him when he's in the warehouse."
• "I've tried her phone, but she must be away from her desk."
• "He could be out back, but the phone signal won't reach there."
• "How come she's not on the store floor?" "Oh, she's expecting a call, so she needs to stay in her office."
These problems are entirely unnecessary. Businesses rely on rapid, efficient communication no matter where employees are on the grounds so that projects can be completed, customer service delivered, and tons of money made. When phone systems aren't working properly, it can be mildly annoying to downright infuriating. Oh, and the lost sales aren't nice either.
Business owners have no time for dropped calls, lost signals, and sketchy reception. In an attempt to remedy the situation, sometimes they will try DECT or Wi-Fi phones, but the former often doesn't have enough coverage and the latter slows down the data network.
That's where EnGenius long-range voice communications come in. For more than twenty years, EnGenius's claim to fame has been its voice solution—ideal for all kinds of massive properties like retail stores, warehouses, manufacturing plants, hotels, and assisted living facilities. You can even use this solution behind your current hosted or IP-PBX service.
The question is, why does it work so well? Here's why.
Range
The most important feature for large footprint facilities is range. Long-range wireless communications allow users to roam about the property to areas other cordless devices simply can't reach—trash bins, parking lots, gas pumps, and delivery areas. EnGenius phones use the 900 MHz spectrum versus DECT or Wi-Fi which, as mentioned before, suffer from insufficient range and interference. Specifically, the EnGenius DuraFon Roam is capable of the following ranges:
• 200,000 sq. ft. or 24 floors in-building (office) penetration
• 1,000,000 sq. ft. in warehouse/retail store
• 3,000 acres open land (farm/ranch) coverage
The DuraFon Roam also gives the advantage of range with minimal infrastructure in an unlicensed frequency band. No FCC two-way radio license is required, yet full, private communication capability is all yours.
Durability
Businesses with demanding environments require durable handsets able to withstand the abuse many consumer grade handsets can't handle. Specifically, the DuraFon Roam's durable, rugged handset is designed for use in harsh environments and tested to withstand 6-foot drops over 50 times onto concrete floor without breaking. This isn't your typical handset!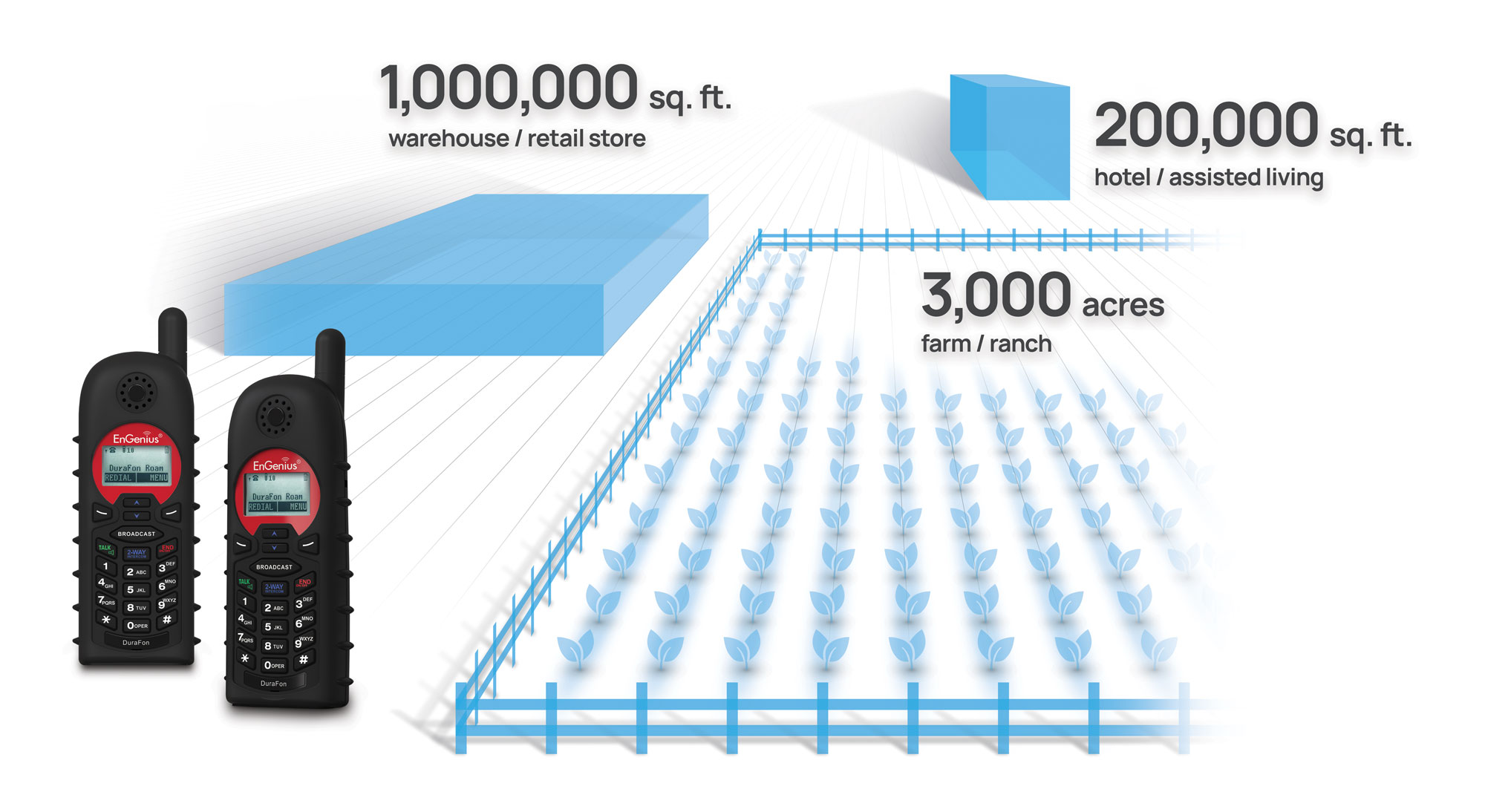 Simplicity
DuraFon Roam handsets are also insanely fast and easy to learn. Basic operation videos are available online to bring your new hires up to speed quickly. In addition to ease of use, the DuraFon Roam can handle power outages as well as remote monitoring and updates.
Power outage communication is available between handsets allowing for broadcast and intercom radio communication between handsets even if the power or internet service goes down.
In addition, the management GUI of the DuraFon Roam allows for the system to be rebooted, firmware updated, new handsets registered, and extensive reporting/management completed in a snap. Remote access for management, monitoring, and updating of DuraFon Roam equipment is free via EnGenius Cloud—saving on truck rolls to remote locations.
Functionality
These functions make the DuraFon Roam the choice for demanding business environments. Below is a sampling of our hottest technical features:
• The DuraFon Roam-HC handset is capable of phone calls, digital two-way radio broadcast, and private intercom.
• DuraFon Roam uses standard SIP protocol and can be used behind virtually any Hosted SIP service or with an onsite IP-PBX.
• Digital broadcast communication is available to all handsets or just a sub-group of handsets on 900 MHz, no FCC licensed required.
• A secure private wireless protocol prevents nearby FRS, UHF, or VHF radios from listening in or talking over your communications.
• Private intercom between handsets means telephone-style communications can take place between pairs of handsets.
• Phone calls can even be transferred from DuraFon Roam full-feature handsets and the DuraFon Roam-Walkie (two-way radio only) handsets.
It's time to get some relief from the maddening disruption, disconnection, and dismay of your old phone equipment. Pave the way for better communications and higher profits with the EnGenius DuraFon Roam phone system. Contact us to learn more or see if you qualify for a DuraFon Roam Starter Kit!
---