On June 15th Fiona O'Brien, Lenovo EMEA Chief Channel Officer & VP, ISO Sales Transformation & Enablement, visited the Dublin Tech Summit as part of Lenovo's delegation at one of the industry's most influential gatherings. Here are her reflections on the summit, and how we maximise our intelligent future for all. (You can view the summit recap video here.)
Visiting the Dublin Tech conference, it was inspiring to hear so many stories of new business opportunities being uncovered, new operating models being deployed and new technology accelerating the next frontier. This is a very exciting time.
But in the midst of all this disruption lies an opportunity – and it is incumbent upon all of us to seize it. It is no longer enough for companies to think only about how to adapt business strategy; it is imperative that we consider who is at the table and how we are building for the future.
So, here's why intelligent transformation not only needs good technology as a foundation, but also the cornerstones of sustainability, and diversity and inclusion.
Overlooked Pioneers
Looking back the tech industry has had a challenging reputation, with the phrase 'boys club' often bandied around. But this does not paint the full picture. Over the years there are many female and minority individuals who have overcome adversity and persevered, making significant contributions to tech innovation.
Names that spring to mind include Ada Lovelace, who 200 years ago wrote the first algorithm that today powers the phone in your hand. And Veena Sahajwalla, who removed the need for coal from the steel production process using recycled tyres and polymer injection technology.
Both huge contributions in the face of adversity – and proof positive of how many potential discoveries could be missed if we don't bring diverse contributors to the table.
So, if the tech sector is to effectively deliver intelligent transformation, we should be aspiring and championing the types of transformation these pioneers enabled. That's my hypothesis: intelligent transformation not only needs good technology as a foundation, but sustainability, and diversity and inclusion as cornerstones.
Speaking of Veena, I am drawn to her belief that: "Waste is not a problem to be managed; it is an opportunity to be explored." This is how we should be thinking today.
The e-waste dilemma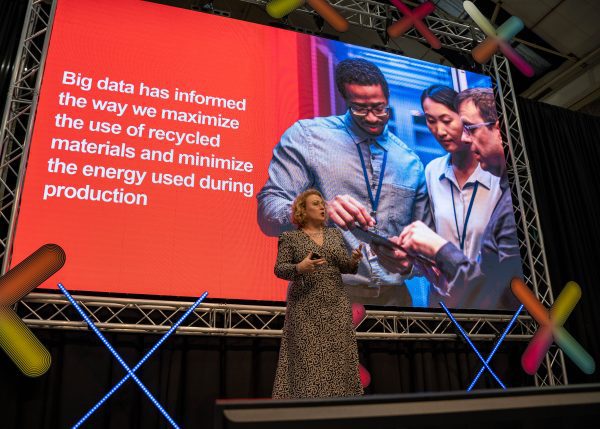 IT is at the heart of the so-called Fourth Industrial Revolution. From connectivity and AI to robotics and the metaverse, a tremendous amount of computer power is needed to drive innovation. But with this level of creation, inevitably comes waste.
Our dependence on tech has resulted in global electronic waste growing by 21% between 2014 and 2019. That is a whopping 53.6 million metric tons (or enough e-waste to fill 22,000 Olympic-size swimming pools).
The scale of this problem needs to be addressed, and we now must be asking how we can drive sustainability inside out – starting within our company, and then subsequently for our customers and the world.
We're taking action to ensure we are moving towards a more sustainable future, setting out our vision for net-zero emissions, but it is a long journey. So in the meantime, we're helping our customers to better measure and manage emissions through our C02 offset services.
This service gives consumers the option to compensate for the carbon emissions produced from the manufacturing to the shipping of their hardware, as well as the power that will be consumed over the device's estimated lifecycle.
Alongside this, we're also using big data to look at the hundreds of thousands of components that go into our devices to find a way to maximise the use of recycled materials and minimise the energy used during production.
Diversity, Equity & Inclusion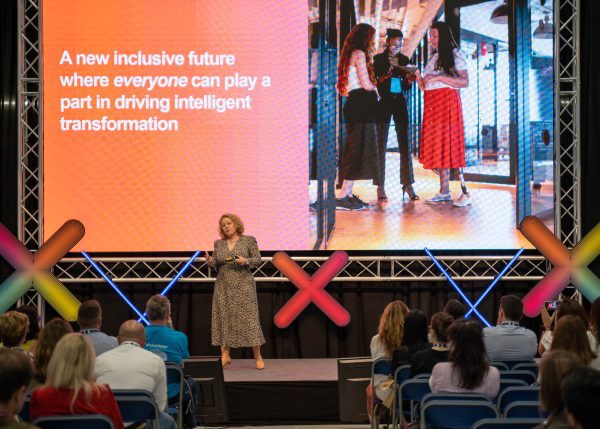 Smarter Technology for All is the way we envisage a world where every person, regardless of identity, has access to technology that allows them to achieve their own intelligent transformation.
And one important ripple effect of when companies take sustainability seriously is the ability to attract better talent, particularly from the younger generations.
In view of this, at Lenovo we're making sure inclusion is at the forefront of progress – harnessing a new generation of women, under-represented minorities, and people of all ages to ensure our own intelligent transformation is diverse and inclusive.
An example of the steps we're taking to place inclusion at the centre of our product and solution development is the Product Diversity Office.
The PDO is an internal team whose role is to drive criteria, development, and validation of technology in our products to ensure usability for a diverse customer base, minimising any bias inherent in the technology or product itself.
Our goal is to have 75% of all our products tested for accessibility by the Product Diversity Office by 2025, futureproofing our products and making sure they work, for everyone.
 A sustainable and inclusive future
Today's intelligent transformation needs to be sustainable, diverse, and inclusive by design and we all have a role to play in continuing transformational thinking led by trailblazers like Ada Lovelace and Veena Sahajwalla.
We are by no means perfect, and there is always more to be done. But by taking strides towards sustainability and inclusivity, Lenovo is ensuring the future of our business reflects the world we live in and the people who live in it.
I call on all of us to be ambitious in taking positive action on sustainability, diversity, and inclusion, to create a future that works for us all.