The big bet on hyperconverged infrastructures for the Software Defined Data Center (SDDC) started at VMworld® in Las Vegas and continues as European professionals will converge for the second leg of the event in Barcelona, Spain. This event brings a spotlight focus on cloud infrastructure, software-defined data center models and business mobility technology.
[Tweet "Making the #cloud and #VSAN faster with #NVMe and flash! New announcements at #vmworld"]
VMworld US Takeaways
At the US event, Western Digital® announced the availability of our SN150 PCIe NVMe drive which is rated at the highest performance level (Class F) for storage virtualization with Virtual SAN™ and compute virtualization with vSphere®. We also showcased Virtual SAN solutions developed with our OEM partners running business critical applications, databases, virtual desktops and other use cases.
One of VMware's key announcements at the US event was the VMware Cloud Foundation, which consists of vSphere, Virtual SAN, NSX® and the SDDC Manager. A key distinction of Cloud Foundation is its ability to be implemented either as a private cloud for an enterprise data center, or deployed as a public cloud by a cloud service provider. This enables enterprises to implement a simplified hybrid cloud model, distributing workloads across their private cloud and a public cloud, on demand, using a unified and consistent operational experience.
So what can you expect at VMworld Europe?
Maximum Performance – Welcome to NVMe
In Barcelona, Western Digital announced a new certification of a high performance PCIe NVMe 2.5" SSD, that utilizes VMware's Inbox NVMe driver, for Virtual SAN. The HGST-branded Ultrastar® SN100 PCI Express (PCIe) NVMe SSD will enable customers to use a high performance SSD to realize the maximum performance that Virtual SAN can deliver along with very low latency for databases and business critical applications using the convenience of an easy to deploy 2.5" form factor.
Maximum Capacity – 33.6TB of Flash Per Node
We have continued to work with OEM partners to bring out new Virtual SAN Ready Nodes which are designed to run the most demanding workloads in the SDDC, including business critical applications, virtual desktops, databases, business analytics and other web and cloud services.
The new Virtual SAN Ready Nodes from HPE, enable customers to choose tested configurations which are sized from 6.4TB of persistent flash capacity per node (see the AF-6: HPE DL380 Gen9 Ready Node details) and up to a configuration providing 33.6TB of capacity using the same server platform (see the AF8: DL380Gen9AF8 – 3 Ready Node and figure 1 below).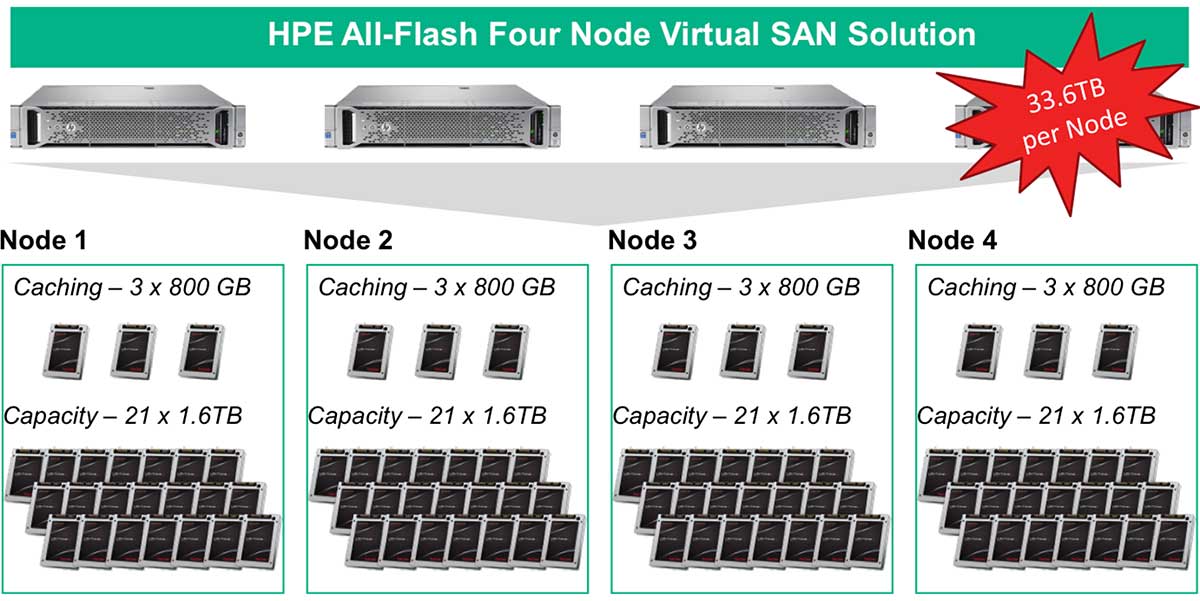 Customers can choose these pre-tested configurations or build their own using Western Digital portfolio of certified products for vSphere and Virtual SAN. In our booth, we will be demonstrating the high capacity VSAN Ready Node with over 100 TB of flash in a 3-node cluster.
Maximum Flexibility – The Public Cloud Goes Hybrid with VMware
In Las Vegas, VMware, Brocade and Western Digital demonstrated running business analytics in the SDDC using vSphere, Virtual SAN (in a stretched cluster) and NSX – the three key components of VMware Cloud Foundation. Cloud Foundation is creating a unique opportunity for customers who want to run their enterprise applications in a hybrid cloud model – that is – to distribute their applications and workloads across their own private cloud as well as in public clouds.
And it just got even easier to so.
In a big announcement this week, VMware and AWS announced a partnership to provide hybrid cloud services to customers – the VMware Cloud on AWS. This is a further development on the announcement by VMware and IBM at VMworld US. Many customers will look at the compelling option of deploying a hybrid cloud within their own company or partnering with IBM, AWS and other service providers to deploy a hybrid cloud.
Virtual SAN and Flash for the Public Cloud
Large service providers like IBM and AWS have particular flash storage requirements for their hyperscale environments. For example the need for better price/performance at scale as well as massive flash capacity. At VMworld Barcelona, we also announced the certification of our read-intensive high capacity SATA SSD, the SanDisk-branded CloudSpeed™ Eco Gen. II SATA solid state drive (SSD), that was designed to excel in the capacity tier of hyperscale public cloud environments.
Two Products Now Certified for High Performance Caching Using Virtual SAN
There are two ways to leverage our two new certified drives. Customers can build their hybrid cloud either by using pre-tested, validated Virtual SAN Ready Nodes from our OEM partners or they have the flexibility to choose the optimal SSD and HDD products to build their own cloud environment (see figure 2 below).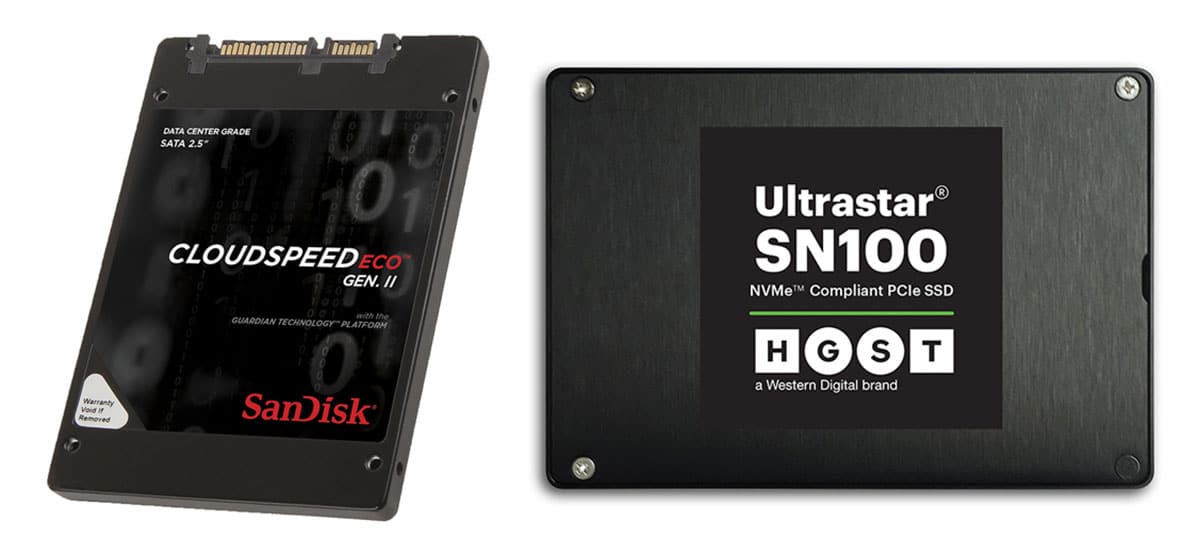 Get the Full Virtual SAN and Hyper-Converged Story
Join us at VMworld in Barcelona for a break out session on running business critical applications in the SDDC with hyper-converged infrastructures and Virtual SAN.
Running Business Critical Applications and the Software Defined Data Center on Hyper-Converged Infrastructure and VSAN [STO9607-SPO]Tuesday, Oct 18, 5:00 p.m. – 6:00 p.m. | Hall 8.0, Room Number 39
Our expert Panel Speakers:
David Klee, Business Critical Applications Expert and Founder, Heraflux Technologies
Jase McCarty, Staff Technical Marketing Architect, VMware
Jonathan Flynn, Senior Staff Applications Engineer, Western Digital Corporation
Patric Chang, Senior Director, Western Digital Corporation
Bring your toughest BCA, Virtual SAN or storage product to this session. The first genius to stump the experts with a valid question they cannot answer will get an enviable reward – not just the top bragging right of the event!
Join us in Booth G313
Visit us in booth G313, talk to our experts about your requirements and discover how Western Digital can be your strategic partner in the quest to take your data center to where it needs to be_tomorrow.
I look forward to seeing you there!