Believe it or not—there were hundreds and thousands of homes being sold across the United States in 2020,1 with a good majority of them being purchased without the buyer ever setting foot in the property prior. All the same, it's tough when your past keys to success were traditionally in-person elements like top-notch client service and a personal touch.
COVID-19 completely changed the way that real estate agents show homes. While virtual open houses used to be seen as a supplementary way to market a house to those who aren't available to see it in person, today, that viewership has opened up to nearly everyone. Virtual home tours are sometimes the only way to turn prospects into interested leads (and maintain that 1-to-1 personal relationship with clients and prospects, especially in very times).
Making the switch to online tours can be daunting, especially if you're not used to using video or other virtual tools. Even if you've had years of experience down pat giving people in-person tours, doing so online presents a host of different things that you'll need to keep in mind. 
This guide will help you run through every detail behind preparing for a virtual home tour from choosing the right tools needed to do so to boosting your viewership to get to close.
In this article, we'll cover:
---
Download your free real estate prospecting playbook, featuring 9 prospecting letter/message templates! 🚀
---

What is a virtual open house, exactly?
These days, there are a few different ways you can host a virtual open house. Depending on the type that you want to prepare for, there are various costs and expenses to keep in mind. The good news: if you have an internet connection and access to a smartphone with a pretty decent camera, then your ability to host virtual tours is pretty much ready to go—plus it's relatively easy to do, even for technology novices! (And best of all, you don't need to be an IT person or even a techie.)
1) Live virtual open houses
These tours involve a real estate agent walking through the property to show a live video feed of the space to the prospective buyer(s). This can be a 1:1 viewing with a single buyer, or you can open up the session to anyone that's interested.
Advantages: The interaction happens in real time, meaning there's the added advantage of the agent being able to address any questions, comments, or concerns that may arise on the spot. This is basically as close as you can come to having an in-person exchange with back-and-forth conversation involved, which many agents prefer as a means to be actively part of the selling process, even if it's not face-to-face.
Disadvantages: The downside of this method is that if you have a lot of viewers at once, it can be more difficult to field overlapping questions received at the same time. Because viewers aren't able to separate and tour the space themselves, you'll have to be patient to walk through specific parts of the home again with each person that stays on for questions following the initial tour.
Barrier to entry: Low. You only need access to everyday technology, such as a smartphone with a built-in camera (that can shoot at least HD, but 4K is better) at no additional costs.
2) Pre-recorded virtual open houses
These open house video tours are recorded in advance and can be shared to prospective buyers for later viewing. They typically reach a larger audience since people can tune in at their availability without needing to join at a designated time. 
Another option is to host a live session with a video conferencing tool which supports screen share so you can play your video while answering questions in the session's chat.
Advantages: Because there isn't a live audience involved, you can take your time to get precise shots and even video edit your clips afterwards to create captioning (such as to inform viewers which part of the home you're in). Without the pressure of hosting a live video feed, you can practice beforehand and restart the recording at any point to get it right. 
Disadvantages: If you're just posting these online without sharing through a live video meeting, this can limit engagement and ability for discussion. There's more competition out there for static video tours and marketing yours to capture attention away from competitors may cost more money and/or energy.
Barrier to entry: Low. Again, only access to everyday technology is needed.
3) 3D virtual tours
Imagine having Google Street View but for inside a home. These tours are 3D representations where viewers can click through and transport themselves down hallways, into rooms, and hop between floors all at their own pace: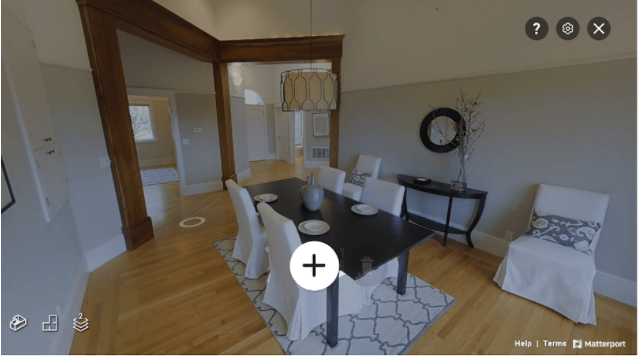 Advantage: Because anyone can choose their own flow as they navigate around the space, it makes it more natural for a potential buyer to envision living in the home. Because every part of every room is mapped exactly as it is, they can zoom in and out into any feature and see the details behind each room.
Disadvantages: Unless you're hosting your 3D virtual tour on a platform where you can receive comments and questions, interaction with viewers is limited. It's hard to get feedback when you can't tell who's clicking through the tour, especially since getting analytics on this technology is still limited and not as available as say, hosting a video on YouTube.
Barrier to entry: Medium to high. You'll need a 3D or 360° spherical camera to capture the space for conversion into an interactive 3D model, or you'll need to hire a professional to do the capturing for you. There's more of a learning curve to picking up the needed technology to pull this off (compared to simply using a smartphone).

What are some of the perks of doing a virtual real estate open house?
Without a doubt, virtual open houses lead to greater opportunities to connect with your prospects or leads because of four main reasons: 
It expands your reach:

Virtual open houses no longer just serve the needs of locals who come to see the home in-person. Hosting open houses online means that your videos can be viewed without limitations of time or space. Word-of-mouth isn't just restricted to word-of-mouth—all it takes is a link to be shared out for another opportunity to be created. 

You can offer the convenience of anytime, anywhere

: You can save you and your buyers time from having to travel and coordinate schedules to meet. Virtual tours are viewable until the day that the property's sold. 

You'll be able to reinvest your energy:

On the topic of saving time, having a prerecorded walk through of the home also saves you the time and trouble of having to give the same pitch to multiple prospects. Instead of living out

Groundhog Day

, use your time savings to expand your marketing, follow up on leads, or research new listings. 

Buyers will want the option:

Not everyone is interested in commuting to see a house in person for the first time. Occasionally, buyers will be more interested to vet a potential investment by first scanning it online. Whether or not social distancing enforcements are making it mandatory for you to only conduct virtual tours or not, having these be a part of your practice can help you filter out non-serious leads as it encourages only serious buyers to approach for further information. 
💡 Further reading: 
See how ERA Grizzard Real Estate, one of the top real estate companies in the US, runs virtual home tours smoothly for buyers who aren't in town.

6 tools you need to host an open house virtually 
To connect and communicate with buyers during a virtual open house, use
RingCentral Video
Create a virtual session in advance and generate the URL to share with prospects by email, text, or by adding it to your event's page. RingCentral makes it possible to host up to 100 participants in HD video meetings. Best of all, it works on any device, so while viewers are watching the tour on their computer, you can host it from your smartphone at the property:
If you're hosting a pre-recorded virtual open session, you can use the screen share feature to playback the video while you stay free to respond in the chat: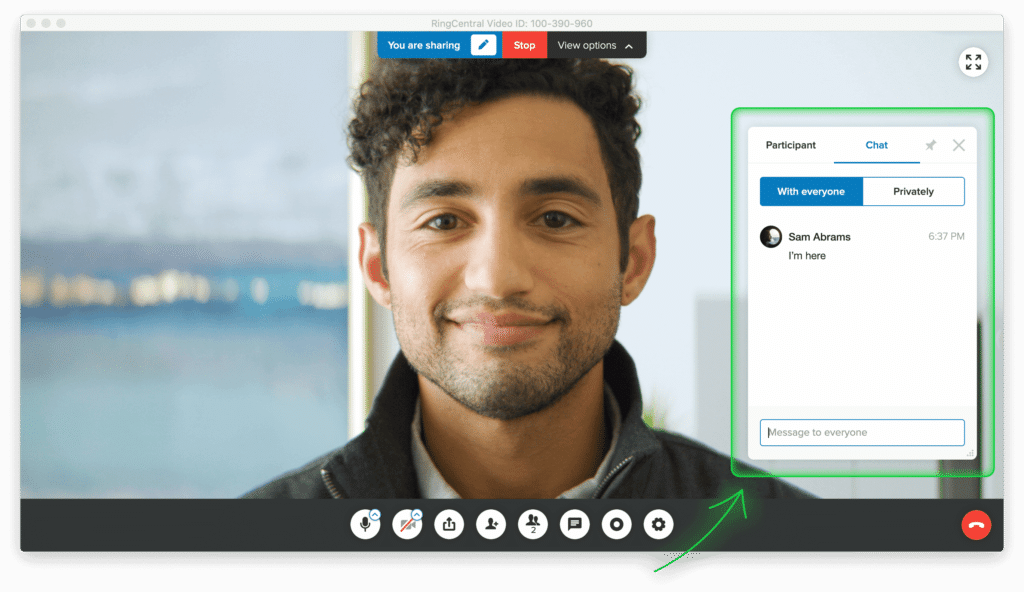 Oh, and the perk with RingCentral's app is that it has a business phone system built in as well—here's a quick look at how it works:
---
🕹️ Get a hands-on look at how some of the top real estate agents and brokerages are using RingCentral to run virtual open houses by booking a product tour:
💰 You can also use this calculator to see roughly how much your business could save by using RingCentral to support your team's communication with each other—and clients.
---
To market your virtual open house, use Real Geeks
Real Geeks helps you create Facebook ads that drive traffic to your video content in just 3–5 minutes. You can track analytics on every ad you run to track likes, shares, and other conversions metrics, plus see which are performing well to keep your ROI in check. 
To manage leads and follow ups after the open house, use Realtyna
Realtyna is a CRM tool that helps you capture information on leads, which can be especially helpful when new prospects are registering for your open house event and sharing their information with you for the first time. You can also add customizable CRM forms that allow you to capture specific information on leads, such as their budget, location preferences, etc.  
To hone your focus on prospective leads, use Zurple
Zurple can analyze your leads' behaviors (such as how often they return to watch the virtual open house) to determine which will most likely be home buyers in the short term. Having this information lets you optimize your marketing budget by targeting ads only to your most valuable audiences, plus, it allows you to spend your energy following up on the right leads to convert. 
To get the best audio and reduce noise, use a bluetooth lapel mic
Getting clear audio as you're giving a tour can be difficult if you're trying to maneuver a camera that also contains your mic. Any time you run your hand over the mic, it can cause distracting noises that pull focus away from what you're saying. As a remedy, invest in a small microphone that you can clip to the side of your shirt and operate wirefree using bluetooth. You'll want to make sure you get one that supports plug and play and is compatible with your smartphone, like this one, so that no setup is required. 
💡 Pro-tip: 
Don't underestimate the power of audio! Studies have shown that people can become distrustful whenever something becomes difficult to process.2 It influences their judgement about how credible the situation is and as a real estate agent providing guidance on a huge investment—well, your need to be credible goes without saying.
To make sure your video footage is stable, use a gimbal
Most smartphones these days come with a built-in video stabilizer. But if you don't have the highest end device, chances are you can still benefit from investing in a $50–300 gimbal (DJI makes reputable and solid gimbals for mobiles), depending on your budget. 
A gimbal provides you super smooth footage to reduce natural up and down motions you typically see as you walk while filming. It's a great investment to turn amateur looking open house viewings into professional ones. As with the mic, all you need is do is plug and play to get started so the learning curve on this one is also low.

4 essential checklists to host your first virtual open house 
1. Spreading the word of your virtual open house in advance
Decide on the type of open house you'll be preparing for (live versus pre-recorded).

Choose your format you'll host the open house on:

For live streams, use Facebook Live or IGTV
💡 Pro-tip: 
Since Facebook, which also owns IGTV, is a video-oriented platform, its algorithm will boost the visibility of videos over other content, so streaming on here will give you a greater chance of viewership).
Spread word of the event through social media, email marketing, or by sharing on your website at least a week in advance.

Narrow down your target market (if you're doing paid advertising, you'll need to select who you're trying to reach to make the most of your budget).  

Create an events page on Facebook and include details on when and how to join, where the property is located, images of the property beforehand to filter interest.

Send reminders leading up to the day of the tour (by email, text, or on the event's page).
2. Preparing a run-through of your virtual open house
Do a technology run through beforehand at least once and check the quality and sound of the footage, as well as the internet speed (note the shakiness, pace, and smoothness of the video).

Practice flipping between the front and back-facing camera (if using a smartphone).

Understand the home's layout and plan the route you'll be taking throughout (slow down on key spaces and avoid passing through the same areas too many times).

Practice getting the right camera angles (you'll want to include some still pauses throughout the video, but be sure these are positioned to show the widest view of the space).

Rehearse your voiceover, timing it to the right parts of the tour.

Research the neighborhood and unique selling points of the home beforehand (especially since your hands will be full, making it difficult to reference any material during the tour).
💡 Pro-tip: 
If you're hosting an open house for another agent, or vice versa, run the rehearsal together so that you both know what to expect. The last thing you want is to accidentally speak to your camera person, rather than your audience, while doing the tour.
3. Filming your open house the day of
Arrive at least 30 minutes early to do an inspection of the home. 

Turn on all the lights and open the doors between rooms. 

Film in the orientation of your chosen platform (e.g. landscape mode for Facebook, YouTube, Vimeo, or for websites; portrait mode for Instagram).

Use descriptive words throughout the tour to give context to things that are usually easily identified in person but made harder by video (such as types of wood, materials, or surfaces).  

Limit your open tour to 10–20 minutes and leave room afterwards for Q&A. 

Bring an external battery pack in case of emergencies. 
4. Sharing your tour after the live or pre-recording
Upload the video on a video hosting platform.

Create captioning over any footage if you feel it could benefit from additional overview.

Optional: Create timestamps (if using YouTube) to jump to specific points in the video.

Share your video on social media, by email, and/or on your website. 

Include a call-to-action to ask viewers to opt-in to future information on listings or to follow your social media channels. 

Monitor video analytics for your future video tours, so you have more insight on the best time of day to go live, and so you know which elements to include that attract greater engagement

Ask your viewers for review and feedback on how you can improve their experience (a good time to also do this is at the end of the live session when you still have their active attention)



Think beyond virtual open houses too
The experience of a potential buyer during times of social distancing has changed. More than ever, they require special attention when it comes to details that they might not personally have access to when checking out properties.
A lot of that attention doesn't just come from having beautiful video footage. At the end of the day, being a successful real estate agent comes from having experience and expertise in the industry.
While it may take a bit of time to adopt a new way of working, one that involves much more technology that you're perhaps used to, don't forget that all the other factors of being a great agent (your market knowledge, reliability, and approachability) not only matters, but matters even more during these uncertain times for everyone.
Even though you're likely spending most of the time behind the camera, don't forget to show your personality, be memorable, and offer unforgettable experiences beyond the virtual tour.
---
1 census.gov/construction/nrs/pdf/newressales.pdf
2 news.usc.edu/141042/why-we-believe-something-audio-sound-quality