Orlando, FL – February 11, 2019. Lenovo announced today at the HIMSS19 Global Conference its first laptop dedicated to the healthcare industry, the ThinkPad T490 Healthcare Edition. Robust, flexible and secure, the T490 HE is ideal for use across multiple clinical platforms such as nurses' stations, patient rooms, medical diagnostics and executive offices. Packed with rich features, including industry-leading ThinkShield security, the added benefits of a federal-approved FIPS-201 Fingerprint Reader and an RFID Reader, the ThinkPad T490 HE meets regulations and exceeds expectations. Designed to safeguard device access and protect confidential patient data through secure multi-factor authentication methods, the T490 HE is a cornerstone of Lenovo Health solutions.
Highlights of the ThinkPad T490 Healthcare Edition include:
FIPS-201 Fingerprint Reader by Crossmatch offers industry standard Personal Identity Verification
RFID Reader by RF IDeas leverages existing ID badge infrastructure for simple and secure logon process
Lenovo ThinkShutter, standard on both the RGB and IR cameras, physically covers the webcam preventing unwanted snooping
The optional 14-inch FHD display features ThinkPad PrivacyGuard with PrivacyAlert that protects confidential patient data from "over-the-shoulder" prying eyes
The system includes an anti-microbial surface treatment for infection control
ThinkPad T490 HE features the latest Intel 8th Gen Intel® Core™ processors, Dolby® Audio Premium™ and Cat 9 LTE WWAN for secure connectivity across a hospital campus
Weighing just 3.41 pounds (1.55kg) and with up to 16 hours battery life, the T490 HE offers all day power with the mobility to move between environments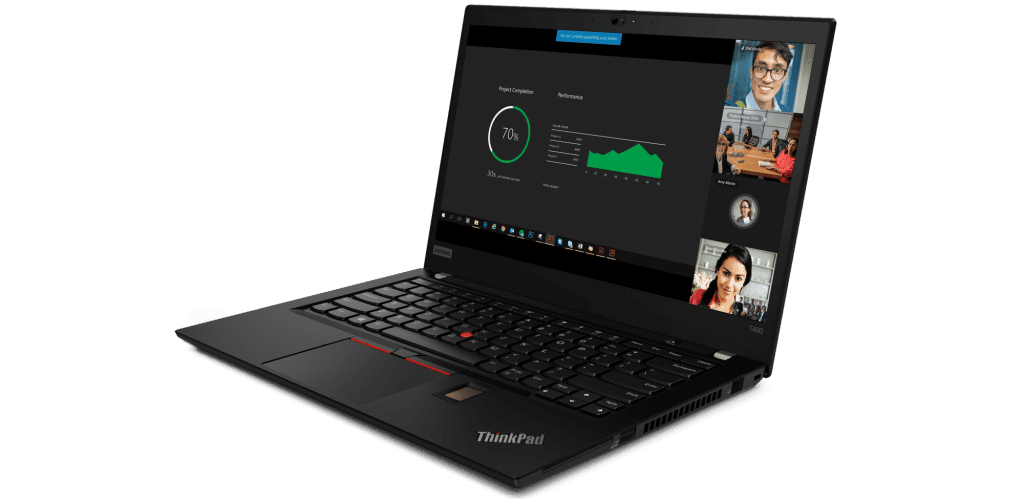 "We collaborate with healthcare organizations ranging from small practices to large complex health systems in more than 160 countries worldwide, "said Jerry Paradise, vice president, Commercial Product Portfolio. "Introducing the ThinkPad T490 Healthcare Edition was an obvious step in delivering a premium product that enables health professionals actively engage patients securely with greater speed and accuracy."
Securing the Clinical Workflow
ThinkShield by Lenovo has the most comprehensive end-to-end security offerings available that protect devices, identity, data and online activity. In the medical industry, patient data confidentiality is a critical part of the patient experience and engagement. The ThinkPad T490 Healthcare Edition adds additional layers of security to promise medical identity accuracy. The FIPS-201 (Federal Information Processing Standard) fingerprint reader adheres to a United States federal government standard that specifies Personal Identity Verification (PIV) requirements. Also, the RFID Reader, which can leverage existing ID badge solutions, is designed to facilitate the login process while ensuring clinician identity. The flexibility of the solution means that users can login to any enabled system to access their specific resources.
Lenovo Health – Customized Care Anywhere
The ThinkPad T490 Healthcare Edition is just one building block of a broad Lenovo Health solutions portfolio. Extending across cloud and data analytics, security and mobility, IOT and client devices, Lenovo Health address today's healthcare challenges while meeting the goals of tomorrow's care. Our focus is to provide reliable solutions for clinical, administration and virtual care that allow health organizations to thrive within an ever-changing landscape and to deliver the best patient experience possible.
Lenovo will be present at this years' HIMSS19 Global Conference in Orlando, 11-15 February at booth 2821.
Pricing and Availability:
The ThinkPad T490 Healthcare Edition will be available from July 2019. Starting prices will be obtainable closer to availability.
Full datasheets are available on request.
About Lenovo
Lenovo (HKSE: 992) (ADR: LNVGY) is a US$45 billion Fortune Global 500 company and a global technology leader in driving Intelligent Transformation through smart devices and infrastructure that create the best user experience. Lenovo manufactures one of the world's widest portfolios of connected products, including smartphones (Motorola), tablets, PCs (ThinkPad, Yoga, Lenovo Legion) and workstations as well as AR/VR devices and smart home/office solutions. Lenovo's data center solutions (ThinkSystem, ThinkAgile) are creating the capacity and computing power for the connections that are changing business and society. Lenovo works to inspire the difference in everyone and build a smarter future where everyone thrives.  Follow us on LinkedIn, Facebook, Twitter, Instagram, Weibo, read about the latest news via our StoryHub, or visit our website at http://www. lenovo.com.