We all love movies and TV shows, especially in high-res such as 1080p and 4K. QNAP NAS not only provides a large storage capacity to accommodate your entire media collection, but also secures your digital assets with its advanced storage technologies such as RAID and Snapshot. With Plex Media Server, it organizes all of your media giving you an intuitive and easily browsable interface to navigate your library.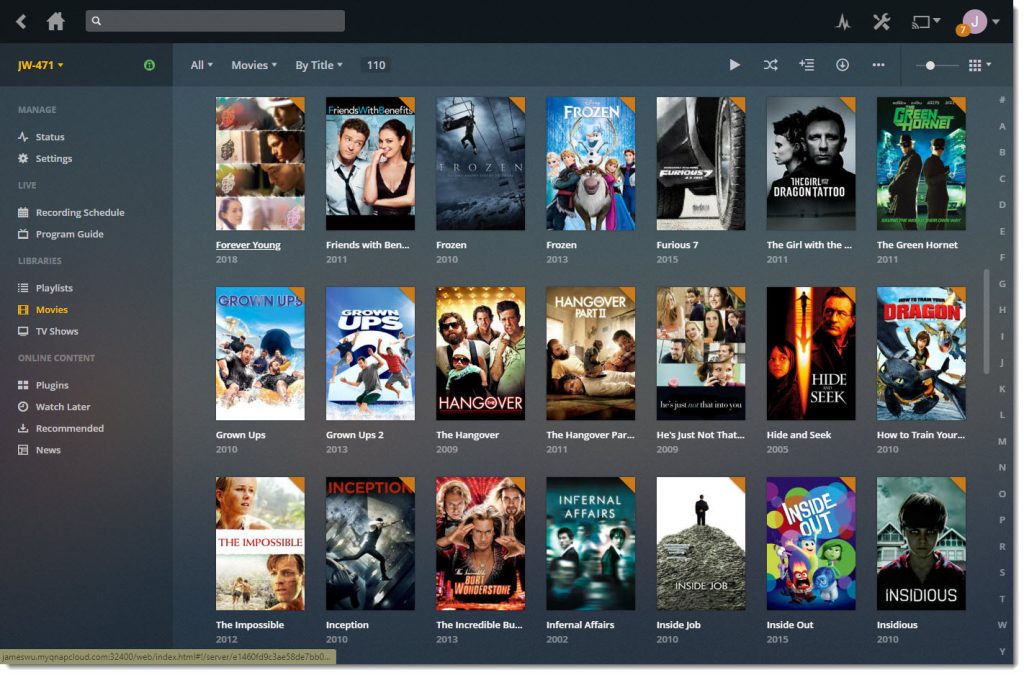 When you are getting ready to wind down and watch a movie, the last thing you need is to experience some technical hiccup or lag.  So there are a few things I wanted to go over to ensure that you're able to maintain smooth streaming. You may find that your media library is composed of various types of file formats.  Some of these files may be easily played by the device you're watching your content on, but with others this might not be the case. To accommodate the latter situation, Plex uses the computing power of the NAS for on-the-fly transcoding, which will convert the file to an appropriate streaming format.
See Why Do I Need to Consider Transcoding Capabilities of a NAS?
How to Enable Hardware Accelerated Transcoding
To get the best performance and use out of your NAS, hardware transcoding is preferable over software transcoding in most cases. To enable hardware transcoding with Plex, first you'll need to get Plex Pass. Once you have it, sign in to Plex with your account and you will be able to enable it.  Below are a few pictures to help you configure hardware transcoding.
1. Go to [Settings], and switch to [Server] settings

2. Select [Transcoder] and then click [Show Advanced]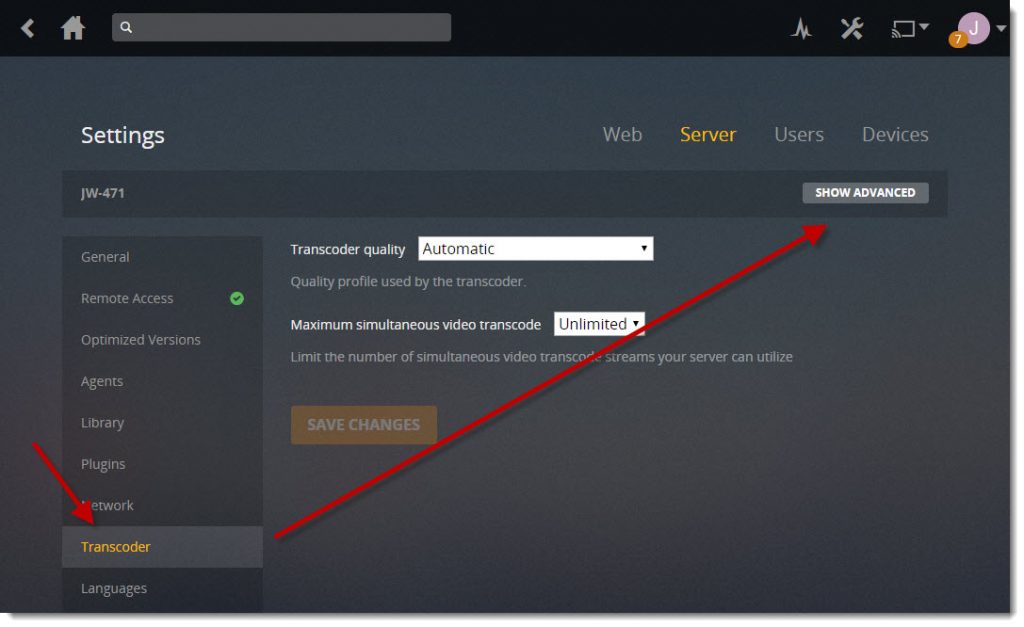 3. Simply check [Use hardware acceleration when available] and click [Save Changes]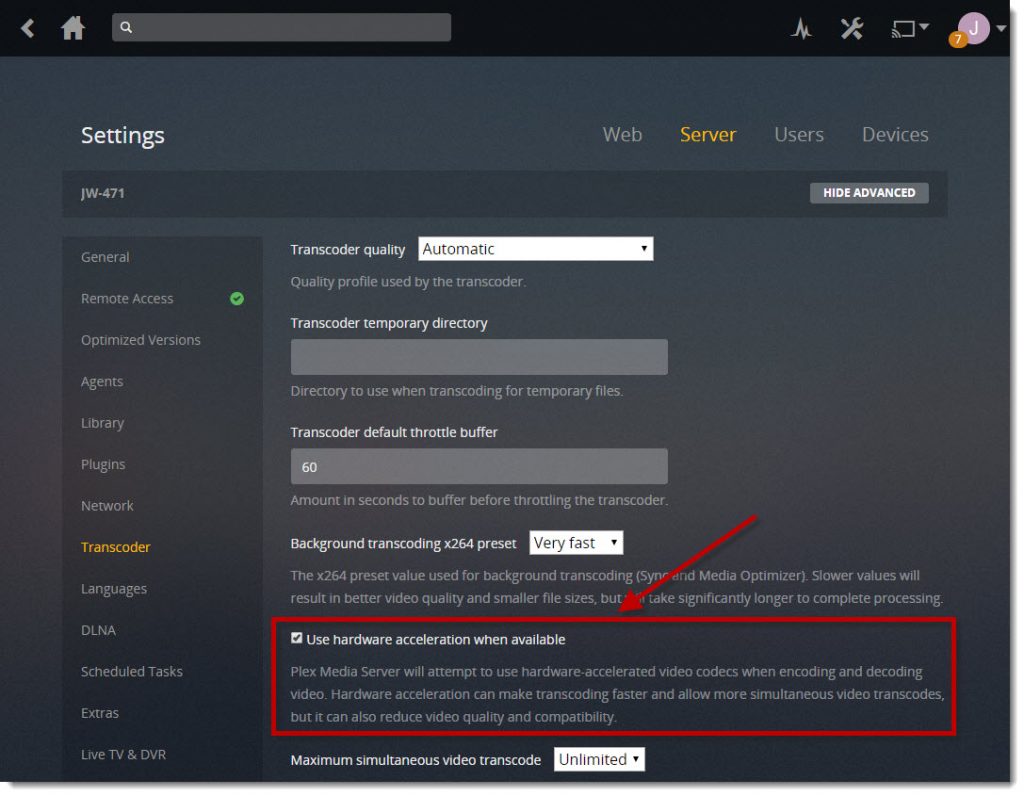 I did a quick test on my 3-year old TVS-471 (Intel Core i3-4150 Dual-Core 3.5GHz with an embedded Intel® HD Graphics 4400), comparing the CPU usage while transcoding a 1080P MKV movie to its original quality in real time with hardware acceleration enabled vs. hardware acceleration unenabled.  As you can see in the two screenshots, the avg. CPU usage with hardware acceleration enabled is under 10% most of time, and it's obviously a bit higher without hardware acceleration. The difference will be more significant if there are multiple concurrent transcodes.
Transcoding with hardware acceleration (hardware transcoding)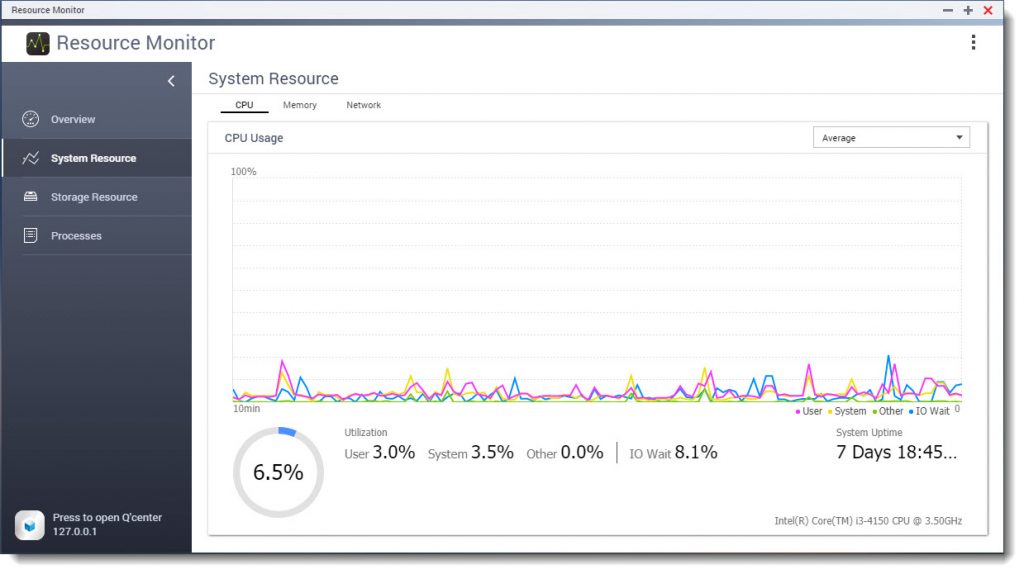 Transcoding without hardware acceleration (software transcoding)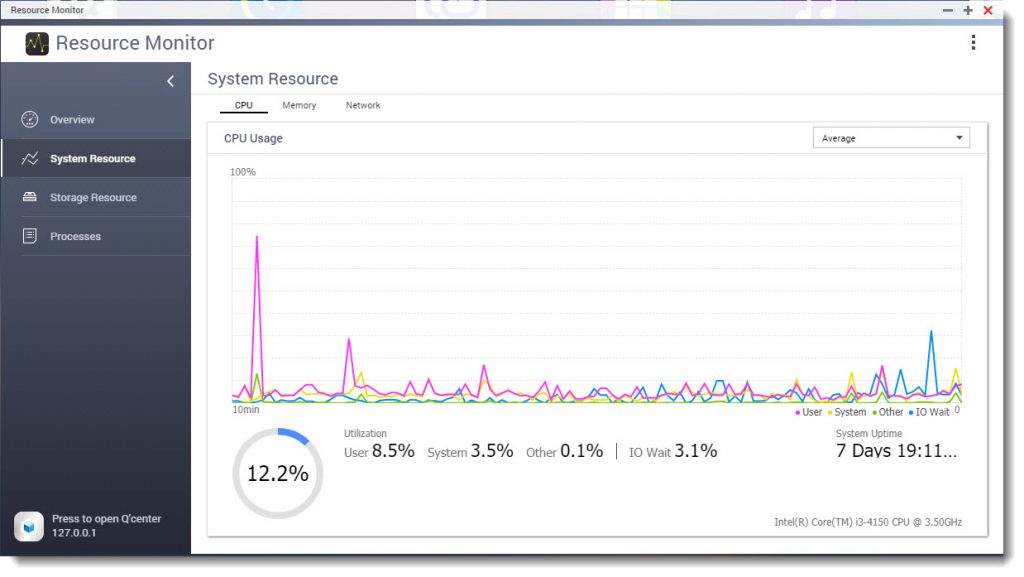 Conclusion
QNAP sets a high standard for media performance and setting up your QNAP NAS as a home media server is a great way for your whole family to enjoy videos and music throughout the house. Plex Pass users can definitely benefit from our NAS models that come with an embedded graphics, but for those who do not have Plex Pass, QNAP still offers a wide selection of NAS that have powerful processors such as the TS-x73 series which is capable of streaming and transcoding 1080P content and is even able to support multiple streams.  With one of these models you'll be able to create an easy-to-use reliable media center to play your content with great quality.  Enjoy your Movies.