If you're not in the Extended Reality (XR) industry, terms can be a little confusing. XR includes augmented reality (AR), 3D digital overlays on transparent lenses to view real-world environments, and virtual reality (VR), immersive 3D experience in opaque headsets. AR and VR are converging into mixed reality (MR), the merging of a real-world and digital environments, almost like toggling between AR and VR. Today, it very much looks like MR is the future, and the future is bright!
The new Lenovo ThinkReality VRX is an advanced all-in-one VR headset engineered for the enterprise. The immersive, lightweight, slim profile six-degrees-of-freedom (6DoF) VR device is powered by the Snapdragon® XR2+ Gen 1 platform and provides full-color, high-resolution pass-through capabilities for MR applications from two front-facing cameras acting as the computer vision for the wearer. See below for key technical specifications.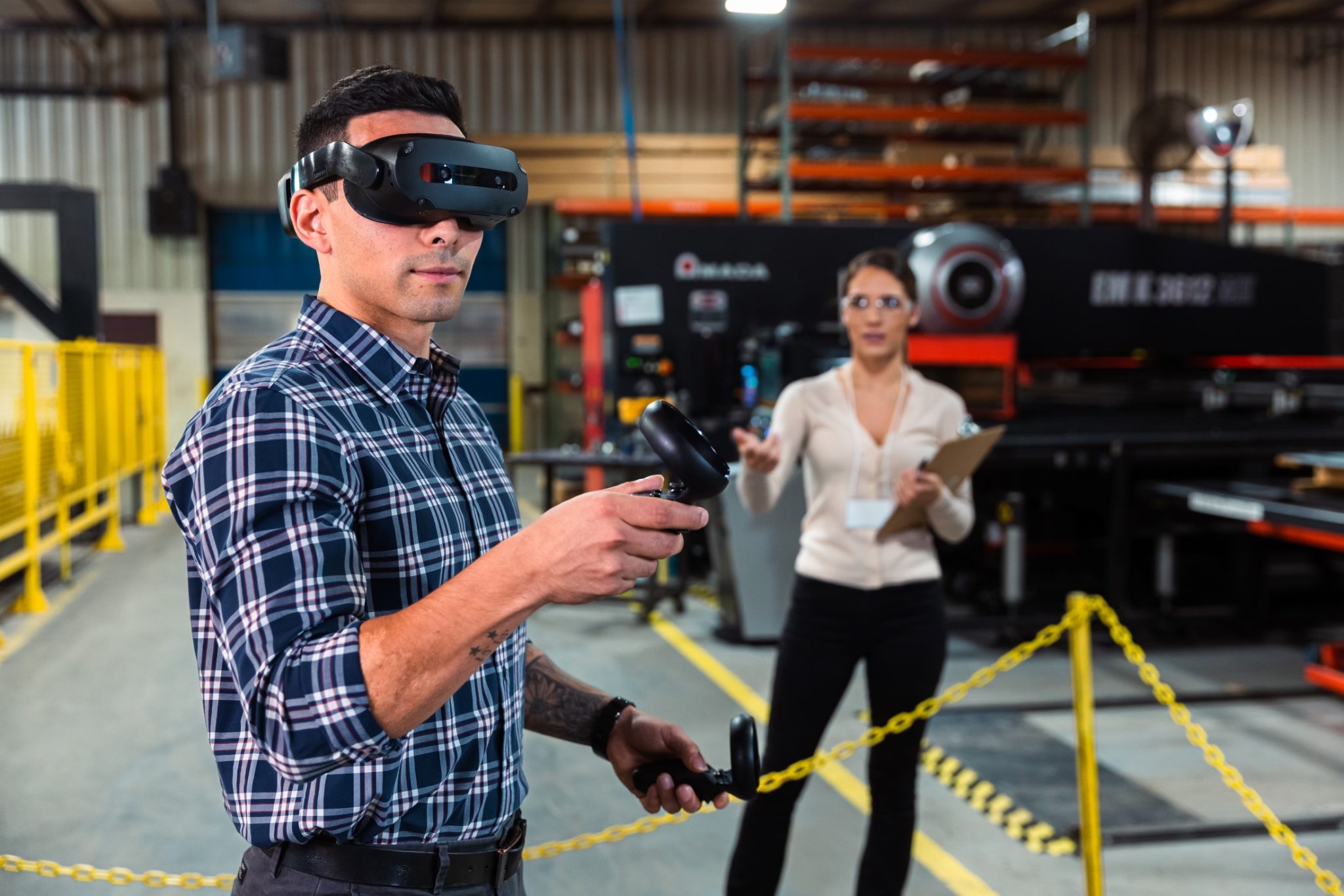 Let's focus on how full color pass-through enhances the user experience in many ways and is just the beginning for MR.
First, pass-through enables the users of the ThinkReality VRX to continuously work with the headset on and seamlessly move from immersive use cases like 3D content consumption and collaboration to interacting with real-word surroundings to do normal activities, like for example, speak with a colleague next to you, work on a PC, or even just have a drink of water.
This makes for an overall safer and more enjoyable VR experience in enterprise scenarios. Taking a headset on and off dozens of times a day is just a drag and disrupts productivity.
More important than just convenience to workers, we also envision workers wearing the ThinkReality VRX will use applications to move between VR and AR experiences to get things done. For example, working on a 3D model or digital twin of a jet engine while immersed in VR then moving to pass-through to see the actual same jet engine on an aircraft but with digital overlays, such as annotations or AI-prompted instructions. This enables scenarios where workers are getting some of the best of VR and AR to complete tasks while viewing 3D data and interacting with each other. Such experiences are going to greatly enhance collaboration, productivity and innovation in the Enterprise Metaverse – digital environments where work gets done.
We are really going to see a whole new level of productivity when workers can effortlessly move across different kinds of digital realities to learn, design and collaborate. However, MR applications are still very new. We are very excited to see how developers will take these capabilities and create solutions.
To that end, the ThinkReality VRX is the world's first VR headset to implement support for Snapdragon Spaces. This means developers will be able to create experiences on VR headsets that are much more like AR on optical see-through devices like our ThinkReality A3 AR glasses. This will offer developers portability between AR, VR and MR to create solutions regardless of the device form factor.
While we are confident MR is the future of enterprise XR, we are just as sure AR and VR headsets will remain much needed for a long time to come. Most AR use cases in a work environment require transparent lenses for situational awareness in potentially hazardous environments like a factory floor or construction site. At the same time, high-resolution passthrough is an additional expense not every VR user will opt for, for example in educational settings and other primarily content-consuming scenarios.
The promise and potential for the Metaverse is years away from being realized, nevertheless enterprises deploying XR solutions today are seeing real ROI from increased productivity. Lenovo ThinkReality will stay focused on building better onramps to the Enterprise Metaverse, so customers have everything they need to scale into the new realities of business.