How do you design a Ducati-themed laptop that fuses speed and design? You look at its motorcycles, of course.
Lenovo designers did just that when creating the special-edition Lenovo Ducati 5, a beast of a machine that fuses sleek looks with high computing power.
Technology is essential to Ducati Corse's racing strategy on and off the track — an ethos the team stressed by signing on Lenovo as its technology partner in 2018. But how to take that innovation off the track, into the home of the world's biggest Ducati fans?
The Lenovo Ducati 5 bridges the speed and style of the most sought after Ducati bikes, says Brian Leonard, Vice President of Design for the Lenovo Intelligent Devices Group. Leonard says Lenovo designers teamed up with Ducati to capture the essence and spirit of the bikes the world has loved for nearly one hundred years.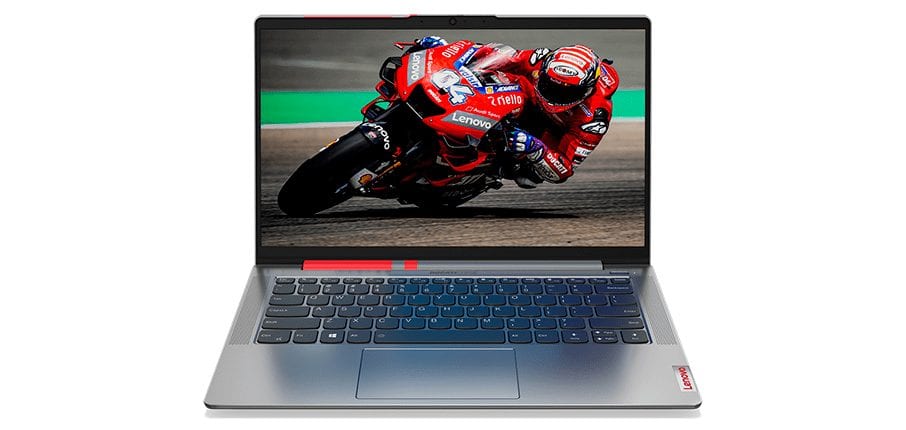 "Balanced design is part of Ducati's brand and honoring that heritage was one of our drivers to producing a refined product," Leonard says. "Each element chosen was no accident, there was zero chance we were just going to slap a logo on something—the materials, finishes and colors used all had to meet a high standard."
Nearly every aspect of the laptop is customized — from its colors ripped from the Panigale street bike to its naked frame structure reminiscent of the Ducati Monster. But some of the details aren't quite so obvious. Consider the hexagon "honeycomb" shape of the air vents, which mimics the sports exhausts on Ducati bikes. Or, the unique stitching pattern on the sleeve that matches that of Ducati bike seats.
No detail was too small to consider, including the typeface that stamps the serial numbers and the commemorative cards, which are the same that Ducati uses to mark collector bike parts.
"We also mirrored the unconventional way Ducati uses the effect of negative space on their machines by allowing the metallic grey materials underneath to shine through," Leonard says. "We picked special aluminum materials and an under-glazed logo to imitate those heavy metal details."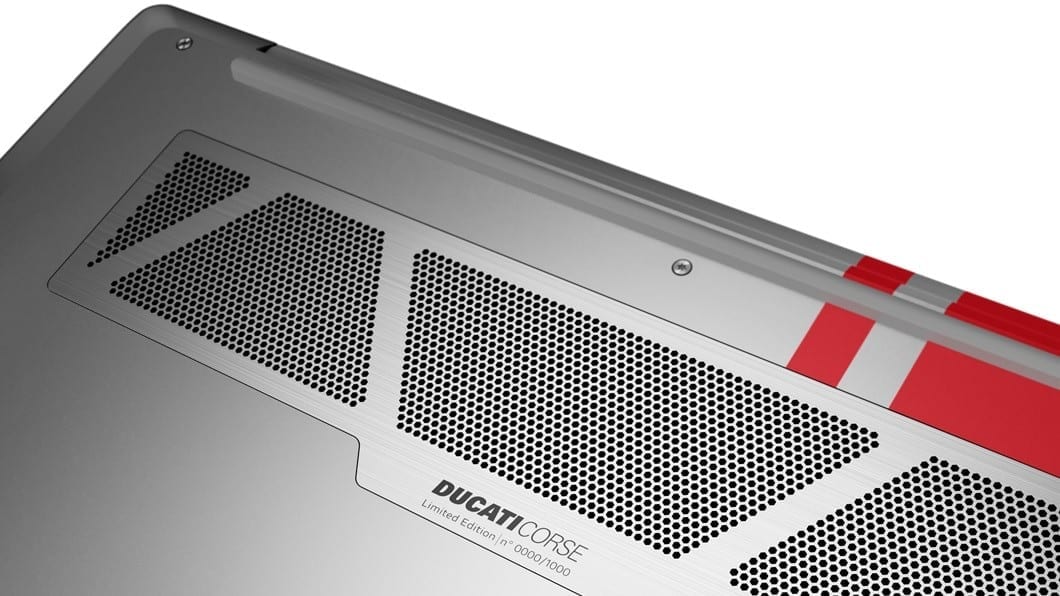 Even the BIOS chime sounds like the hum of a MotoGP bike zooming along the track.
Designing the Lenovo Ducati 5 was about "more than simply making a computer," Leonard stresses. "We wanted it to be sought-after, a collectible intended for fans to show off their deep-rooted passion for Ducati." And with only 12,000 models in production, which hit the market in April 2020, the most committed Ducati collectors had to act fast.
That passion shines through on the computer, which features twelve hours of battery life with Rapid Charge — a speedy pitstop pick-me-up — as well as up to 10th Generation Intel® Core™ i5 processors, Intel integrated graphics, and upward-facing speakers and Dolby Audio™ for clearer sound without distortion — the better to watch races with.
With Ducati hosting much of its race content online, the Lenovo Ducati 5 promises fast connectivity with WiFi 6 and a clear 14-inch Full HD display, so you can view MotoGP championships as if you're sitting in the stands. And if you do happen to make it to a race, the computer weighs just 3.48 lbs and comes equipped with the Lenovo promise of longevity and durability.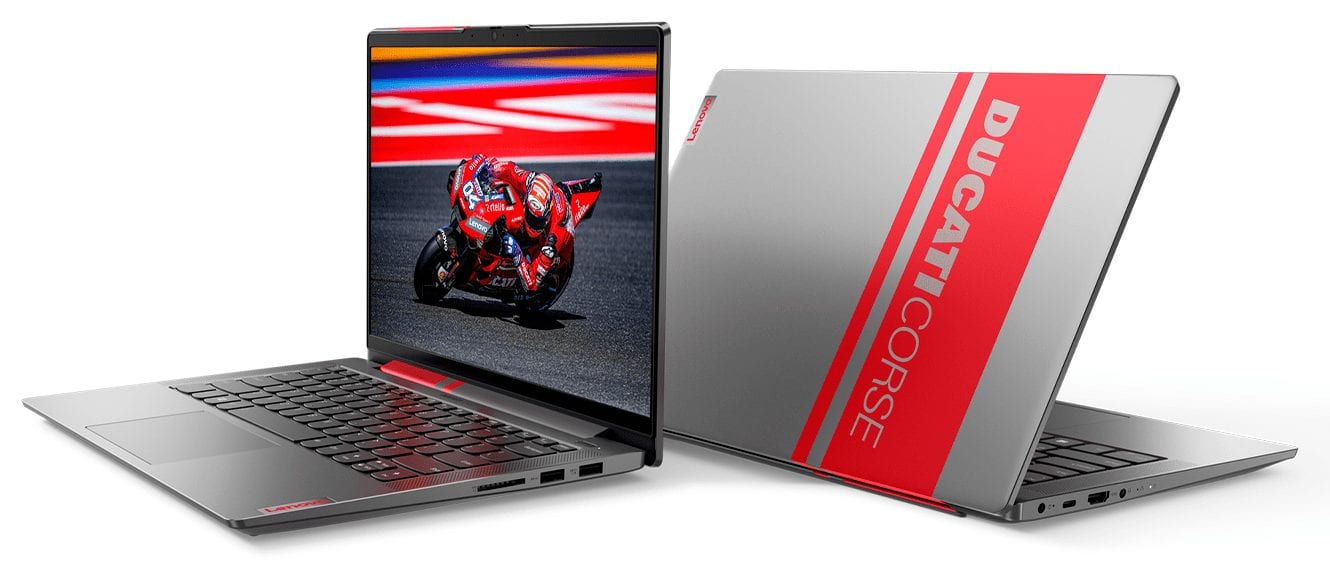 "Each element chosen was no accident, there was zero chance we were just going to slap a logo on something—the materials, finishes and colors used all had to meet a high standard," Leonard says. Rather, the Lenovo Ducati 5 fuses form and function just like the Ducati bikes it was created to honor.
"Lenovo is more than a sponsor," says Paolo Ciabatti, the sporting director for Ducati Corse. "We've found a really perfect combination in partnering with them because on the one side, we are proud to have Lenovo branding on our bikes. On the other side, it's our technology partnership that enables our engineers to develop bikes at this level."
Asked to summarize Ducati's values, Ciabatti didn't hesitate: "Ducati is style, sophistication, performance, and trust" — values encoded in the body and performance of the Lenovo Ducati 5.
"Lenovo and Ducati," he concludes, "makes a great team on and off the track."