Highlights
The retail journey has changed dramatically over the past two years, with connected consumers looking for a fully integrated customer experience.

Retailers must adapt to changing consumer preferences by leveraging advanced technologies such as artificial intelligence and cloud-based communications platforms.

In addition to leveraging modern technology, retailers must also take a page from history and offer better personal service, served up with a healthy dose of customer empathy.
---
💁🛒💻 Want to see how a unified communications and collaboration strategy can create an effortless employee experience that allows your team to better serve shoppers at all stages of their journey? Grab our eBook.
---
In the past two years, the retail business has changed, and most likely permanently. Owing to the confluence of fast-moving technological advancements, dynamic consumer appetites, and an airborne global pandemic, the customer-retailer relationship has also been irrevocably altered. The onus to pivot and adapt is on sellers.
Retailers that have seen continued financial success since the start of COVID-19 have recognized the desire on the part of buyers for reduced human interaction in purchasing. Building on what was already a strong online-buying trend, the novel coronavirus made contactless and minimal-contact shopping the norm rather than the exception. A significant component of this movement is a sort of hybrid of the online and in-person retail experience: buy online, pick up in store ("BOPIS"), also known as click and collect.
Prior to the pandemic, just 7% of sellers with brick-and-mortar shops offered BOPIS, but by August 2020, 44% of such retailers were offering the convenience, according to a survey by Digital Commerce 360. That's an increase of more than 528%, and it represents an enormous opportunity for sellers.
What do BOPIS and increased online purchasing mean for retailers in the "post-COVID-19" world? In short, an increased emphasis on technological savvy combined with a return to high-quality, in-person customer service.
4 ways retailers can create a connected consumer experience
The sections below explore this seeming paradox in greater depth and discuss how retailers can leverage the trends to best create a connected consumer experience that meets contemporary needs.
1. Employ AI and automation
BOPIS will continue to call on the technological capabilities of retailers, who must be prepared to fill orders accurately and quickly despite the many challenges now facing them. One solution: artificial intelligence.
As the historically tight labor force shows no signs of loosening, AI and automation are already delivering results for retailers. With more than one-third of retailers now selling the majority of their goods online, it is imperative for sellers' financial health that they find ways to fulfill orders and meet or exceed customer expectations while doing so.
"The pandemic and its resulting social distancing guidelines incited a mass transition to online shopping, buy online, pick up in-store (BOPIS) and curbside pick-up," a Forbes article on customer expectations reads, in part. "Combined with the industry-wide battle to deliver online purchases within hours to homes, these adoptions led to a consumer base whose expectations for immediate gratification are now higher than ever. Customer tolerance for supply chain issues like slow shipping, empty shelves, or damaged products is at an all-time low and is likely to remain as such in the years ahead."
Forms of AI that retailers should seek to employ to complement BOPIS—if they haven't already—include new and improved chatbots and call-center systems. For example, equipping contact centers with intelligent routing for inbound calls helps customers get to the right agent to handle their particular requests, thereby ensuring higher first-call resolution rates and superior customer experience.
Similarly, retailers that leverage API-driven automated SMS communications regarding order, delivery, and pickup status elevate customer experience as well.  
2. Up your UX game
Sellers who were accustomed to high levels of in-person interaction with their customers may have paid less attention to their online presence prior to the global pandemic. But with so many retailers providing the same goods, competition among sellers is always fierce. Now that many shoppers who previously bought in-store are ordering online or using BOPIS, it's more crucial than ever that retailers have visually appealing, user-friendly websites and web application offerings.
The vast majority of people (90%) will exit a website owing to "bad user experience design," according to technology news site MarTech Insights. Even more important for retailers offering BOPIS, users are five times more likely to abandon their online efforts on a site "if things are not designed to be responsive to their phone."
Overall user experience, or UX, is critical for creating a connection between seller and buyer, and it is critical in the success of any retailer's BOPIS offering. If they have not done so already, stores should invest in professionally designed, easy-to-use, mobile-optimized websites and apps. Doing so will go a long way toward attracting and keeping customers.
Optimizing their online presence is not a one-and-done process. As consumer preferences and expectations continue to change rapidly, retailers must be vigilant about ensuring a frictionless customer experience, no matter where, when, or via what channel that experience takes place.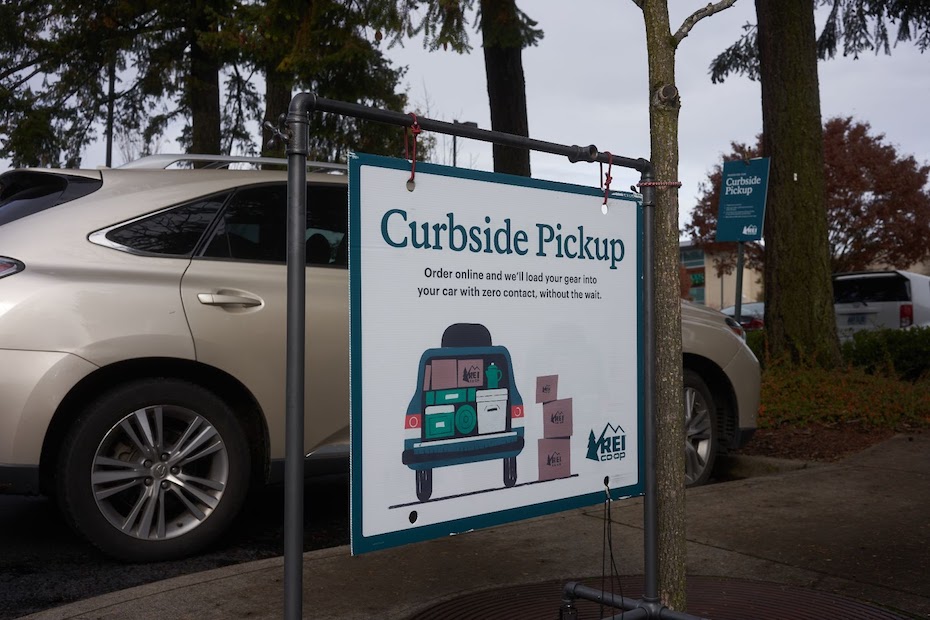 3. Return to personal service
Given today's reduced opportunity for in-person service, the interaction sellers do have with their customers has become all the more important. Following what was, for most people, an unprecedentedly long period of isolation at the start of COVID-19, consumers both want and expect higher-quality in-person experiences, particularly with sellers.
It's not complicated; it can be thought of as a return to simpler times. Smiles, eye contact, courteous manners, prompt service, and proper mask-wearing during curbside pickup and other in-person interactions will all pay dividends.
The same applies to customer interactions over the phone. Savvy retailers pay attention to the customer experience both in-store and over the phone. Local shoppers still appreciate being able to reach out to their local store and actually talk to a human on the other end of the line. Retailers can leverage IVR systems to relay information such as local store hours or directions, but it should be equally as easy for shoppers to make a human connection for more complex inquiries. Personal service includes the ability to talk with a live agent when appropriate.
"When you offer top-notch customer service like businesses used to, you can actually drive your margins higher while also growing volume because you gain a greater share of your customers' wallets," Jim Schleckser noted in a piece for Inc.com. In thinking "about what makes our businesses competitive, we tend to focus on more technology and lower costs. But there is this third overlooked component—offering superior customer service—that can also profitably transform your business."
Another component to excellent, post-COVID-19 customer servicing is empathy.
"Retailers should be organized around one thing and one thing only: A holistic, empathy-driven experience, with clear understanding by everyone in every department about how each channel and touchpoint integrates to drive empathy with customers," observes CMS Wire. "In addition, empathy should be a top-down initiative across the C-suite."
Conducting business from a place of understanding and treating customers with genuine kindness and compassion is good for the soul and can have a positive effect on a retailer's bottom line.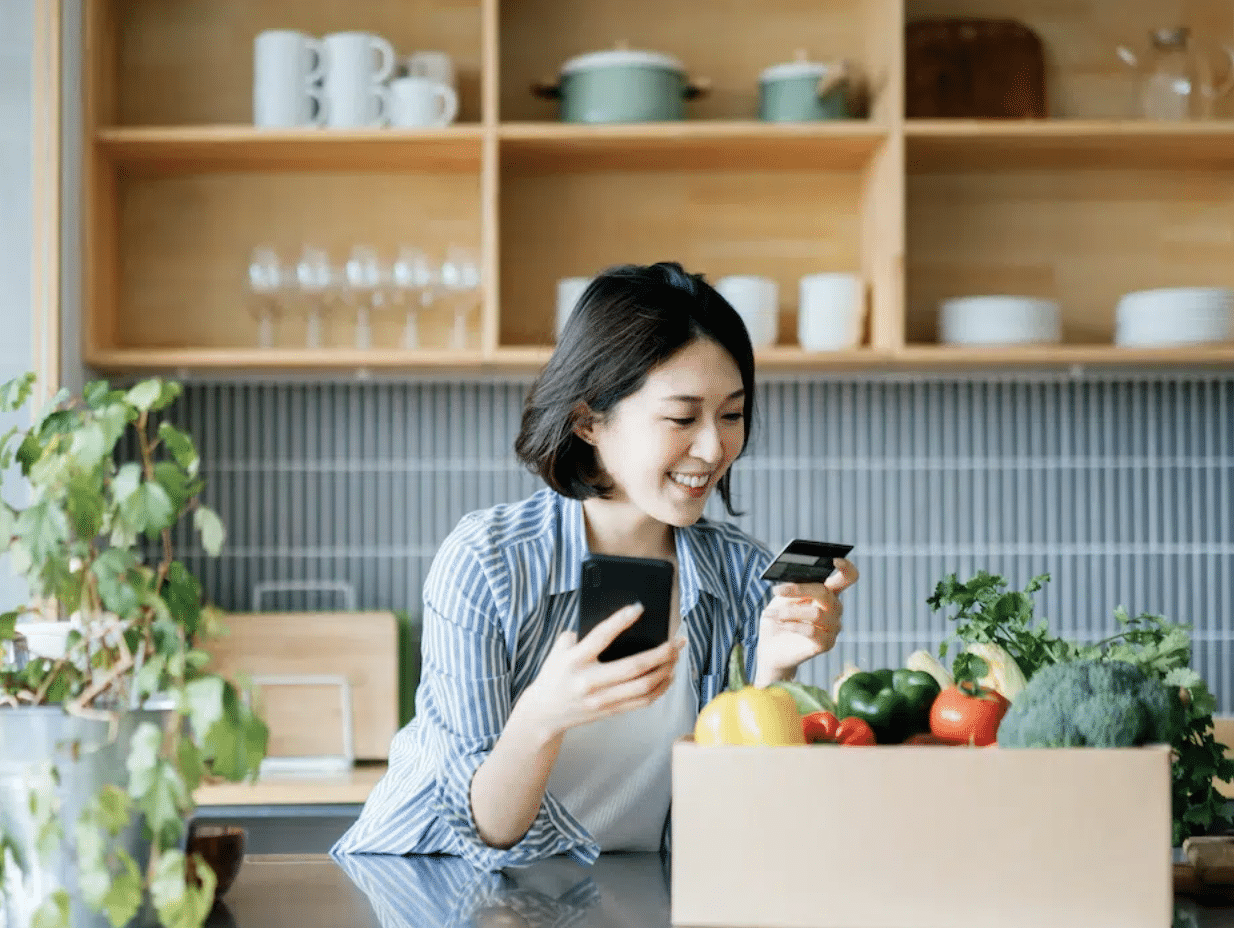 UP NEXT: 5 retail predictions for 2022
4. Communicate via the customers' channels of choice
​In addition to offering superior customer service in store and at the curbside, retailers must provide an omnichannel communications solution to their customers as well. Cloud-based contact center solutions are helping retailers communicate effectively with customers via the customers' channels of choice. Those channels include phone, video conferencing, and secure messaging, to name a few.
According to our research, 89 percent of consumers say offering their preferred methods of communication influences their choice regarding where to make their purchase, and 72 percent of shoppers say they would be likely to switch retailers if that retailer did not offer their preferred communication method.
Of the top five methods of communication preferred by customers and front-line workers, three are digital—namely, email, online chat, and text messaging and the other two are in-person interaction and phone.  
(Frontline retail workers' communication preferences also prioritize these channels, an interesting fact in light of retailers' growing interest in retaining workers and keeping them engaged during the Great Resignation.)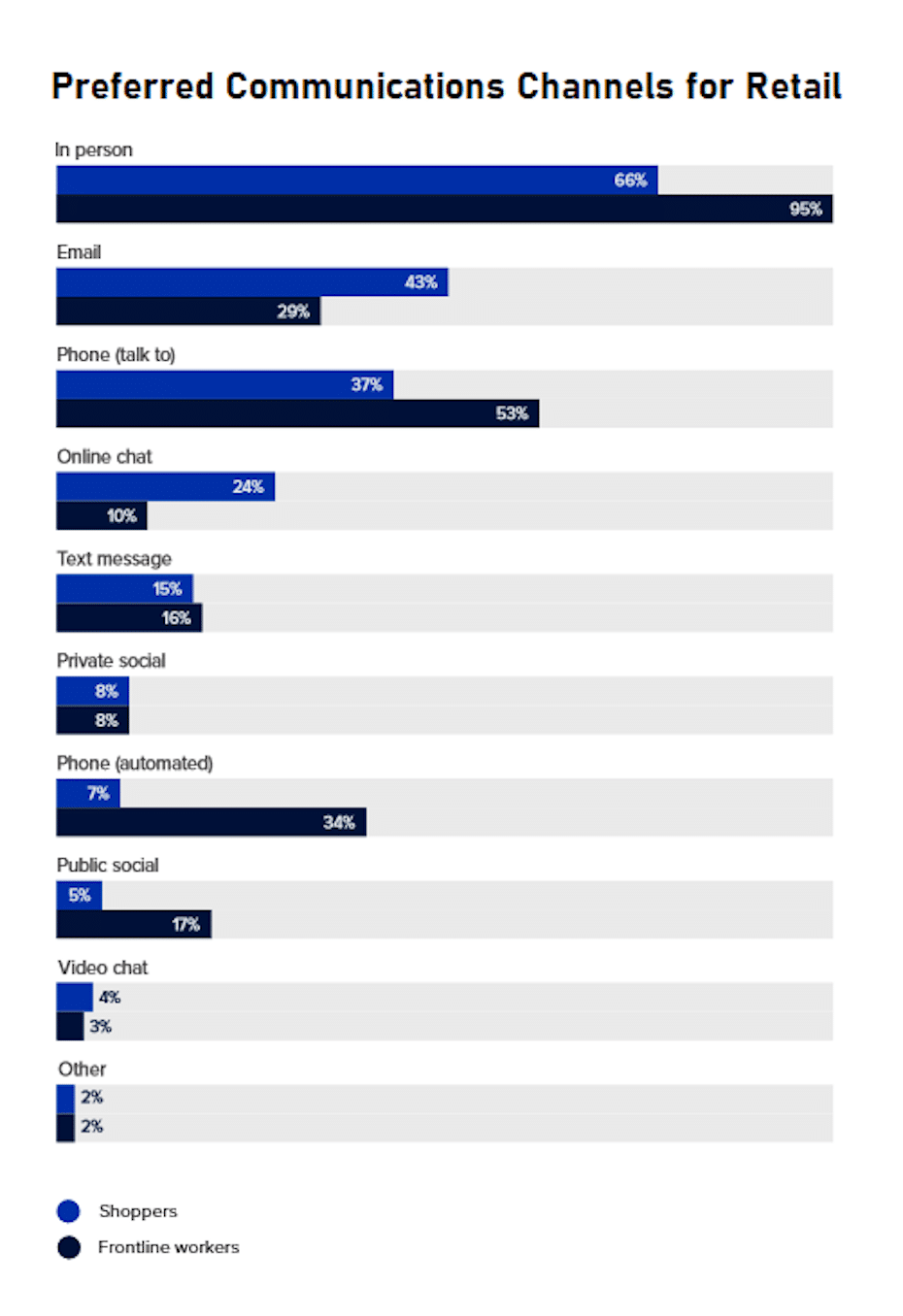 Let RingCentral help your organization boost customer experiences
RingCentral offers a fully integrated cloud-based communications platform​​​ that helps retailers drive sales and boost revenue by offering superior customer experiences via a multi-channel communications platform. Check out our solutions for retail today.
Originally published Feb 16, 2022