If your  startup has a new product or service to sell or a new way to sell an existing product, the sales process is a huge step to tackle, full of decisions to make, policies to set, and possible pitfalls to avoid. If you make the right decisions and set the right policies in the early stages of the startup sales process, you will be able to retain your precious customers and avoid many of the challenges that could potentially threaten your success. 
Whether you are looking for your first customers or already have thousands of sales under your belt from a previous venture, the need to meet sales goals and formulate a sales strategy are essential to stakeholders for the startup's business development as a whole. 
Here's what we'll cover today:
---
🔑 Does your startup have the 4 keys to success?
---
How to make sales as a startup
The sales process for startups is pretty similar to that of other, larger companies. But as you can imagine, every sale is critical when you have such a lean operation. So it's doubly important to do sales well from Day One. 
Here are the main steps for closing deals as a startup:
Generate leads
Make a list of people and companies that might be interested in your services. The lead generation list needs to have contact information such as names, phone numbers, and email addresses so your salespeople can contact the leads. 
Make contact with prospects
The usual way to make initial contact with prospects is by email or cold calling. There are some more creative ways to contact prospects, such as using social media or an in-person event like a conference or job fair, but those are usually less direct and require you to get phone or email contact information from them at some point. 
Qualify leads
To ensure your sales staff doesn't waste time on leads that are not able or likely to purchase, you will want to qualify your leads. To qualify a lead, you verify that the lead has the necessary funds and the authority to make a purchasing decision. You might discuss pricing at this stage.
Close the deal
This is the point of the entire process. It's where your sales reps should pull out all the stops to close the sale, including demonstrating deep product knowledge, showing empathy, and using charm and persistence. The best salespeople help the customer understand how the product will benefit them and build a hunger and excitement for the product in  the customer.  
How to build a solid foundation for startup sales
Whether startup founders are looking to make outbound sales or inbound sales, B2B sales or B2C sales, they need to gain sales experience fast or hire a sales team that can do it for them. Here are some concrete steps to take when looking to build your startup sales. 
1. Maintain ownership of sales (at first)
Early startup sales is about establishing a connection between your business model, your product, and your customer. It's a mistake to outsource sales to an expert sales team too early, and here's why:
You won't build key relationships that will become important to the business as it grows. 

Valuable feedback won't get all the way up the chain to you. 

Potential problems in your business model will go unnoticed and unchanged.

Your sales team will have to cope with those problems if they do occur, which will be frustrating to them and you.
If you and any co-founders handle early sales yourself, you can solidify the sales cycle and  develop a playbook for future use when you do hire more people. You will have the deep understanding of the sales process you need to be able to lead the entire team in building a customer base, and you will have participated in the sales development process on the ground floor. 
2. Make a playbook
As a startup founder, when you participate fully in the sales process, you will begin to get an understanding of how that process works best for your particular business model and market. This will lead to the development of a startup sales playbook, which future salespeople can use to be successful in selling for your startup. 
Your playbook will start with your philosophy of sales and your experience so far. It includes answers to questions such as:
What has worked, and what has not worked? 

How do you want customers to see your startup and its offerings?

What sales strategy or strategies do you want to support or avoid?

How will sales professionals be expected to conduct themselves?

What is the main value proposition and how will the salesforce highlight it?
Your playbook will also include information on the ideal customer profile or personas that the sales reps or account executives will need to know. It is unrealistic to expect your sales staff to come in as new employees and solve your problems or fix your mistakes. This information should be well-thought-out and easy to understand so your staff can concentrate on making sales based on accurate information.
The next step in a playbook is to document practices your sales reps should follow as they go about cold calling or searching for potential customers. This section should be specific and focused on metrics and what has worked for the startup so far. 
While you want to be as specific as possible in your procedures and explanations, it will be necessary early on to leave room for adjustments as new data comes in and change occurs, as it almost always does in the early days of a startup. Flexibility will allow you to tighten your methods and improve on them for even greater success. 
3. Use the right tools
There are many effective tools to help with sales, including: 
While nothing can replace the personal touch of sales, these tools and others help streamline processes so your sales team can focus on closing deals. Some of these tools could save your startup thousands of dollars and, if used well, increase sales significantly.
Let's take a closer look at one software as a service (SaaS) tool that no startup should be without: a customer relationship management (CRM) tool. These tools can track everything about your relationship with a customer or potential customer and streamline the sales process by automating actions such as setting reminders, sending communications to warm leads, performing standard follow up for sales calls, and so on.
RingCentral has CRM integrations built right into its business phone capabilities, and can also integrate with other popular CRM tools like Salesforce. You dial calls right in Salesforce using RingCentral, and all the call details are recorded for you: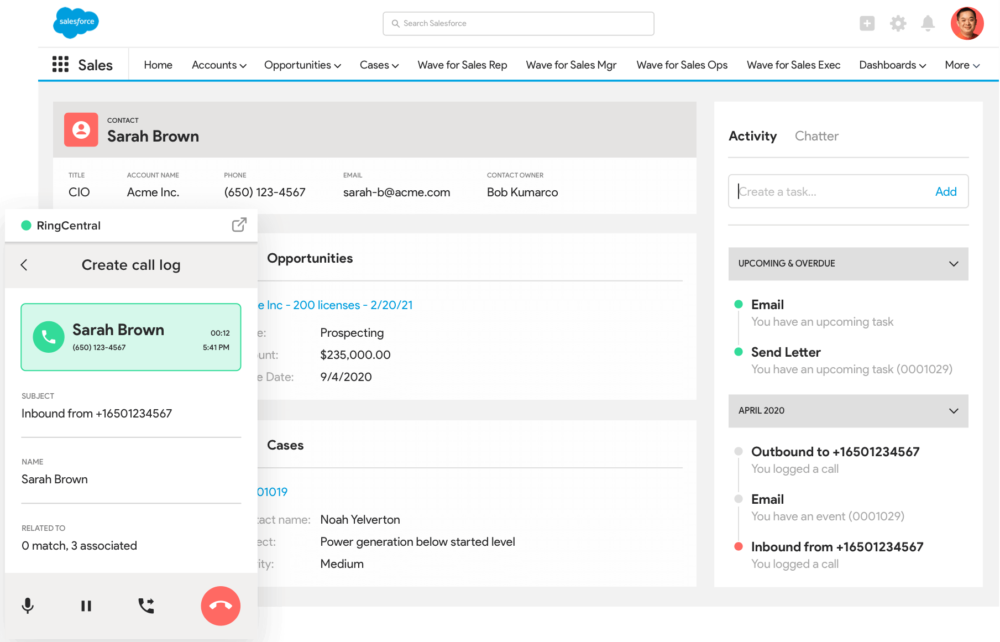 Another necessity when it comes to salespeople is allowing them the flexibility to do their work from anywhere. That's why a powerful communication tool is a smart investment as you build your sales team. With an all-in-one app like RingCentral, your sales team can make calls, join team video conferences, and stay in touch via team messaging while they're on the road. Plus, you can hop from a message to a video chat in just a couple clicks: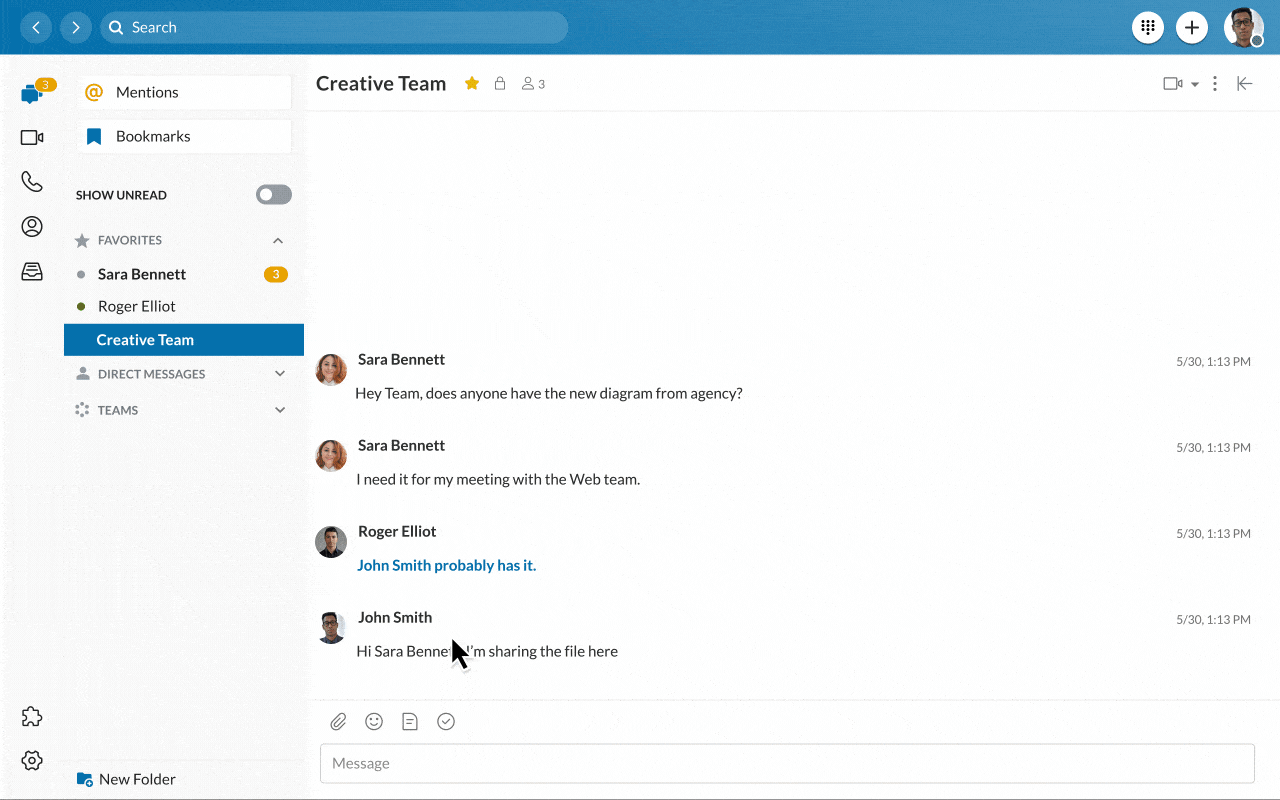 4. Hire high performers
The number of sales team members you hire initially probably depends on the number of investors you have and the capital available to you. It's possible that you will only be able to hire one full-time sales person; on the other hand, you may need sales managers and associates right away.
No matter how many staff you plan to hire, it is vital to get the highest performing people possible, because these are the people who will deliver the most sales for your startup. Here are some characteristics of a high-performing salesperson:
Likability

Consistency with process

Storytelling

Facilitates two-way communications

Expert knowledge

Able to discuss money

Willing to apply an appropriate amount of pressure to the customer
The average time it takes to hire a sales associate is about 50 days, so don't rush the process just to get someone in the position. If your salesperson or team can't deliver, it will sink your entire operation, so finding the best possible candidates for the job is of paramount importance. 
💡 Pro-Tip: In the world of hybrid and remote work, the world can be your talent pool. Learn more startup hiring tips.
Common mistakes in startup sales
1. Not properly narrowing the market segment
It's easy to see prospects everywhere when you first start out in sales. You may have more than one target customer, but you will save a lot of time if you have narrowed down your market segment and properly identified your target customers with specific profiles. Having your strategy properly centered on your most likely customers is a key to success in startup sales. 
2. Pricing your product too low
Most startups are worried about pricing their products too high, but that is usually less of a problem than pricing too low, which sends the unwitting message that maybe the product isn't really as good as the sales rep is making it sound. An interested lead will negotiate on a higher price, but will be very suspicious of a price that's too low and be more likely to lose interest altogether. 
3. Having a sales process that is too rigid
Early startup sales playbooks need to be flexible to adjust to market conditions and take advantage of knowledge gained in the process by salespeople. If your sales process is too rigid and you insist on salespeople doing what doesn't ultimately work, you risk losing the best ones and doubly hurting your sales at a critical time for your startup.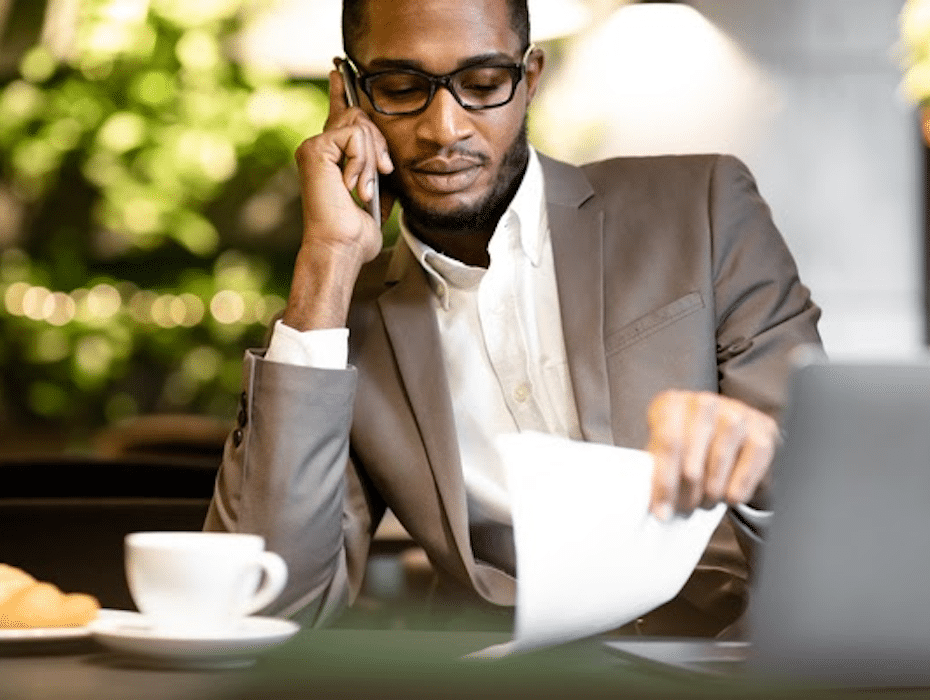 How to create a sales process: a step-by-step guide
4. Not getting an early "no"
It's natural for salespeople to hold out hope that they can persuade a reluctant prospect to convert with enough information and pressure, but in many cases the answer will be "no" no matter how much time they spend. Pushing for a "no" should happen during the qualification step, which is early in the process, and will save sales staff a ton of time that they can then spend with leads that they really could convert. 
 5. Neglecting metrics
Before there were easy ways to capture the metrics around sales, salespeople mostly went with their "gut" on who to call, methods to use, and when to press in for the sale. Many naturally gifted people are still tempted to go with their gut rather than consider metrics, but this is a mistake. Even the best salespeople are less effective than the numbers in predicting sales and identifying techniques most likely to work.
6. Subpar technology
Without the proper tools, you will struggle to keep a good handle on the startup sales process, which can become complex as it progresses. RingCentral offers affordable cloud-based communications solutions that will keep everyone in the startup on the same page and give you the features you need to support your sales staff, anywhere. 
Here are some of the ways RingCentral can benefit startups with their sales:
Schedule calls with prospects so you don't even need to dial the phone

Transfer calls from one device to another when you need to be out of the office

Video chat to give clients a more personal touch and see body language

Access all your messages on any device

Integrate with Salesforce and other third-party apps so you never misplace a thing
RingCentral offers robust team collaboration features to keep your sales team connected no matter where team members may be. Got a seller out in the field? No problem! RingCentral provides anywhere, anytime access from any mobile device to your CRM and other work tools with easy-to-use integrations. 
Need to hop on a quick video call with a sales manager on the spot or maybe your developer on the other side of the world? We've got you covered, with video conferencing features that help you connect clients, sales staff members, and managers with a few simple clicks.
Looking to grow your sales team? RingCentral's video capabilities can help you recruit and interview potential candidates from anywhere in the world, widening your reach and increasing your chances of finding the best talent out there for your startup. 
Start your startup sales team off on the right foot
The right technology can give your startup the big-business feel and polish it needs to stand the test of time. To see how RingCentral can help your startup compete with much larger enterprise sales companies and have the best possible communications capabilities, request a demo today! Your can also learn more at www.ringcentral.com/startup.
Originally published Mar 23, 2022, updated Apr 20, 2022