A few weeks back we told you we were about to open our first store in Europe. Today Spazio Lenovo arrived and opened to the public. Every day between 10:00 am and 8:00 pm CET visitors will immerse themselves in an environment dedicated to digital innovation—from getting hands-on with the latest technology to experiencing visions for a smarter, more connected world.
Spazio Lenovo brings our Smarter Technology for All vision to life in a physical space where visitors can explore new devices and see how IT can improve people's and businesses' lives, contributing in turn to society's progress, starting from the devices we use every day. Here's just a flavor of what is 'in-store' for visitor to Milan:
Launching a concept such as this is challenging at any time, but especially now.
"In the wake of recovery, businesses also need to collaborate with the public sector and society at large to re-imagine and re-invent new ways of working, learning and connecting," said Gianfranco Lanci, President and Chief Operating Officer of Lenovo. "As technology plays a critical role, especially during this time, Lenovo wants to enable both businesses and consumers on their path to recovery. As we look ahead, our vision for Spazio Lenovo is to become a central hub where people can see how smart technology can improve work and life."
The store features stations dedicated to PCs (ThinkPad, Yoga, Lenovo Legion), tablets, Motorola smartphones, workstations, AR/VR headsets (Mirage, Think Reality) as well as smart office/home office solutions and accessories. There are areas dedicated to events and workshops, briefings and meetings, Lenovo partner corners, a lounge a café and a coworking space and an auditorium. Visitors are welcomed at the concept store by Lenovo brand ambassadors who discretely accompany them during their visit to Spazio Lenovo, offering product demos upon request and managing any payments through mobile apps.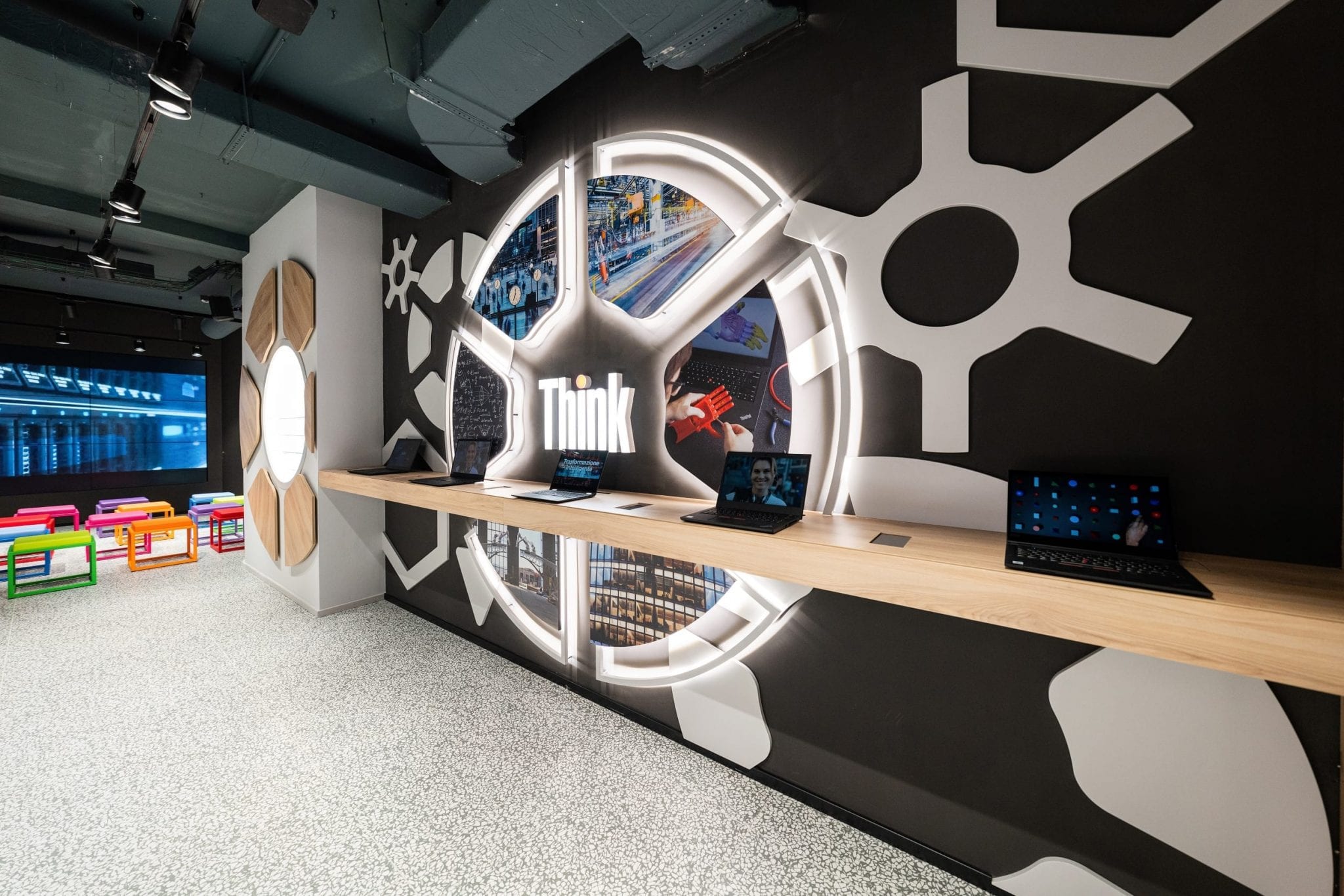 This concept store experience is complemented by a dedicated online platform: Spaziolenovo.com is available in Italian (and soon in English) and acts as a hub, allowing users to enroll in events and workshops or simply receive newsletters and communications from Lenovo. Logging into Spaziolenovo.com, users can keep book appointments, look at the restaurant's menu and book a table, or simply take a virtual tour.
In designing Spazio Lenovo, the team paid great attention to environmental impact, starting from how the spaces were designed and which materials were used. Italian designer Alessandro Luciani designed Spazio Lenovo to allow the visitor to experiment with technology through emotional, experiential and immersive paths. Design and colors were picked with the goal of making two approaches co-exist: The first tells of technology and the future, in the shape of an entirely digital communication with reflections, writing, large screens and ledwalls; the second tells of sustainability, aiming to reduce the distance with the outer environment through the use of sustainable materials such as iron, glass, wood, and dichroic glass which mimics the solar spectrum and its colour changes through the day thanks to its reflective and chromatic effects. The ambience is completed by 13 columns covered in stabilized foliage to mimic trees.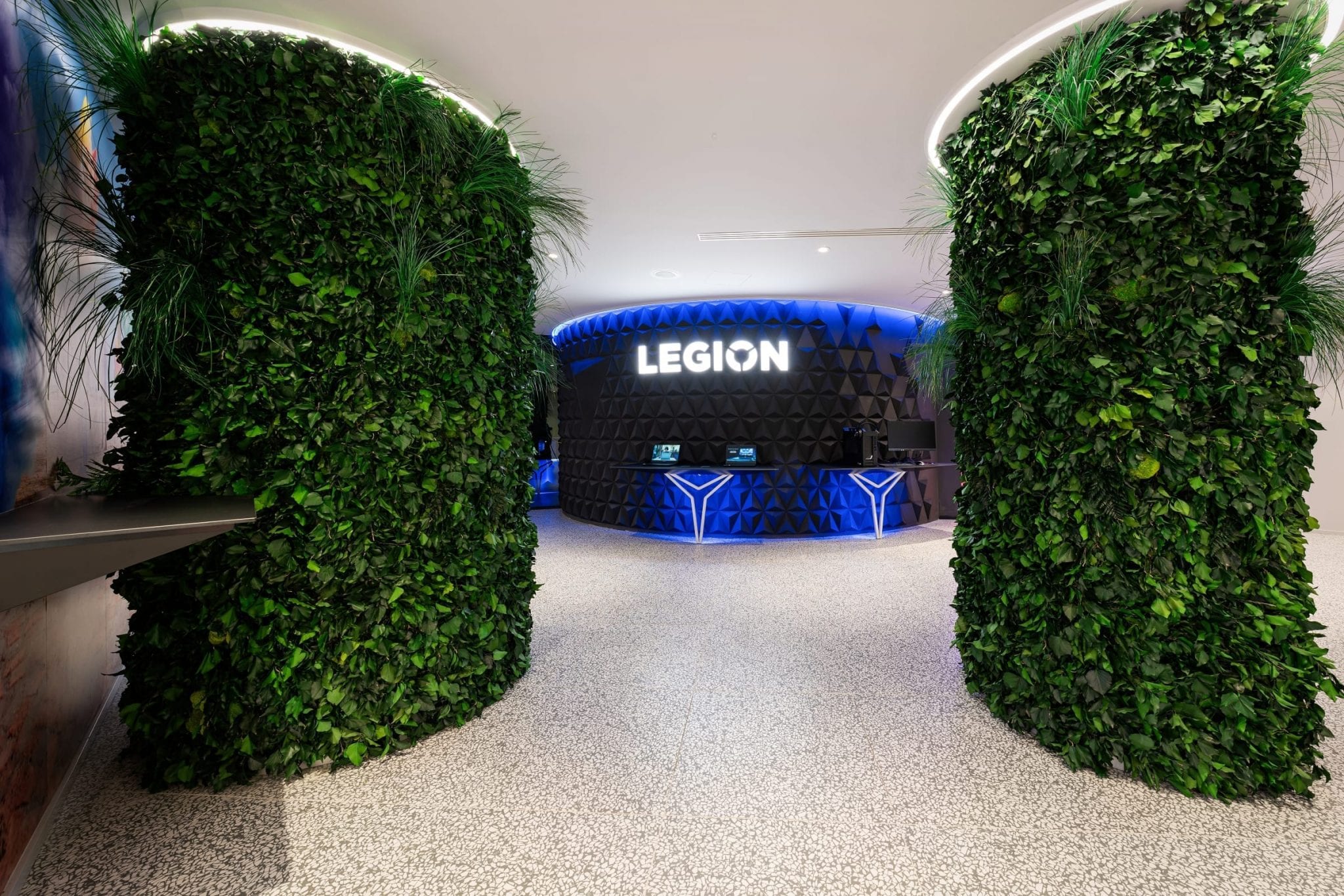 Specific attention was paid to the bistro, called Dove, inside Spazio Lenovo which invites visitors to sit down, have breakfast, lunch and cocktails, or to work in a relaxing environment.
Join us at Spazio Lenovo – your smarter experience.