Barcelona, renowned for its exceptional football club, stunning architecture, and exquisite tapas, is also the proud owner of Lenovo technology. In 2014 this technology transformed Barcelona into a smart city – a city that uses advanced technologies and data analytics to improve the quality of life for its citizens, by enhancing sustainability and urban services. Since then, Barcelona has become one of the world's most efficient cities, enabling it to save money, promote sustainability, improve waste management, and enhance metropolitan life. And now others have followed suit.
Technology isn't just being built into existing cities. All over the world you can see plans and the start of the construction of cities, districts, and new capitals, all designed in a way that defies conventional urban planning models. For example, The Line, a planned smart city in Tabuk Province in northwestern Saudi Arabia is set to span an area of 26,500km. The Line, located in Neom, is a mega-development built from the ground up and installed with smart technology, proof that any city can be a smart city, whether young or old.
Sustainability is at the forefront of the public agenda, with policymakers, businesses and individuals now looking to be located in cities that align with their ESG goals. With this in mind, it is more important than ever for cities to transform their sustainability initiatives, and smart technology is helping supercharge this. From providing smart transport solutions, improved energy efficiency, through to supporting the transfer of knowledge, smart technology is a vital piece of the puzzle in transforming a city's sustainability.

Smart Transport Solutions for a Thriving and Sustainable Future
In Barcelona, Lenovo has developed intelligent transport solutions, which has improved traffic flow, reduced congestion, and emissions, and enhanced the use of public transport. Data mining across the city has allowed for the gathering of real-time information about the city's transportation infrastructure, making the city more efficient, and reducing its carbon footprint.
For example, Barcelona has implemented a smart waste disposal system where residents can dispose of their household waste in intelligent bins. The bins use vacuum technology to transport waste underground for storage, an approach that both minimizes noise pollution and allows the city to better monitor waste levels, in turn facilitating efficient waste collection. Not only this, but the waste incineration process generates energy that is then used for heating systems.
Similarly, The Line is also set to incorporate smarter transport solutions into the infrastructure of the city. Everything will be accessible within a 5-minuite walk and an efficient public transport network will offer an end-to-end journey in just 20 minutes.

Powering the Future: Unleashing the Magic of Energy Efficiency
The International Energy Agency sees energy efficiency as "a critical tool to relieve pressure on energy supply" – it has the potential to reduce around 40% of greenhouse gases. So, it's no surprise that controlling energy efficiency has been a priority in adapting a city's infrastructure to become more sustainable.
In Barcelona, smart technology was used to install City OS, an open data infrastructure. The technology has allowed the City Council to distribute municipal resources more efficiently, whether this be in transport, energy, or water usage.
The Line has gone one step further as the city can predict how sunny and windy it will be to allow for a more efficient use of energy. By leveraging advanced computing technology, The Line will be built with the ability to monitor real-time activities within the individual rooms of any building. This infrastructure allows the city to match energy supply with demand, eliminating any waste in the process.
Enhancing Sustainability Through the Transfer of Knowledge
The transfer of knowledge has proven to be a vital tool in enhancing a city's sustainability. In Barcelona, for instance, citizens have unlimited access to information on the city's sustainability initiatives, from how a resident should recycle their products, all the way through to what the city hall has planned to make the area more sustainable. With this knowledge citizens can place an accurate level of pressure on the municipality, so planners and directors are held to account when implementing sustainable initiatives.
The same goes for The Line. Citizens moving to the city will opt-in for data sharing, becoming part of a system where everything is optimized via the use of data. Through this data sharing they will have access to more sustainable solutions as well as an enhanced knowledge of sustainability itself.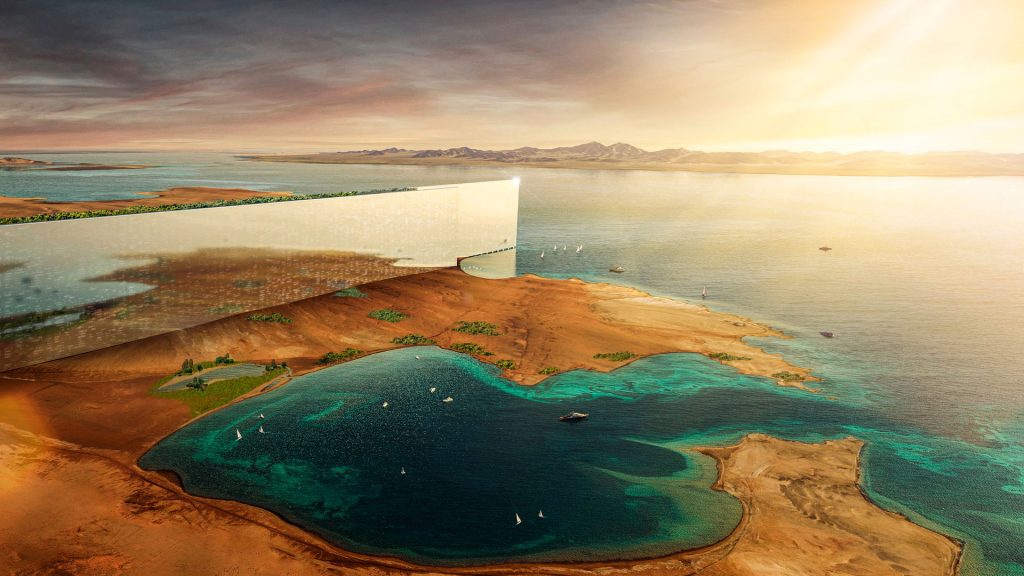 Whilst Barcelona and The Line may be miles apart geographically, they share a common goal: to enhance their infrastructure to be more sustainable, efficient and enjoyable for their citizens. Smarter technology is helping supercharge this.
Barcelona has been leading the way in smart city innovation for years, The Line, meanwhile, is set to be a new shining example of how a city can be built from scratch with sustainability at its core. What is exciting is that both Barcelona and The Line are paving the way for other cities to follow suit. By embracing smarter technology, cities can reduce their environmental impact, improve citizen satisfaction and make headway in the path to net-zero.