Get better-than-ever resolution quality when you wirelessly mirror devices to your TVs, projectors, interactive whiteboards and other displays with Ditto. The latest Ditto update enables users to mirror native device resolutions to Ditto receiver-enabled displays for a sharper image quality.
Different device types have different native screen resolutions. For example, a 2023 MacBook Pro 14″ has a 3024 x 1964-pixel native resolution while a 2022 MacBook Pro 13″ has a 2560 x 1600-pixel native resolution. A 2022 6th-generation 11″ iPad Pro brings a 2388 x 1668-pixel native resolution. The Surface Pro 9 carries a 2880 x 1920-pixel native resolution.
See? There isn't much uniformity in device resolutions.
What's the big deal? 
Different device resolutions produce a wide range of mirroring quality outcomes for collaboration solutions that take a one-size-fits-all approach to screen mirroring resolutions. Mirrored device resolutions are either upscaled or downscaled to fit within set resolution parameters. This approach causes some devices to appear a little pixelated. The picture is not quite as crisp as you want it to be. 
The latest Ditto update enables Ditto receiver software to process mirrored content at its native device resolution. Ditto passes the native resolution to the receiver hardware, which then scales the mirrored content appropriately for whatever display it's connected to. The end result is a greatly improved output resolution for your mirrored content. 
How to enable native device mirroring resolution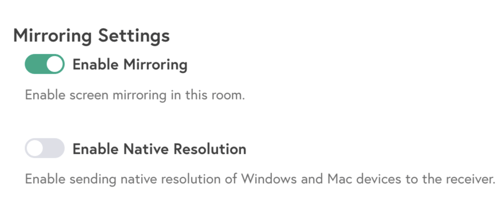 To enable native resolution screen mirroring, Ditto account admins must simply toggle this new setting in the Ditto Account Portal. The setting can be applied at an organization level or on a room-by-room basis. Native resolution mirroring is currently available for macOS and Windows devices.
Note that enabling native resolution mirroring can increase the load on your network. We advise choosing a setup that works best with your network conditions. 
Static IP addresses
We also added the ability to enable the use of static IP addresses for Ditto receivers. Previously, receivers only used the last known IP address. Ditto account admins may choose to assign receivers a static IP address to:
Accommodate more specialized network environments

Improve network security by placing Ditto receivers in secure network segments

Support custom routing requirements 
When this setting is enabled, Ditto Connect uses the static IP address when connecting to the Ditto receiver. 
Apply static IP addresses on a receiver-by-receiver basis in the Receivers section of the Ditto Account Portal. Click on a desired receiver, toggle the "Enforce static IP address" option and enter the IP address.

Get Ditto 
A Ditto account is required to use native resolution screen mirroring and static IP addresses. Create an account and try Ditto free for 30 days.
Collaborate wirelessly like a pro at work or school
Ditto brings cross-platform screen mirroring and digital signage capabilities to any space. It's the best and easiest way to share and display content in your spaces. Ditto is trusted by some of the biggest names in tech and education.
Related Reading