Right-sizing your cloud is the multibillion-dollar question that IT professionals around the globe are striving to solve. This month we hosted a roundtable discussion with industry and analyst experts to gain their perspective on ways to get it right.
Moderated by Luke Mahon, Director of APEX Technical Marketing at Dell Technologies, this LinkedIn Live broadcast documented the unique perspectives of analysts and industry experts, including:
Scott Sinclair, Senior Analyst at Enterprise Strategy Group (ESG)
Jo Peterson, Vice President of Cloud and Security Services at Clarify360
Here's the highlight reel of challenges that IT professionals face today:
Increased pressure on IT to operate faster.
Complexities of IT infrastructure slowing us down.
Effects of the pandemic stretching IT support, security, and resources.
Juggling multiple and disaggregated cloud environments.
Talent shortage for technical IT personnel.
Unexpected costs associated with public cloud.
Listen in to gain more insight into key IT considerations and predictions for what's coming next.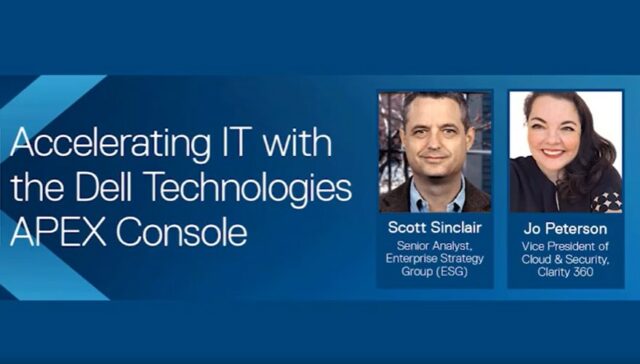 The areas of opportunity are limitless when it comes to IT and multi-cloud management. The companies that work to tackle these complexities will pull ahead to digitally transform. As Scott Sinclair, Senior IT Analyst put it, "[the] dilemma is really what contemporary IT is about solving. It's about trying to figure out a way to modernize, transform, simplify IT and IT operations as a means to deliver that acceleration that business needs."
Here are more of my favorite moments throughout the event:
Security and Multi-cloud: "You get folks who are trying to support not one cloud environment but multiple cloud environments and the security side of the house and it's just been a real challenge." – Jo Peterson
Project Acceleration: "It's not about reducing budget. It's about freeing up budget to accelerate that next new project." – Scott Sinclair
Cost Alignment: "I think we're going to start to see that alignment of, not only does it make sense from a technical and engineering perspective, but does it make sense from a cost perspective?" – Jo Peterson
Right-sizing resources for workloads: "We need to better understand where a workload performs better and make sure we're rightsizing and putting it in the right place to make it work." – Luke Mahon

It's evident that IT decision makers are going to be at the center of digital transformation discussions for years to come. Our panel predicts that we're on the precipice of a vast number of organizations conducting a cloud rationalization project.
The panel also predicted what is to come in 2022 and beyond, along with recommendations on how to enhance your cloud journey:
"Create a cloud center of excellence to coordinate between silos within your company." – Jo Peterson
"[When you implement] a consumption model as opposed to the large capital outlays … what you're able to do is push costs to future quarters so I can start three projects now." – Scott Sinclair
"Leaders are looking for ways to automate, to experiment with composable applications and cloud-native platforms. And they want tools and platforms that improve the speed at which IT serves the business." – Jo Peterson
"One of the big areas that organizations are saying hey, look this is an excellent opportunity to modernize, is within the data center. We see a significant rise of interest for, and adoption of these cloud-like operating models on-premises." – Scott Sinclair

To wrap up the discussion, Luke Mahon conducted a demo of the APEX Console, your unified, self-service cloud orchestration platform. Jo Peterson gave her thoughts on the overall experience when she said:
"Teams are looking for an easy button. They're looking for a tool that is cohesive across environments, for something that will lower costs, increase productivity and prove their context and visibility. I think that the APEX Console story fits nicely into that path to centralization and [will] be the glue that helps brings some of these disparate things together."
Partner with Dell Technologies to revolutionize and simplify your IT journey. Visit the APEX Console page for more information on how to get started.