For decades, physical workspaces were the norm for many companies around the world. Technology has transformed the modern workspace, a process accelerated by the COVID-19 pandemic. Businesses worldwide are transitioning towards remote working arrangements, as they have come to recognise the substantial benefits they bring to both operations and employees – from cost- and time-saving to optimising resources and building business resiliency.
UCC Holdings, a major Japanese food and beverage holding company, turned to Lenovo to accelerate its transition by providing a secure hardware solution that complements its remote work infrastructure.
The company first explored the need to transition due to the upcoming 2020 Tokyo Olympics as added pressure to transport infrastructure countrywide would make commuting difficult for over 2,000 employees. The company needed to find a solution that would allow employees to collaborate and work efficiently from a remote setting – something that Lenovo could certainly help with.
All software needs suitable hardware
To kickstart the transition, UCC implemented Microsoft Office 365 solutions as a software platform. This allowed employees to collaborate securely in a mobile working environment. But this solution also needed the right hardware to replace UCC's 2,000 ageing Windows 7 PCs, fast with minimal effort.
Enter Lenovo's ThinkPad X390 laptops. Equipped with LTE, Lenovo supplied these laptops to UCC's employees to better enable them to work from home, the office, and even on the move. These laptops are compact, versatile, and run on the latest Windows 10 operating system, supporting full compatibility with applications and the latest security updates.
"ThinkPad X390 met all of our technical requirements: 4G connectivity for mobile working, lightweight and easy for our people to use, and robust enough to serve our business needs for many years," says Mr Toshio Kurosawa, Executive Officer and Chief Information Security Officer of UCC.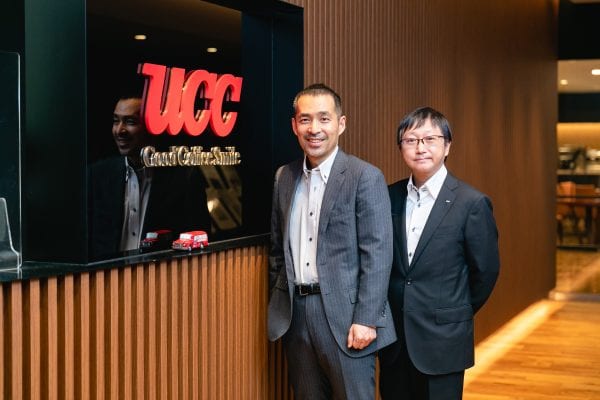 Accelerating the transition
The ThinkPad X390 laptops, in combination with Microsoft 365, also allowed for quicker set up time. Lenovo's solutions support Windows Autopilot, a service that automatically sets up business applications on a device upon connecting to a network. This new, automated solution drastically reduced reliance on IT support and reduced time constraints in deploying UCC's remote work infrastructure.
Additionally, to better optimise the setup process, UCC used Lenovo's Ready to Provision Plus (+) to pre-load key software in laptops before shipment, preventing the company's networks from overloading with downloads as employees set up their devices. This prevented delays that could hamper the company-wide setup process.
Ready for the new landscape of work
Lenovo's work with UCC meant that the company could equip their over 2,000 employees in Japan with a secure remote work infrastructure that enabled productive collaboration.
With the emergence of the COVID-19 pandemic, Lenovo's solutions gave UCC a head start to transition towards socially distanced working. UCC was equipped with a sound infrastructure for remote work, and this helped its employees be readier than ever to face the new landscape of work.
UCC intends to continue its collaboration with Lenovo to help standardise their remote work initiatives across their global businesses.