A Forrester study reveals up to 45% reduction in overprovisioned storage costs and net benefit value of up to $1,929 per TB over three years.
Stellar performance, rock-solid reliability, innovative features and seamless integration: The value of Dell Technologies infrastructure portfolio is easy to see. But when these technologies are operating as-a-Service as a part of Dell Technologies APEX, there's significant additional value that becomes fully visible only as an organization experiences the APEX services over time in their day-to-day operations and planning.
It might become obvious when an organization is able to move IT budget from a capital expense (CapEx) to an operating expense (OpEx), or when the IT department finds they can align expenses with actual usage. And taking advantage of the intuitive Apex Console to track utilization and add capacity is bound to be an eye-opener. These are typical APEX experiences – and in each of them, there's value above and beyond the underlying physical infrastructure, because APEX is a true service, not a purchase.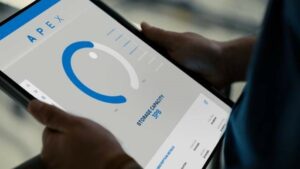 Organizations typically adopt as-a-Service models for on-premises infrastructure to move budget from CapEx to OpEx and increase flexibility in responding to often-unpredictable business needs. Dell Technologies APEX Data Storage Services provides scalable and elastic block and file storage in an as-a-Service model, enabling our customers to achieve these benefits while saving on costs and on the manual work associated with the traditional model of on-premises storage infrastructure.
But, how to quantify and communicate the value of that experience?
Recently, Dell Technologies commissioned Forrester Research to conduct a Total Economic Impact™ (TEI) study to examine the benefits, costs and risks enterprises encounter when deciding to invest in as-a-Service. The TEI methodology provides a framework which organizations can use to evaluate the potential financial impact of APEX Data Storage Services.
In the study, Forrester interviewed IT decision makers in a variety of industries with experience using APEX Data Storage Services. The customers in the study identified common challenges they had experienced with their traditional on-premises storage infrastructure prior to adopting APEX Data Storage Services:
Difficulty forecasting on-premises storage needs led to overprovisioning with deployed but unused storage amounting to up to 45% of the total storage infrastructure, a burdensome capital expense.
Hardware maintenance and software upgrades strained limited staff resources stealing their time from higher-value projects.
Planning and provisioning storage took months ballooning costs and, in some cases, impacting the productivity of employees who were unable to complete work due to lack of available storage.
Additional issues these customers identified included the costs of removing end-of-term storage hardware safely and sustainably, and the difficulty of staying up to date with hardware due to lack of staff time to perform the updates.
In all these areas, APEX Data Storage Services customers interviewed for the Forrester TEI study* anticipated the following benefits:
Eliminate costs of overprovisioning, reducing storage costs by 20% to 45%
Save as much as 50% in IT time
Accelerate deployment time of storage by as much as 86%
Based on the customer interview responses, Forrester constructed a TEI framework and performed an aggregate financial analysis that projects the value of an organization's investment in APEX Data Storage Services after three years.
Key findings of the Forrester study* include:
Reduced costs of planning and provisioning storage between 63% to 86%
Net benefit value of up to $1,929 per TB
Up to 129% return on investment
As you can see from this brief summary, the experience of APEX Data Storage Services adds up to quite a lot of value. To learn more, read the full Forrester report, New Technology: The Projected Total Economic Impact™ of Dell Technologies APEX Data Storage Services.
Disclosure:
*A Forrester New Technology Projected Total Economic Impact Study, commissioned by Dell Technologies, June 2021. Estimates projected over 3 years, based on interviews with four organizations using APEX Data Storage Services, aggregated and combined into a composite organization, and survey responses from an additional 121 IT decision makers. Actual results will vary. Full report