Women at Lenovo share insights on how allies can promote equality and create opportunities for women.
Today is International Women's Day, a day that celebrates the social, economic, cultural, and political achievements of women. It is also a day to reflect on how much farther society must progress to achieve gender equality. The International Women's Day 2021 theme – #ChoosetoChallenge –  underscores the ongoing need for  women and their allies around the world to challenge systemic and cultural barriers that prevent gender parity.  
At Lenovo, we recognize that we all have a responsibility to empower under-represented populations and individuals who may not have a seat at the table. This behavior—particularly from those in privileged positions—is known to many as allyship. Being an ally doesn't have to mean taking on the role of being someone's sponsor or mentor – it can also be shown through small, everyday interactions that model inclusive behavior. Allyship, of course, goes far beyond just supporting women, but today that's our focus. 
So, what are the big and small things we can all do to help advance, promote, and empower women in our lives? How should someone be an ally without risking being a savior? How do people in power create change without centering on themselves? How can we empower and coach without pushing too far and – most importantly – what's the most meaningful behavior for women in the workplace to feel supported by their "allies"?  
We conducted a small survey among women across Lenovo's diverse global markets to get answers to these questions. The responses we received can help all of us understand how to be better allies for everyone, especially women.  
Q: How would you describe an ally in today's workforce? What are the traits that make someone an ally? 
A: While allies are supportive, understanding and empathetic, a major trait that came out for allyship was someone who was willing to push, critique and develop someone's talent. In summary, an ally is our best coach. However, the coaching must be done genuinely. Survey respondents were critical of those who wish to ally with support but lack the self–awareness to do so effectively.  
"Real allies do not want to be labeled as such. They may not even know they are an ally for someone, but by supportively challenging us, playing 'devil's advocate' to draw out our best ideas, and providing objective feedback, they are allies," commented Simona Stoica from Lenovo Bratislava.  
Along with the bravery to provide honest feedback and invest time and "skin" to advance someone, allies must be willing to be vulnerable.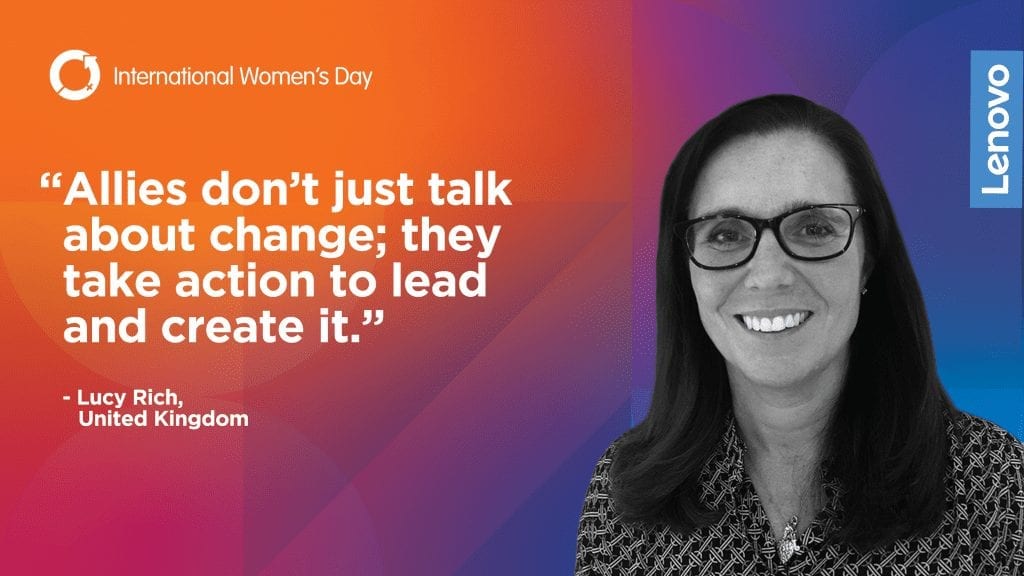 Q: What are some examples of allyship in your life? 
A: Overwhelmingly, responses for stories of allyship trended toward just a few themes: honest coaching, investing time and energy to provide consistent support, and helping a woman reach her next career goal. Many stories demonstrated the crucial need for allies in times of uncertainty, providing pillars of support and honesty to help navigate challenges. Allies for women are especially needed during the uncertain times of COVID-19, which has amplified many existing inequalities. Though the effects of the global pandemic have created incredible stress for all, data shows an increased impact on women in the workforce. A study by McKinsey & Company demonstrated that while women make up the minority 48% of the U.S. workforce, they make up nearly 56% of individuals leaving the workforce since the pandemic started.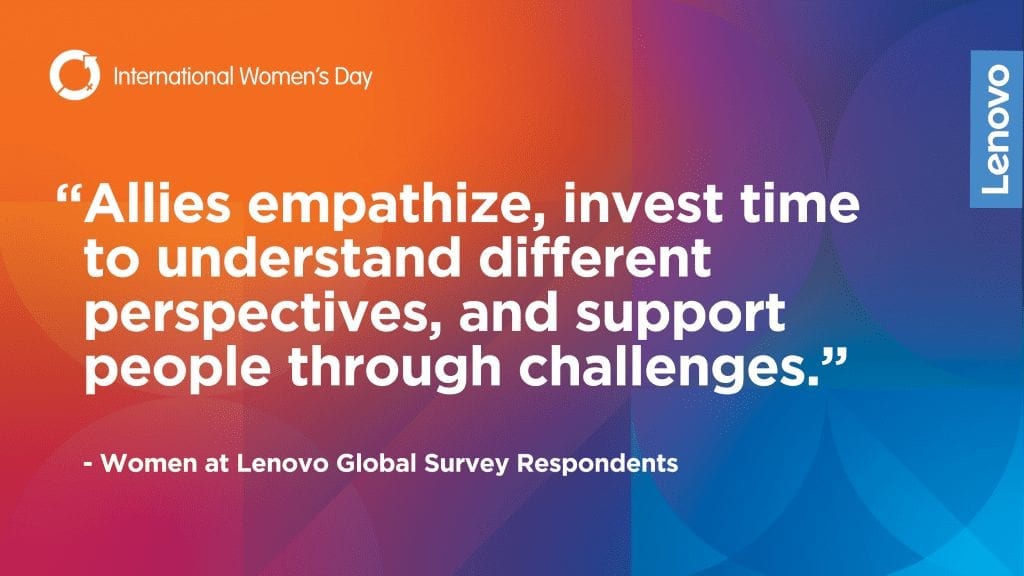 Q: What's the number one trait an ally for women should possess? 
A: Responses ranged from the tactical to the heartfelt. While some women cited actions like "opening your network" or "sharing political capital", the ability to empathize and listen stood out as the most in-demand trait for allies to women. 
"An ally needs to understand the challenges a woman may face in the workplace and validate her experiences. An excellent ally needs to practice empathy and evaluate the needs of women to feel safe, valued and respected as equals," explains Sue Chien Eilen Kua. 
What was our biggest learning from this survey? If you want to be more supportive to women in your life, take away the guess work: simply ask them what you can do and – most importantly – listen carefully to their response.