O-RAN Edge Cloud deployments present some unique challenges for Server Manufacturers. The O-RAN Alliance has studied the requirements of Edge Deployments and has published their recommendations in a Working Group 6 (WG6) Technical Specification¹, which includes the difference between Regional Clouds and Edge Clouds, in terms of physical and environmental requirements.
A Regional Cloud typically hosts applications such as near-RT RIC and O-CU, and typically resides in a Standard Internet Data Center where space, environmental, power, cooling, etc. are provisioned to allow for the installation of traditional 19", 42U, 1-1.2m depth rackmount platforms, with an architecture that creates highly available cloud compute, network and storage deployments.
These Regional Cloud locations, given the general lack of deployment challenges, the new PowerEdge G15 Rackmount Servers are an excellent choice that offer tiered levels of performance and capabilities to create efficient solutions with smart dimensions. From the R450/R550 Servers, to the R650/R750s, Dell EMC PowerEdge offers tiered platforms which optimize CPU, memory, storage, and acceleration options for the end-user required workloads. The R650/R750 XS series are well scaled and suited, particularly for Telecom. The XS series is designed with a balance of the previously mentioned components that meet the requirements of most Cellular Service Provider's Cloud Core Deployments.

WG6 goes on to describe the Edge Cloud, and in their words: "The edge cloud often resides in a traditional telecommunications equipment room with limited space, cooling capacity, floor loading, and so forth. The limitations can impose special requirements on the cloud platform hardware that may require telecommunications standard certifications, such as the Network Equipment Building System (NEBS)."
Beyond a "traditional telecommunications equipment room", today's Telecom Edge Cloud is being deployed even closer to the end user, up to and including the Cell Site. The necessity for computing at the Cell Site is based on the latency or bandwidth requirements of the O-RU to O-DU fronthaul interface. This is where the distance to an available telecom equipment room (C-RAN) is too great to meet these latency requirements or when sufficient fronthaul transport between the Cell Site RU and the equipment room is not available, or the cost of leasing such transport is too expensive. In the future, these Far Edge locations will evolve to support the low latency MEC applications that will be enabled with 5G features, such as URLLC (Ultra-Reliable and Low Latency Communications), including applications such as smart-grids, AR/VR and V2X autonomous vehicles, where millisecond latencies are required.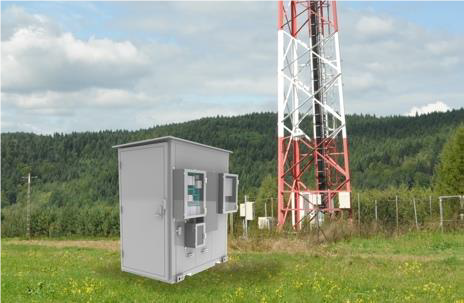 Back to O-RAN WG6's recommendations, which provides a table, listing the potential design requirements for Edge Cloud infrastructure: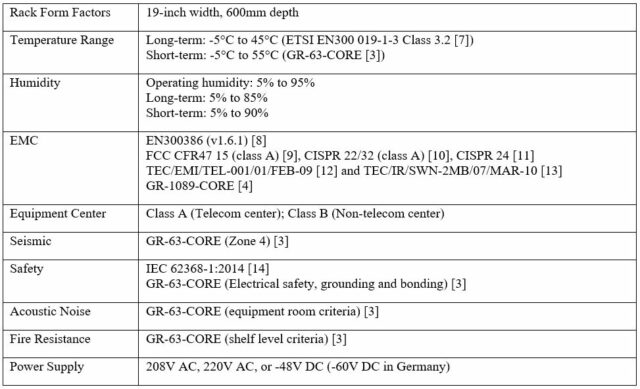 These requirements boil down to four main categories; space, environmental, safety, and power requirements. Equipment vendors expecting to deploy their HW to a Telecom Edge Cloud, and beyond, will need to design a product that meet these NEBS-level requirements in order to deploy into existing Edge Cloud environments.
These requirements have their foundation in NEBS, which was the starting point for Dell EMC's new PowerEdge XR11 and XR12 Servers. Add to it, an XR11/XR12 that is also designed and tested for MIL-STD, Defense and Maritime applications, Dell Technologies has created a server line that not only meets, but exceeds NEBS and in a form factor that meets O-RAN WG6's design recommendations.

Let's briefly cover the 4 requirements above and comment on Dell Technologies' approach to each:
Space – The Dell EMC PowerEdge XR11 and XR12 Servers are 1U and 2U in height, respectively, and 19" in width. At 400mm depth, the XR11/XR12 fit well within the recommended rack depth of 600mm.  With front I/O capabilities, the XR11/XR12 can be installed in Edge Cloud racks, providing sufficient space for power and network cabling, without creating a difficult to maintain cabling design or potentially one that obstructs airflow.
Environmental – While the XR11/XR12 is designed to meet the environmental requirements of NEBS Level 3 and Seismic Zone 4, as defined in the Industry Standards GR-63-CORE and GR-1089-CORE, Dell Technologies wanted to create a platform that had uses and application outside the Telecom Sector as well. Dell Technologies also designed the ruggedized XR11/XR12's as an excellent compute platform for both Military and Maritime environments. Dell EMC's XR11/XR12 servers are tested to MIL-STD and Maritime specifications, including shock, vibration, altitude, and sand/dust. This wider vision for the deployment potential of the XR11/XR12 creates a compute platform that can exist comfortably in an O-RAN Edge Cloud environment.
Safety – Testing to the Safety Requirements of NEBS, including electrical/grounding, acoustic noise and fire resistance are all fundamental design requirements of the XR11/XR12. The safety of the Operators and Edge Cloud facilities are of paramount importance to Dell Technologies in the design on the XR11/XR12.
Power requirements – Dell Technologies has worked with our power supply vendors to create an efficient range of Power Supply Units (PSUs), from 800W to 1400W, and in both AC and DC source options. This allows the customer to select a PSU that more closely matches to the current type available at the facility and power draw of the server, reducing wasted power loss in the voltage conversion process. The XR11/XR12 PSUs cover the AC (100-240V) and DC (-48V/-60V) ranges specified by O-RAN WG6.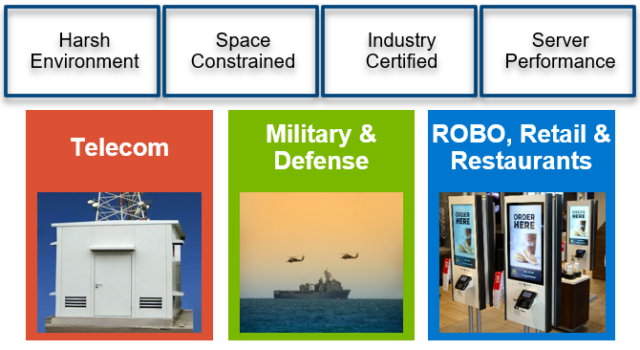 In conclusion, Dell Technologies design goals to create a ruggedized compute platform that can exist in environments beyond the Telco Edge Cloud, as outlined by O-RAN WG6, has created the XR11/XR12 servers which both meet and exceed the rigorous environment of O-RAN Edge Cloud deployments. The O-RAN Edge Cloud also benefits from the additional design requirements implemented to meet MIL-STD and Marine applications, as will other Edge environments, such as Industrial and Retail applications.
1 O-RAN WG6 – "Cloud Platform Reference Designs – O-RAN.WG6.CLOUD-REF-v02.00", Section 3.2.