Given the explosion of data that is occurring in various market segments, flexible data infrastructure is fast becoming an imperative. The rigid nature of the building blocks that make up traditional and Hyperconverged Infrastructure (HCI) is simply not able to meet the demands of data-intensive, mission-critical applications.
For the past two years, Western Digital has been working closely with partners to define an open composable architecture with a standards-based approach that utilizes NVMe™ over Fabrics (NVMe-oF™) to achieve greater flexibility, performance and agility in the data center. Today we're sharing our latest technology evolution, but before I get there, take a moment to read our previous blog. to learn about OpenFlexTM products, open composable architecture and API and the Open Composable Compatibility Lab.
---
---
Open Composable Architecture
Open Composable architecture has several layers that provide different functions to support a composable disaggregated infrastructure. We have combined a number of industry standards to create the Open Composable API that provides a consistent experience across different solutions, vendors, products, and users, potentially reducing vendor lock-in and further driving vendor-neutral solutions.  We have made this API public and contributed it to the Open Compute Project.

Our OpenFlex architecture, the industry's only open composable infrastructure solution, initially started with the introduction of the OpenFlex F3000 and F3100 platforms, both of which can be placed inside the E3000 enclosure. Earlier this year, OpenFlex was recognized as the only NVMe-oF product among this year's winners of Storage Magazine/Tech Target's prestigious Products of the Year Awards in the Hyperconverged and Composable Infrastructure category.
The Next Generation of Our Award-Winning Series
We are now introducing our latest generation enhancement to the award-winning product series, the OpenFlex F3200.
The OpenFlex F3200 is a dual-ported fabric-attached Flash device that resides in an E3000 enclosure, providing up to 61TB1 of flash-based storage directly to Ethernet attached hosts via NVMe-oF using RoCE v2. Performance is maximized – completely filling the bandwidth of dual 50 GbE connections to each device, and 99.99% latency is less than 40us. NVMe-oF provides multi-path resiliency and power-loss protection for a complete storage solution.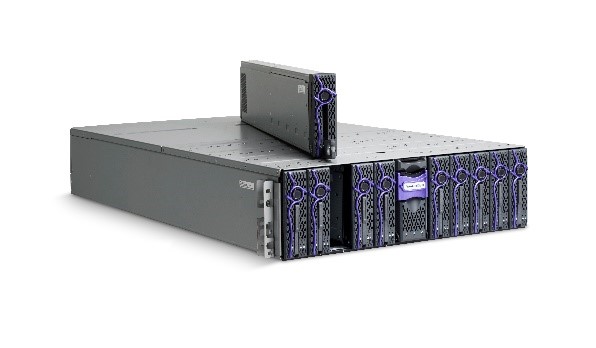 What's New?
Compared to the previous generation F3100 device, the F3200 introduces a number of new features, including:
VLAN tagging support
Secure erase & instant secure erase
NVMe namespace capacity expansion
Non-disruptive SSD FW updates
And some great new performance compared to the previous generation F3100 device:
Up to 48% random write performance gain
Up to 4% mixed R/W performance gain
Up to 22% sequential write performance gain
Finally, some Open Composable API enhancements are now available in F3200:
Send collected telemetry
Local proxy server for telemetry data
Filterable email alerts
GUI configuration for email alerts

Fabric Platforms
The OpenFlex E3000 is a 3U enclosure that enables up to ten F3200 devices.  It provides power and cooling without aggregating bandwidth, allowing each F3200 to operate at full performance. This enclosure is designed for high availability and high performance and offers::
10 dual-port network slots
614TB with 61TB fabric devices
Dual PSU, N+1 fans
Single RJ45 management port
220V power inputs
These fabric platforms provide outstanding performance density with up to 7.2M IOPS per rack unit (RU) and 39 GBps/RU with a raw capacity density of 205 TB/RU.
Driving Open Architectures
We're continuing to enhance the OpenFlex product line to support disaggregation of data center resources, including CPUs, memory, accelerators, and more. The architecture is such that it is even possible to disaggregate FPGAs, and GPUs. By disaggregating these elements into a composable infrastructure, IT can more effectively scale resources independently and optimize utilization/provisioning.
To get started on the path to open CDI, please visit the OpenFlex page on our website to learn more about how your organization can achieve the flexibility it needs to meet the business demands of today while building for the future.
Learn More
Livestream: The Next Data Fabric: NVME-oF™
With the exponential growth in data, along with the increasing diversity of workflows and demands on IT infrastructure, businesses need to increase speed, agility and time-to-value for their customers. Learn how to scale application performance and scale using outside-the-box connectivity for on-premises infrastructure.
Case study: Open CDI brings faster time-to-discovery for clinical imaging
With fast, low-latency access to imaging data, scientists can work with up to four times the resolution than before. The shared storage with NVMe-over-Fabrics allows scientists to focus on using the data to advance their research, greatly increasing their productivity and efficiency.
---
1One terabyte (TB) is equal to one trillion bytes.  Actual user capacity may be less due to operating environment.