NVM Express, Inc. last week announced the release of the NVM Express® (NVMe®) 2.0 family of specifications which allows for faster and simpler development of NVMe solutions to support the increasingly diverse NVMe device environment, now including Hard Disk Drives (HDDs). NVMe 2.0 refactors the original specification into key documents that will allow developers to accelerate solutions and provides for a more modular and specific structure moving forward.
NVM Express is the non-profit consortium that defines NVMe technology. As part of this release, Seagate partnered with other industry leaders in the consortium and developed support in the base specification for "rotational media" — that is, HDDs. This support allows for future NVMe HDDs to be seamlessly incorporated into the NVMe ecosystem and take full advantage of this feature-rich interface. The update ensures:
Base specification support to enable faster NVMe HDD adoption
No new drivers required
No new command set required
NVMe HDDs in subsystem architectures like NVMe-oF (over Fabrics) will take full advantage of the flexibility of the latest open-source composability tools, including Kubernetes, which provides a fully managed container service for flexible deployment of applications.
Additionally, NVMe HDDs can now have access to a broad range of open-source storage management APIs and tools utilizing Redfish™, which provides simple and secure management APIs for disaggregated storage solutions.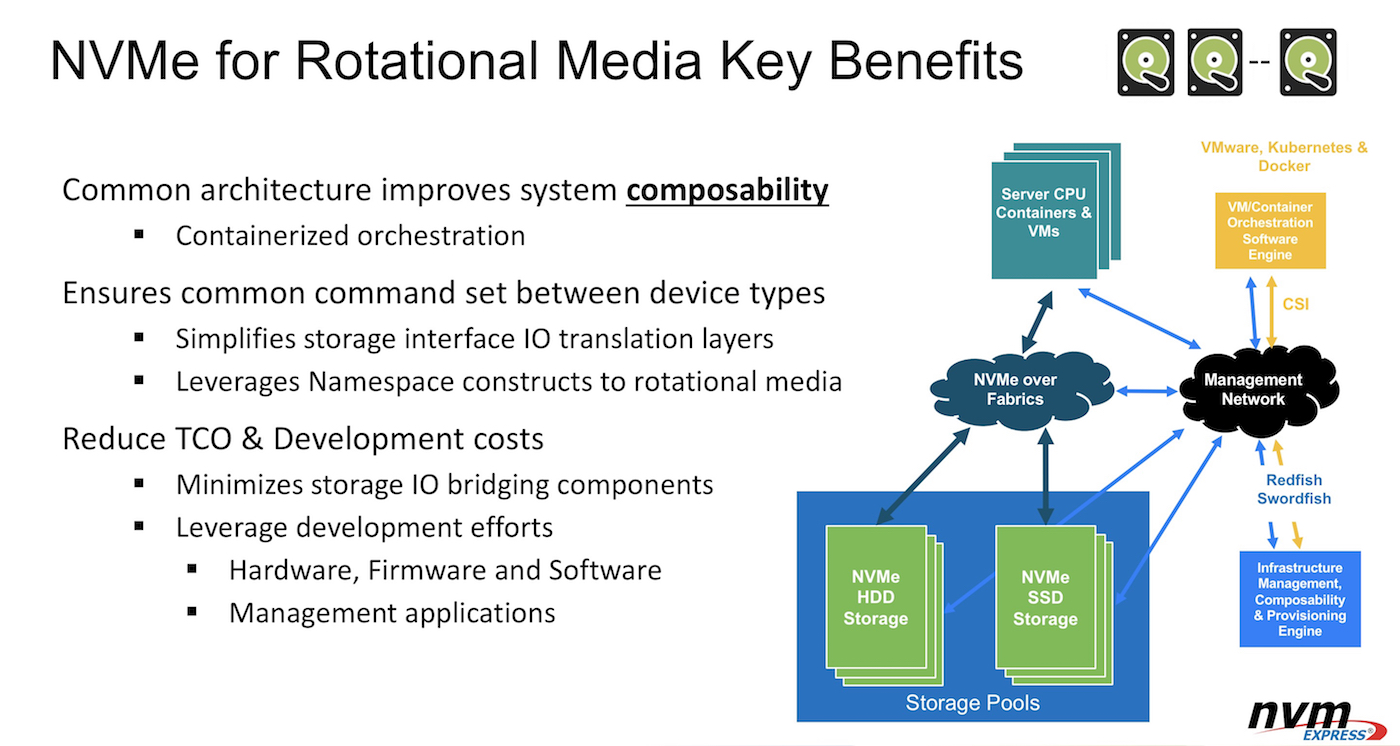 As NVMe continues to be a cornerstone for new storage architectures and feature deployment, the specification's support for rotational media ensures HDDs will have the capability to support the industry's latest architectures and initiatives.
Other Seagate NVMe HDD initiatives include the Open Compute™ OCP-Storage-NVMeHDD Initiative which is developing specific architectures and requirements in support of NVMe HDD deployments. This initiative will shorten the industry adoption timeline for these disaggregated storage solutions and architectures.
For more details, check out the announcement from NVM Express.