RESEARCH TRIANGLE PARK, N.C.– JUNE 4, 2012: Marked by the launch of a multi-million dollar global marketing campaign, Lenovo (HKSE: 992) (ADR: LNVGY) today announced the worldwide availability of its coveted IdeaPad U310 and U410 Ultrabooks. Powered by the 3rd generation Intel®Core™ processors, Lenovo's new U Series Ultrabook™ devices take the era of thin, lightweight and ultra-responsive mobile computing to a new level of affordability, without compromising quality or style. To showcase the benefits and features unique to its new Ultrabooks, Lenovo's multi-faceted, global "Book of Do" advertising campaign highlights how the combination of innovative thinking and IdeaPad Ultrabooks empower people—the world's tinkerers, creators and builders—to make great things happen.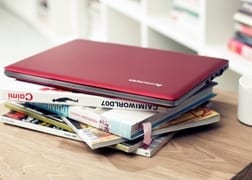 Lenovo Ultrabook devices combine the best features of traditional laptops—powerful processing performance, large storage capacity and rich audio—with the sleek aesthetics and desirable qualities of tablets, such as fast boot up, instant resume and all day battery life. With a svelte, book-inspired design that appeals to the fashion-forward consumer, the new Ultrabooks are available in a variety of vibrant colors including Sapphire Blue, Aqua Blue, Cherry Blossom Pink, Graphite Grey or Metallic Red1. Lenovo is making this progressive technology attainable for consumers with competitive prices starting under $800 (USD).
"Ultrabooks are an industry game changer that shift not only the way people think about laptop design, but also how much performance technology can be packed into such a thin and light device," said Peter Hortensius, president, Product Group, Lenovo. "Lenovo Ultrabooks free people from having to choose between a device with a productivity-focused user experience and one with a style and design that inspire their creativity. The IdeaPad U Series Ultrabooks embody this convergence and are the perfect tool for consumers to manage every aspect of their digital lives."
The Book of Do Campaign
In Japan, Ayako Hara, Miss Universe Japan 2012, is serving as a brand ambassador to highlight the intersection between fashion and technology. Similarly, in India, youth sensation and Bollywood actor Ranbir Kapoor is touting his Ultrabook to appeal to the cell-phone tapping, social-networking Net Gen audiences.
The Can Do Everything Book of Do – Ultrabooks
As thin as a small paperback book, the 13.3-inch U310 and 14-inch U410 measure only 0.7-inch (18mm) and 0.83-inch (21mm) thick and weigh just 3.74lbs (1.7kg) and 4.18lbs (1.9kg), respectively. Even with a thin and light frame, these Ultrabook devices offer the performance to handle any mobile computing task with 3rd generation Intel® Core™ i3, i5 or i7 processors, up to 1 TB of storage; NVIDIA GeForce® graphics and up to nine hours of battery life on the U410; and 500 GB HDD drive and up to seven hours of battery life on the U310. They also feature Dolby® Home Theatre® v4 for intense sound quality and have Intel® Wireless Display (WiDi) technologyto project videos and other content wirelessly on any big screen.
"The IdeaPad U310 and U410 Ultrabooks deliver on the next generation mobile computing experience," said Kirk Skaugen, vice president and general manager of Intel's PC Client Group. "Working with Lenovo, we've delivered stunning visuals and amazing performance with our 3rd generation Intel Core processors in exceptionally thin and light designs that meet the needs of today's most demanding mobile users."
To keep doers up and running, Lenovo Ultrabook devices come with a full array of warranty and protection services, whether it's an onsite warranty upgrade, Accidental Damage Protection for when things don't always go right, or a Sealed Battery Warranty to minimize downtime due to battery replacement.
Pricing and Availability2
MSRP for models of the IdeaPad U310 starts at $749 (USD) and $799 (USD) for the IdeaPad 2U410 Ultrabook.
About Lenovo
1Colors vary by size.
2Prices do not include tax or shipping and are subject to change without notice and is tied to specific terms and conditions. Reseller prices may vary. Price does not include all advertised features. All offers subject to availability. Lenovo reserves the right to alter product offerings and specifications at any time without notice. Pricing varies by configuration and business partner.
Ultrabook is a trademark of Intel Corporation in the U.S. and/or other countries.