RESEARCH TRIANGLE PARK, N.C., Oct. 15, 2020 – Lenovo (HKSE: 992) (ADR: LNVGY) today announced a set of ThinkIoT Smarter Store Solutions to help "brick-and-mortar" stores adapt to thrive in today's new normal environment. The solutions improve customer experience by enabling better inventory availability and product interaction while simultaneously driving labor efficiency. Additionally, these solutions help to make stores safer for shoppers during COVID-19, giving them confidence during this upcoming holiday season. Today's announcement extends Lenovo's expertise in Smart Retail, providing retailers with a complete set of solutions from the front-of-store to sales floor and the back-of-store.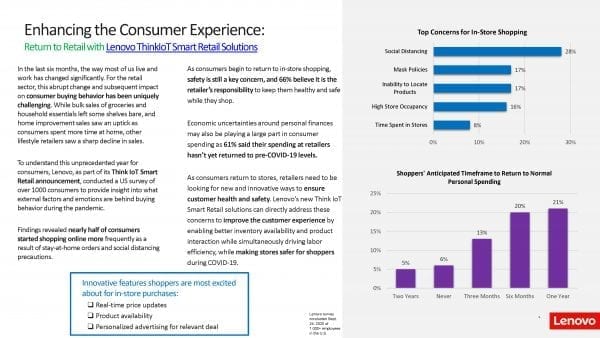 A recent Lenovo survey found that nearly half of consumers reported that they began shopping online more frequently over the past month and 66 percent said it's the retailer's responsibility to keep them healthy while they shop in-store. For in-store shopping, their top concerns are: finding product/product availability, ensuring mask policies are in place/compliance and occupancy levels. And when it comes to future store experiences enabled through technology, they're most excited about greater transparency about product availability, targeting advertising for relevant deals, and ensuring prices are updated correctly.
"Brick-and-mortar retailers offer a unique experience for shoppers that cannot be fully replicated online," said John Gordon, President, CIoT Business Group, Lenovo. "With ThinkIoT Smarter Store Solutions, we're helping these important retail businesses create even more differentiated customer experiences while improving their bottom line so they can continue to grow during challenging economic times."
ThinkIoT Smarter Store Solutions offer end-to-end, pre-tested and validated IoT solutions to address key customer experience, productivity, and safety needs of stores. By working with proven hardware and software partners, including Avalue, L Squared, Spacee, and Viper Imaging, ThinkIoT Smarter Store Solutions help store operations leaders:
Create a smarter shopping experience by:
Bringing in new customers: Increase store visits through targeted advertising and tracking of in-store marketing effectiveness through custom QR-codes from customized digital displays. (Avalue)
Driving inventory productivity: Make inventory management more efficient with out-of-stock detection, inventory counts, and planogram compliance leveraging smart shelves and smart pushers. (Spacee)
Increasing customer purchase rate: Let customers learn about products in a dynamic and self-service way using smart displays with interactive product information and tailored ads. (Avalue)
Make shopping spaces safer by:
Identifying potentially sick employees proactively: Use FDA-certified temperature screening to help keep sick employees from entering the store (Viper Imaging)
Enabling policy communication: Communicate policy changes, mask requirements, and occupancy levels to customers simply and easily with digital signs (L Squared)
Customers can pick their set of solutions based on what's most important to them. Lenovo serves as the one-stop shop for these practical ThinkIoT Smarter Store solutions, providing validation, deployment, and management, especially important to simplify the complexity of large retailers with stores distributed across regions and countries. Learn more about how ThinkIoT Smarter Store solutions are changing retail in this video.
Lenovo's ThinkIoT Smarter Store Solutions are backed by:
Validation processes for software solutions that include up to 140 steps covering security, serviceability, scalability, and reliability
A field network of more than 20,000 technicians for global deployment
Customers in more than 180 markets and expertise supporting more than 125 million devices
Lenovo's ThinkIoT Smarter Retail Solutions complement Lenovo's other Smart Retail solutions, helping create an ecosystem of inter-operable technology and aggregated data to transform business.  With a customized, integrated network of Smart Retail solutions, store-wide IT management is simplified and improved.
For example, Lenovo's turnkey POS and self-service kiosk solutions help retailers grow beyond siloed digital point tools to unlock data and insights, as well as reduce the hardware footprint and expense through connected self-service solutions. In addition, Lenovo AI Innovation Centers can help optimize the business with analytics and machine learning capabilities to understand customer behavior, reduce shrinkage, and meet complex logistics and inventory challenges.
Today's announcement marks Lenovo's third Smarter Solution set from the Commercial Internet of Things (CIoT) Business Unit, helping the company execute its service-led transformation strategy as it moves from a hardware provider to a software and services model outlined in this Beyond the Numbers video.
A diverse team of engineers, designers, and developers located in countries including China, India, the U.S., brought these solutions to market and created them from a near 100 percent remote working environment. Read more on Lenovo Instagram about the team and how they innovated a creative set of solutions to some of the most challenging issues for businesses and consumers today.
Availability2
ThinkIoT Smarter Store Solutions are available immediately beginning in North America through Lenovo sales representatives.
For more information: visit the ThinkIoT website.
About Lenovo
Lenovo (HKSE: 992) (ADR: LNVGY) is a US$50 billion Fortune Global 500 company, with 63,000 employees and operating in 180 markets around the world.  Focused on a bold vision to deliver smarter technology for all, we are developing world-changing technologies that create a more inclusive, trustworthy and sustainable digital society. By designing, engineering and building the world's most complete portfolio of smart devices and infrastructure, we are also leading an Intelligent Transformation – to create better experiences and opportunities for millions of customers around the world. To find out more visit https://www.lenovo.com, follow us on LinkedIn, Facebook, Twitter, YouTube, Instagram, Weibo and read about the latest news via our StoryHub.
LENOVO is a trademark of Lenovo. All other trademarks are the property of their respective owners. ©2020, Lenovo Group Limited.
1Survey conducted by Lenovo on Sept. 21, 2020 of 1,000+ employees in the general population in the U.S.
2All offers subject to availability. Lenovo reserves the right to alter product offerings, features and specifications at any time without notice.
Partner Quotes
Avalue
"We're excited to partner with Lenovo in supporting ThinkIoT Smarter Store Solutions.  In today's changing world, retail stores must embrace smart retail solutions to provide consumers with a smarter and safer shopping experience." said Vincent Hsu, President of Avalue Technology Inc.  "Smart retail solutions through Lenovo and Avalue is a win-win as we can help retailers to optimize operations, reduce costs and improve customer satisfaction."
 L Squared
"Our partnership with Lenovo Commercial IoT comes at a critical time, as expectations on global businesses are growing at unprecedented rates. L Squared is committed to provide a digital signage platform that is innovative, simple to deploy, and scalable to your business communications needs. Leveraging Lenovo's technology services has allowed us to seamlessly deliver the right solution to any enterprise across the globe. Our customers can focus on driving their core business and not worry about the complexities of IoT projects," said Gaj Ratnavel, founder and CEO, L Squared.
Spacee
"What makes this such an ideal partnership is not only Lenovo's undeniable presence in the marketplace; it's their unrivaled reputation. As computer vision experts, Spacee is to provide hardware solutions to empower retailers to increase their value. Lenovo's partnership allows us to focus on bringing this technology to an entirely new audience in a cost-effective way.
The timing of this could not be better because, thankfully, Spacee is experiencing explosive growth. Naturally, Lenovo is a perfect partnership for Spacee, so we can continue to deliver one-of-a-kind solutions to enhance both retailers' and customers' experiences," Skip Howard, Founder & CEO, Spacee.
Viper Imaging
"We are proud to partner with Lenovo in providing ThinkIoT Smarter Store Solutions," said Rich Shannon, Viper co-founder. "Lenovo's objective of offering technology solutions for safe and seamless transitions back to business after the coronavirus pandemic aligns with Viper's mission statement – providing thermal solutions that increase efficiency, promote safety, and effect positive environmental change. We know the implementation of thermal technology for elevated body temperature (EBT) detection is a vital piece in helping businesses stay safe as they get back to doing what they do best."