Global Tech Leader, Education Nonprofit, and Esteemed Research University Pledge Commitment to Provide Computer Science Education to Students Nationwide
October 18, 2017 (New York, NY) – Lenovo, (HKSE: 992) (ADR: LNVGY) NAF, and MIT App Inventor were recognized at the CSforALL Summit in St. Louis, MO this week. The 2017 CSforALL Summit is a convening of computer science educators, researchers, activists, and supporters that celebrate the progress and announce new commitments to reach the goal of access to inclusive, rigorous, and sustainable computer science education for all US students both in and out of school.
To demonstrate a joint commitment to STEM education, Lenovo and NAF announced an expansion of the Lenovo Scholar Network (LSN), now in its fourth year, including a $1 million grant from Lenovo this past May. The grant will provide select NAF academies with Lenovo technology over the next three years, extending STEM education and opportunities to more than 5,000 participating students nationwide. Additionally, the grant created the opportunity to open the Lenovo Scholar Network program to all NAF academy themes, including: finance, information technology, health sciences, hospitality and tourism, and engineering. Through this, NAF and Lenovo hope to reach more than 10,000 additional students over the next three years.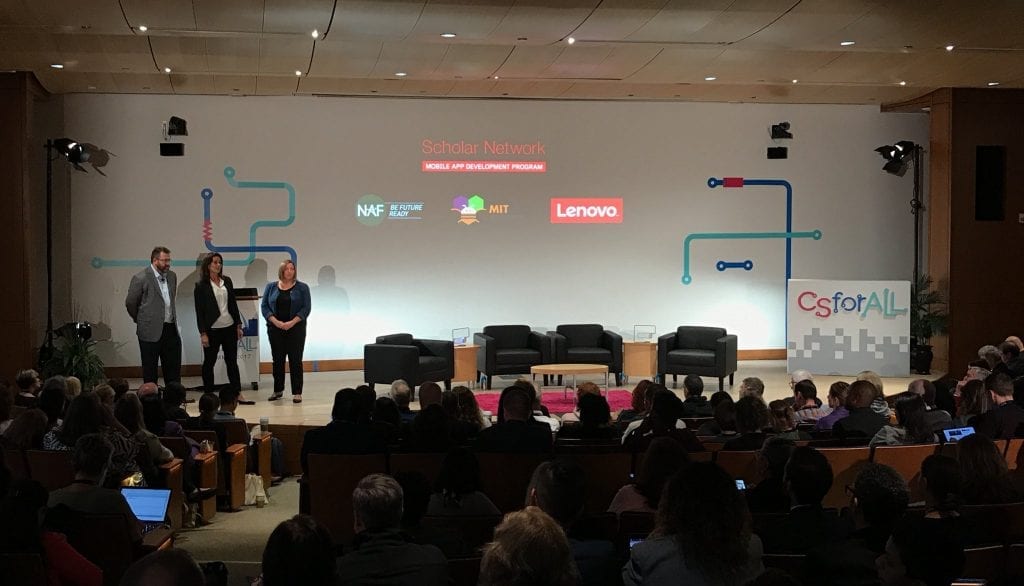 "Lenovo is proud of the partnership with NAF and the contributions we're making to support young people and promote STEM education across the country," said Rob Cato, Lenovo's Executive Director for k-12 and higher education in the United States. "These are investments that will benefit the students, educators and technology companies like Lenovo."
In conjunction with the Massachusetts Institute of Technology (MIT) App Inventor, a project within the MIT Computer Science and Artificial Intelligence Lab (CSAIL), Lenovo Scholar Network students also have the opportunity to use MIT App Inventor to develop Android mobile apps using Lenovo devices as part of an annual national app challenge.
"The App Inventor team is thrilled to continue our relationship with NAF and Lenovo. We are happy to provide opportunities for NAF's diverse community of students and teachers to use the power of mobile computing to make a difference in the world around them," said Josh Sheldon, Director of Programs for MIT App Inventor.
New partnership benefits enable students to earn NAFTrack Certification credit, part of Lenovo's commitment as a NAFTrack Certified Hiring Partner, and expanding engagement opportunities with Lenovo, including Lenovo in the Classroom volunteer events.
NAF President, JD Hoye, said, "We are honored to be recognized with Lenovo and MIT App Inventor for our shared commitment in providing computer science education for ALL students. These critical skills are necessary for all industries and by working to make them accessible for high school students, we can guarantee that our future leaders will be on the road to success. We thank Lenovo and MIT App Inventor for their partnership in this tremendous effort and thank the CSforALLConsortium for this phenomenal opportunity to be spotlighted, alongside organizations who are key allies in this important work."
The CSforALL Summit is organized by the CSforALLConsortium, a collaborative community of more than 400 partner organizations, and the national hub for the Computer Science for All movement. This year's summit announced commitments from more than 100 organizations.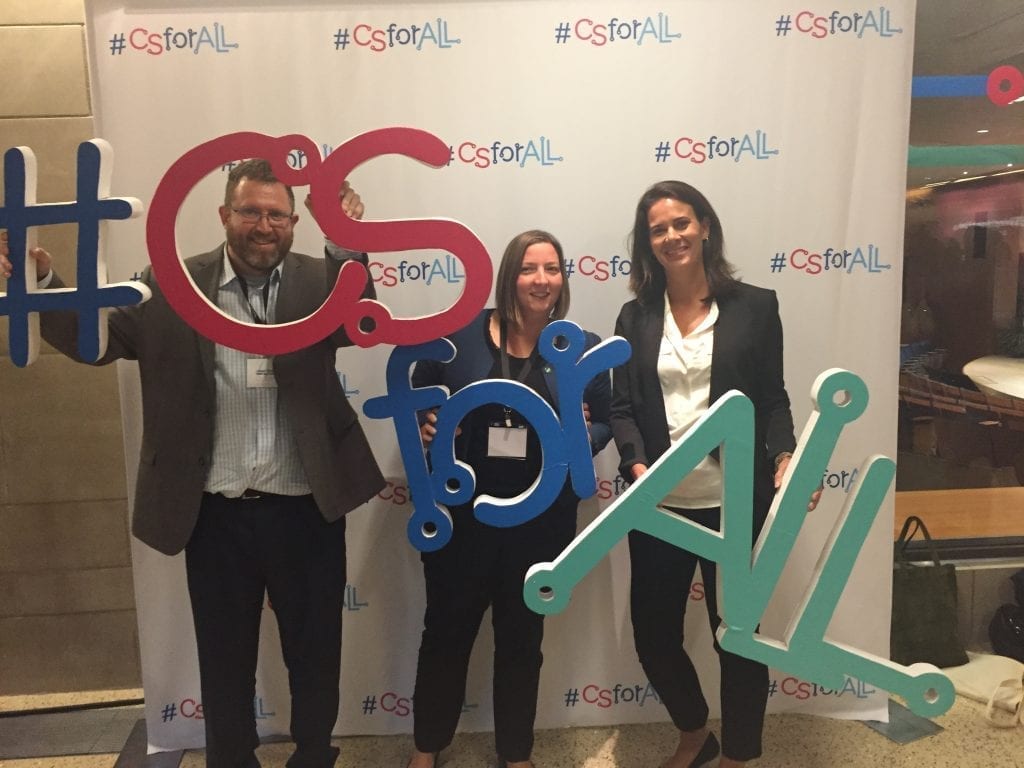 To learn more about the Lenovo Scholar Network and follow along with students' app creation journey, visit http://lenovoscholars.com/ or check out #LenovoScholars on social media.
About Lenovo
Lenovo (HKSE: 992) (ADR: LNVGY) is a US $43 billion global Fortune 500 company and a leader in providing innovative consumer, commercial, and enterprise technology. Our portfolio of high-quality, secure products and services covers PCs (including the legendary Think and multimode YOGA brands), workstations, servers, storage, smart TVs and a family of mobile products like smartphones (including the Motorola brand), tablets and apps. Join us on LinkedIn, follow us on Facebook or Twitter (@Lenovo) or visit us at www.lenovo.com.
About NAF
NAF is a national network of education, business, and community leaders who work together to ensure that high school students are college, career, and future ready.
NAF works with high need communities to transform the high school experience through an educational design that includes industry-specific curricula, work-based learning experiences, and relationships with business professionals, culminating in a paid internship. NAF academies fit within and enhance school systems, allowing NAF to become an integral part of a plan for higher achievement at a low cost. NAF academies focus on one of five career themes: finance, hospitality & tourism, information technology, engineering, and health sciences. During the 2016-17 school year, more than 96,000 students attended 675 NAF academies across 36 states, including D.C. and the U.S. Virgin Islands. In 2016, NAF academies reported 96% of seniors graduated with 92% of graduates with post-secondary intentions. For more information, please visit: https://naf.org.
About MIT App Inventor
MIT App Inventor is a Web-based smartphone development platform for beginning learners, from upper primary school through adulthood.  The graphical drag-and-drop blocks interface demystifies coding and makes the design and development process easy enough that novice users can create and publish simple apps in under an hour. With App Inventor, even beginners can engage with mobile computing as creators, not just as consumers. A team of MIT staff and students, led by Professor Hal Abelson, forms the nucleus of this international movement of app inventors. In addition to leading educational outreach around MIT App Inventor and conducting research on its impacts, this core team maintains the free online development environment that serves more than 6 million registered users. These users come from more than 195 countries and who have created more than 24 million apps: half a million unique active users build apps each month.  https://appinventor.mit.edu.
###
Tags
stem lenovo scholar network naf csforall summit education