The world of gaming can be like traveling to a parallel realm, without having to leave the comforts of home. The growth of video games as a source of social interaction and fun while physically apart has only accelerated during the new normal.1 This CES®, Lenovo™ is delivering more stylishly high-performance gaming options with Lenovo Legion™ PCs and accessories full of hot gaming features and cooler thermals.
Today, Lenovo Legion introduces its new battle-ready lineup that uses artificial intelligence (AI) to auto-enable seamless gaming. Customers can count on integrated machine learning to elevate gameplay settings and framerates to pro levels. No matter where you're at on your gaming journey, from wherever you call home—you'll love the savage performance and minimalist style of the new Lenovo Legion 7 laptop with immersive 16-inch display, the 16-inch Lenovo Legion 5 Pro, the 15-inch Lenovo Legion Slim 7, and the Lenovo Legion 5 available in two screen sizes.
In 2021, Lenovo Legion brings consumers even more savage gaming performance with innovations in hardware and software. These new Lenovo Legion laptops are expertly-crafted with intelligent Lenovo Legion Coldfront 3.0 thermals for an increased airflow of up to 18 percent gen-to-gen to better manage the heat and noise generated by all that raw processing power. Lower system temperatures allow for optimized performance and all-day mobility with a long-lasting battery life.2 Multiple sensors are placed on the CPU, GPU, rear and side thermal vents, as well as on the SSD memory card and palm rest to fire off information every nanosecond to predict your system's thermal curve for hours of gaming with zero throttling. To further dissipate heat, we've expanded the copper heat sink system for up to 82 percent more thermal fin area gen-to-gen and drilled copious holes into the laptop's bottom cover and even under the keyboard to keep things cooler. So put this new Lenovo Legion's gaming hardware through its paces, it's built to take it.
To deliver the high-resolution quality, smooth response and panel color accuracy of gamers' dreams, Lenovo also doubles down on more immersive experiences with the world's first 16-inch QHD165Hz gaming laptops, the new Lenovo Legion 7 and Lenovo Legion 5 Pro.3 Perform at your best with this year's even faster millisecond input speeds, plus anti-ghosting, soft-landing switches, and the more mechanical key feel of Lenovo Legion TrueStrike—the specialized gaming keyboard with RGB backlit optional feature, and now color-matched for a more cohesive look.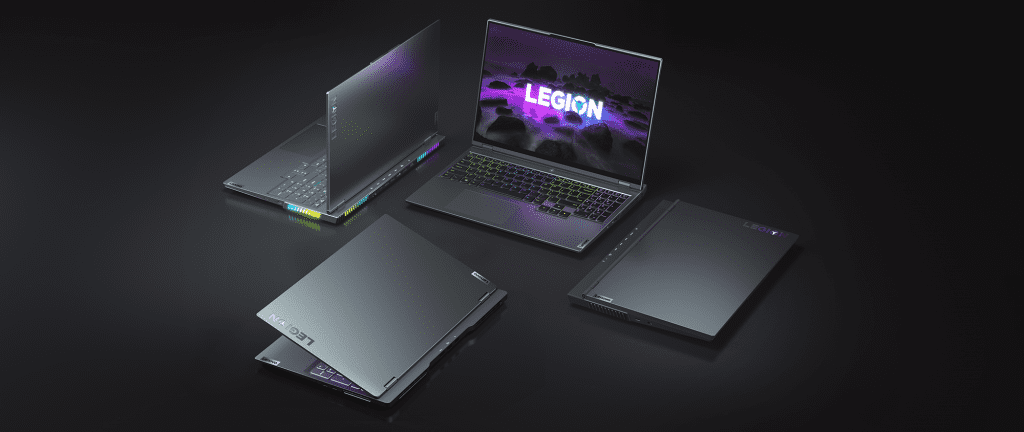 What Else is New for Lenovo Legion
It takes gaming-specific features and cutting-edge software to keep up with the fast-moving action of triple-A games. Thanks to a new AI-driven software contained within Lenovo Vantage's Legion Edge feature, gamers with Lenovo Legion devices can now take their framerates through the roof and reduce in-game lag with new one-click overclock support for both the CPU and GPU.4 Part of Lenovo Q-Control (just press Fn+Q), the new auto-optimization Intelligent Mode setting is just one of the ways this software tool helps to custom-tune your gaming performance. With Intelligent Mode switched on, the power of AI comes into play as it auto-detects the games on-deck and cross-verifies them against our pre-loaded set of 16 triple-A titles.5 Then it activates the ideal settings needed to secure the highest FPS for that specific game without compromising your computing and/or graphics experience. For any game outside of this special group of top titles, auto-optimization mode is triggered to configure the most balanced PC performance settings for you.
Introducing a Lenovo gaming exclusive, the new Lenovo Legion AI Engine is our smarter combination of best-in-class hardware, software, firmware and driver support that all work together to help overclock your PC's performance by sharing Thermal Design Power6 (TDP) between the CPU and GPU to better manage any heavy-duty gaming requirement. For instance, when you're absorbed in a role-playing game that leans heavily on GPU performance to keep up the boosted FPS needed to enjoy that movie-like experience. All the AI capabilities inherent to the Lenovo Legion AI Engine trigger the internal system actions and software features necessary to channel any unused power from your CPU to the GPU or vice versa, depending on where it's needed most. It's not magic, it's just machine learning.
When you combine all this new AI technology from Lenovo with the smarter, next-level RTX Tensor Cores 3.0 of NVIDIA®, exceptional performance is a given. Take image realism to new heights with the stunning graphics effects of new Ray Tracing 2.0 with next-level NVIDIA GeForce RTX™ Laptop GPUs (coming soon). Streamers will delight in the broadcasting capabilities that can turn your Lenovo Legion laptop into a virtual home studio. NVIDIA uses AI-powered voice and video effects that can keep you automatically framed-up in the live shot. Need to muffle ambient mic noise or replace your webcam's background with gaming footage? You can do that and more. Plus, there's NVIDIA DLSS (Deep Learning Super Sampling) that uses AI to help the GPU render repeated scenes in cinematic quality without overtaxing the system.
Lenovo Legion's new 2021 laptops are amongst the first to feature the next-gen AMD Ryzen™ 5000 H-series Mobile Processors for remarkable performance. What's more, Lenovo Legion's Harman® speakers are now optimized with Nahimic® Audio by SteelSeries. Prepare yourself for engaging 7.1 surround sound gaming when combined with your headset or external speakers for an upgrade from the prior 5.1 system. Designed for hardcore gamers, Nahimic Audio provides cutting-edge features like Night Mode with smart volume reduction to adjust sound levels in different settings, and Sound Tracker7 that visually indicates a sound's direction in-game. Plus, Sound Sharing that allows audio to play on two sets of gaming headsets simultaneously from a single PC. These intuitive audio features provide a fully immersive in-game experience.
Powering your Smarter PC Ecosystem Further 
Lenovo Vantage is also bringing the speed for Lenovo Legion users in its latest update, allowing you to quickly optimize settings and personalize your experience so you can get back into the game. Via new progressive web app caching, Lenovo Vantage will now load in mere seconds no matter where you are in the world.8 Also, now available on all Lenovo Legion devices is the recently launched Vantage Smart Performance Services. This new Lenovo self-diagnostic service has the ability to reduce PC downtime by scanning, detecting and removing spyware, malware and adware, as well as fix network and access issues and automatically tune up the PC, resulting in better internet connectivity and all-around faster PC processes.9
Go Big on Performance: the Lenovo Legion 7
Gamers are spending more time in front of screens. They're leveling up and want a premium gaming experience with modern design—and we're here to deliver. Meet the new flagship Lenovo Legion 7 laptop offered with a taller 16-inch screen, 100 percent sRGB color gamut, and new 16:10 aspect ratio for 11 percent more screen real estate to improve your field of view in-game so you never miss a shot.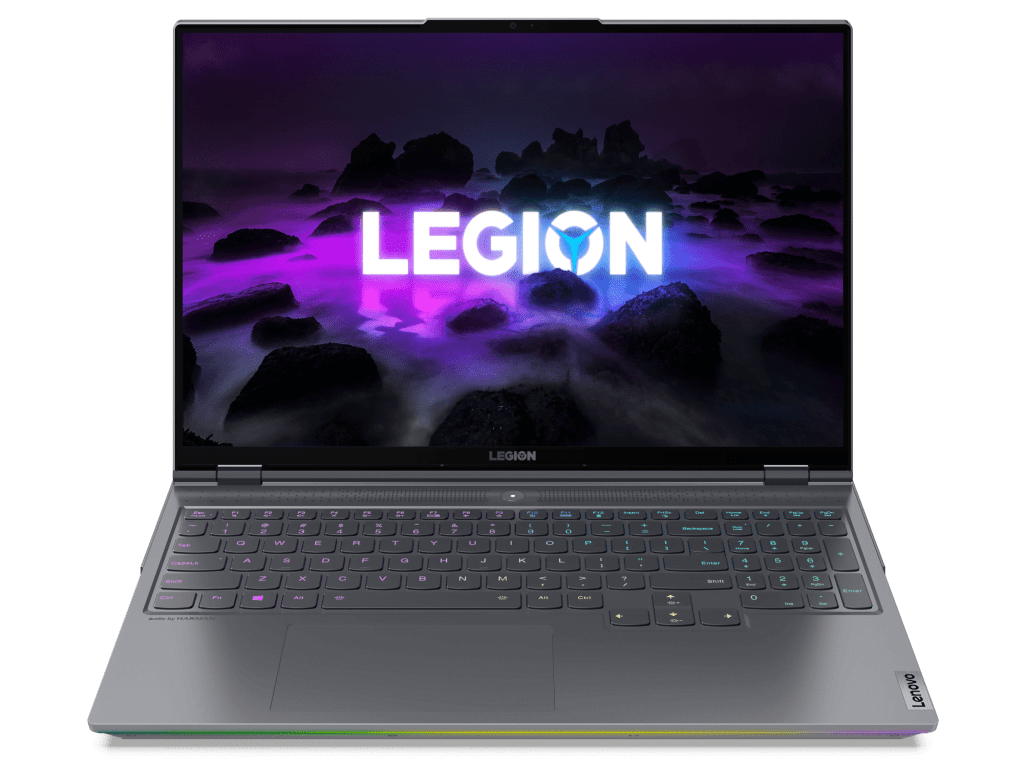 To achieve our new narrow tail design while keeping the same compact metal chassis size gen-to-gen on the Lenovo Legion 7, our designers smartly shored up space under the hinge. This made way for the next generation of gaming display technology with millions more pixels than before on a new near-edgeless 16-inch QHD display (2560 x 1600), a serious upgrade over the previous gen's 15-inch Full HD panel offered. With ultra-high pixel density and a 90 percent screen-to-body ratio, this IPS display offers optional VESA® DisplayHDR™ 400 certification, up to 500 nits of brightness and a 165Hz refresh rate for buttery smooth gaming. For an incredible viewing experience and color accuracy, the Lenovo Legion 7 laptop supports Dolby Vision® which will bring your favorite entertainment to life with stunning picture quality. Combined with NVIDIA® G-SYNC™ your picture quality will look spectacular, plus low blue light and flicker-free Eye Care technology helps to reduce eye strain during long battle sessions. The Lenovo Legion 7 laptop is first to be certified as a High Gaming Performance Display with low blue light by TÜV Rheinland.10

Offered in Storm Grey hue with extreme four-sided narrow bezel, take note of the E-Shutter webcam kill switch located on the laptop's now much thinner-looking side. Use Corsair® iCUE to add your personal touch by customizing the RGB lighting in multiple zones, e.g. rounded logo on the lid, bottom lip marquee, air outlets and even individual keys. Also enjoy a larger precision glass touchpad that supports tap gestures. And as a treat, the insides of the Lenovo Legion 7 get an unexpected makeover too for those who love taking apart their machines, with new cohesive "black-out" components, plus a special message and QR (quick response) code label for you to scan for hardware information and service options.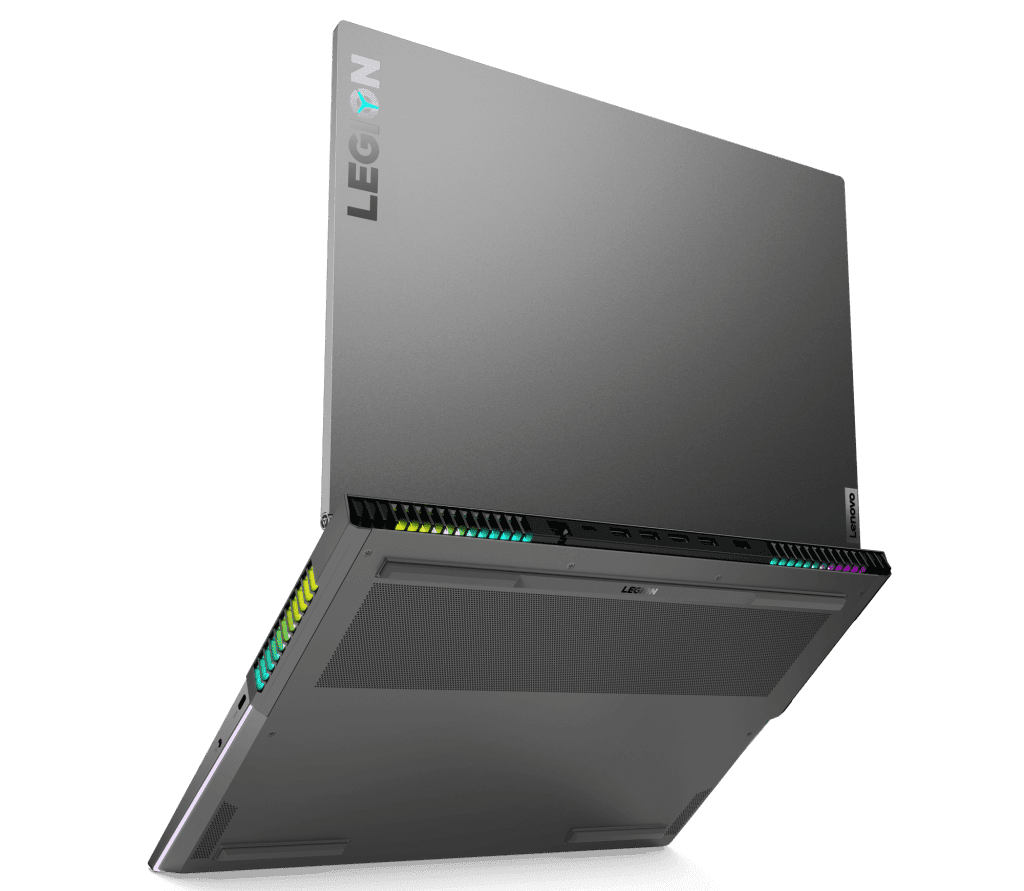 Paired with machine learning via the systems of the new Lenovo Legion AI Engine and powered by the eight cores of up to AMD Ryzen 9 5900H Mobile Processor, this full-size laptop offers superb performance and solid battery life with an 80WHr power capacity and Rapid Charge Boost.11 Here's what else to expect:
Up to next-gen NVIDIA GeForce RTX Series Laptop GPUs (coming soon) for maximum framerates
Optional Wi-Fi 6 Killer™ AX1650 module for better connectivity while gaming12
Coldfront 3.0 on the Lenovo Legion 7 features first-class Vapor Chamber technology that's up to 63 percent larger gen-to-gen and liquid metal thermal compounds13
Built-in HD webcam (720p) with E-Shutter
Out-class the Competition: the Lenovo Legion Slim 7
With a legacy of redefining gaming experiences with its previous gen's distinction of being the world's lightest RTX gaming laptop with a 15.6-inch screen14, the new Lenovo Legion Slim 7 aims to outdo itself again by targeting an even thinner profile in 2021 to become the thinnest and lightest gaming laptop in Lenovo Legion history.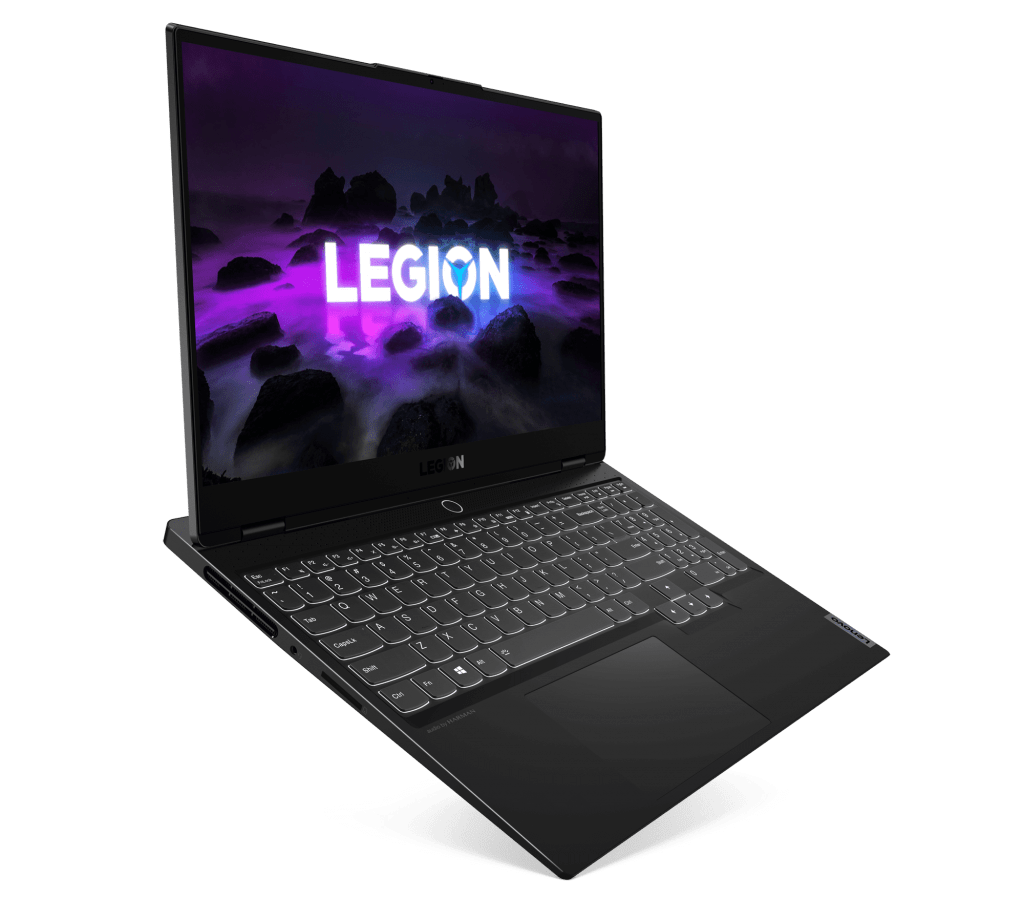 Enjoy late-night thrills on this total gaming machine, thanks to the latest NVIDIA GeForce RTX Laptop GPUs (coming soon) that bring Ray Tracing and Tensor Cores for a huge leap in AI features and graphics performance, while staying productive all-day with Windows 10 Pro as you work, learn, and create from home. With next-gen AMD Ryzen 7 5900H Series CPU, get incredible gaming visuals on a 15.6-inch 4K (3840 x 2160) IPS display with 60Hz refresh rate and 100 percent Adobe RGB, or opt for the faster up to 165Hz refresh of the Full HD (1920 x 1080) IPS display with 100 percent sRGB gamut, both displays support Dolby Vision.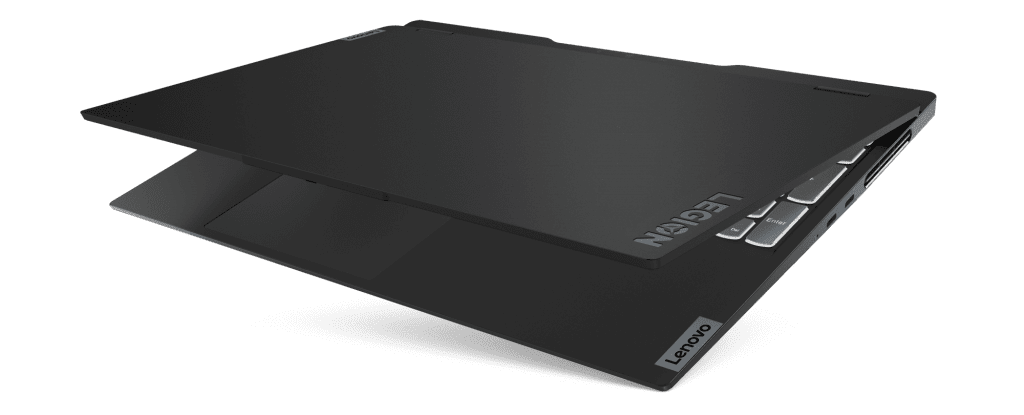 Engineered for those who love gaming from anywhere, the Lenovo Legion Slim 7's thin and light metal laptop build is made from a magnesium and aluminum blend for extreme lightness without compromising its durability. Weighing just 1.9 kg (4.2lbs) and with a one-piece glass trackpad, the laptop is super thin and sports narrow bezels and a sleek new cover design. Available with laser-engraved logo and wrapped in Shadow Black or Storm Grey in select markets15, the Lenovo Legion Slim 7 offers ample 71WHr battery capacity and Rapid Charge Express supported.16 Other features include:
White keyboard backlight or optional Corsair iCUE RGB
The added security of fingerprint reader in power button
Top-placed camera (720p) with sliding Privacy Shutter
Optional Wi-Fi 6 Killer AX1650 module12
Coldfront 3.0 features liquid metal thermals13
Level Up with more Horsepower: the Lenovo Legion 5 Pro
Prefer to chase eSports championship glory? This laptop is for you. For a competitive edge, go for the new Lenovo Legion 5 Pro with larger thermal intake and quad ventilation system. Packed with the latest AMD Ryzen 7 5800H Mobile Processor and next-gen NVIDIA GeForce RTX Laptop graphics (coming soon) for unrestrained gameplay, the Lenovo Legion 5 Pro enjoys maximum performance via Dual Burn support, which pushes the CPU and GPU together for improved framerates.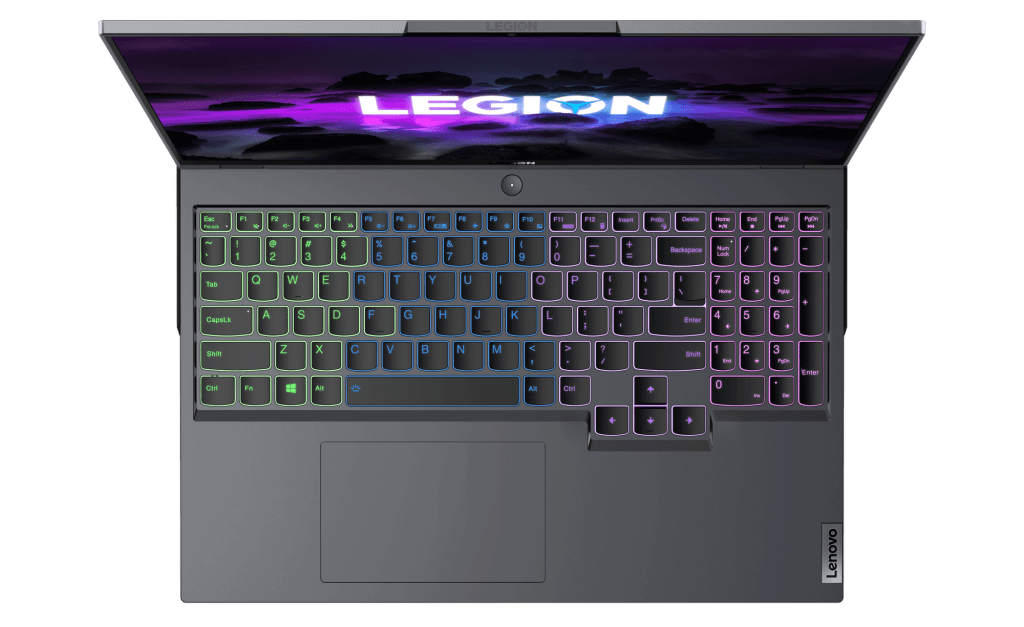 This gaming powerhouse combines a super-fast 165Hz refresh rate and up to 3ms response time17 on a 100 percent sRGB color gamut, 16-inch QHD (2560 x 1600) IPS display—that's taller over its previous gen and brighter too at 500 nits. Factor in hair-trigger inputs via the Lenovo Legion TrueStrike keyboard and an AI gaming engine, and this is a fully-stacked laptop built to help you rise in the ranks.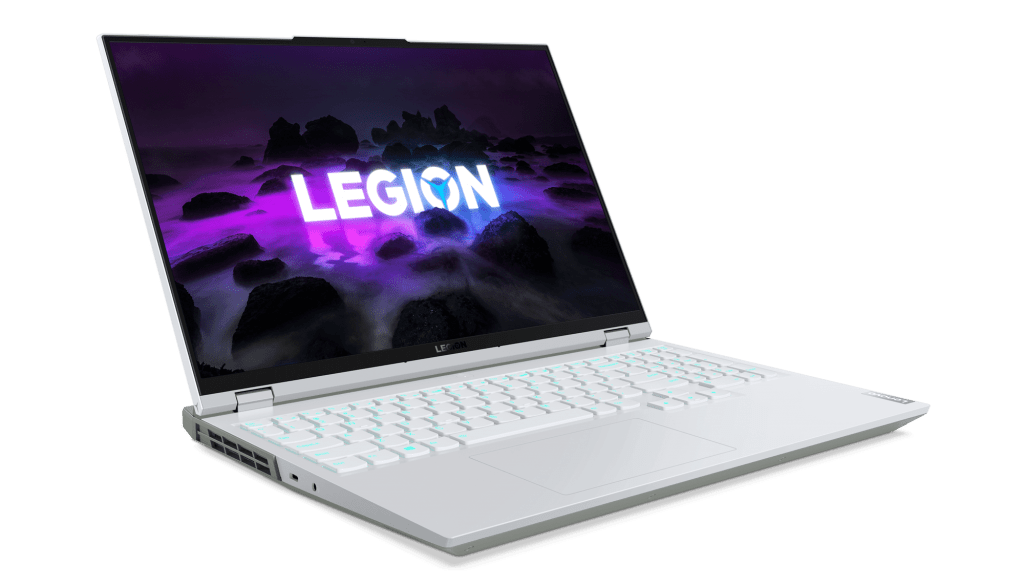 The Lenovo Legion 5 Pro got a makeover with new iconic cover design and a refined chassis in either Storm Grey or striking Stingray White hue15 with choice of backlighting—plus you'll get:
Amplified rear venting for cooler gaming sessions
Flatter and more durable hinge with tiny 3.2mm gap
Larger touchpad for a better range of motion

Other features of the new Lenovo Legion 5 Pro, include:
Four-sided narrow borders for a 90 percent screen-to-ratio with taller 16:10 aspect ratio
New top-placed camera to delight live streamers
Supports Dolby Vision and NVIDIA G-SYNC
Do More with Less Fuss: Lenovo Legion 5
From strategy games to battle royales, there's something for everyone in the gaming world—the same is true for high-performance gaming laptops. The new Lenovo Legion 5 is a total looker with clean lines, a minimalist chassis, Windows 10 and your choice of two screen sizes, 15-inch or 17-inch.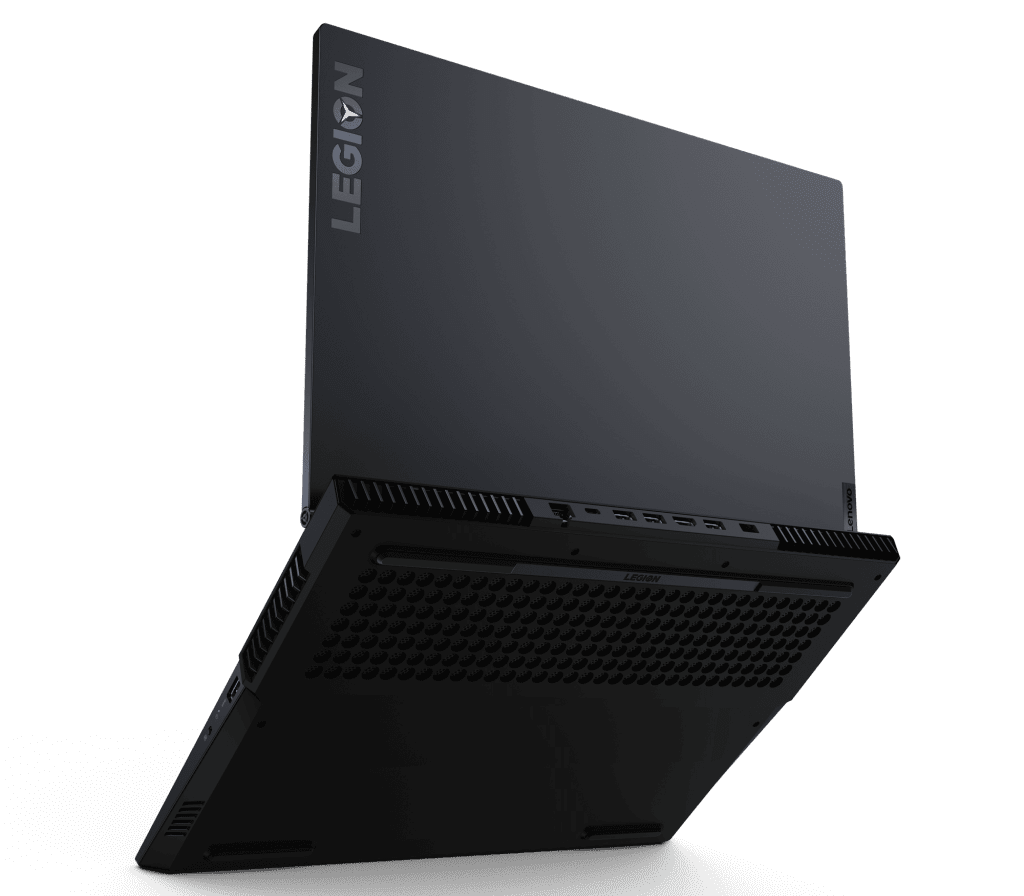 Offered in Phantom Blue with white backlighting, the 17.3-inch Lenovo Legion 5 delivers speed for hi-fi gaming with up to Full HD (1920 x 1080) IPS display and solid 144Hz refresh rate. Indulge your sense of adventure with up to blazing-fast 165Hz refresh rate and the 100 percent sRGB color clarity of a 15.6-inch Full HD (1920 x 1080) IPS display. The 15-inch laptop weighs 2.4 kg (5.3lbs) and is offered in Phantom Blue with optional 4-Zone RGB lighting effects, or in new Stingray White15 hue with blue backlighting.

Engineered with everything you need to compete on equal footing with the pros, such as the latest in gaming hardware, plus high-efficiency copper heat pipes via Coldfront 3.0. The new Lenovo Legion 5 helps you score points on the battlefield with the accuracy of Lenovo Legion TrueStrike and Lenovo Q-Control powered by enhanced AI technology. Both screen sizes [15-inch, 17-inch] keep your adrenaline racing with up to next-gen AMD Ryzen 7 5800H Mobile Processor and NVIDIA GeForce RTX Series Laptop GPUs (coming soon).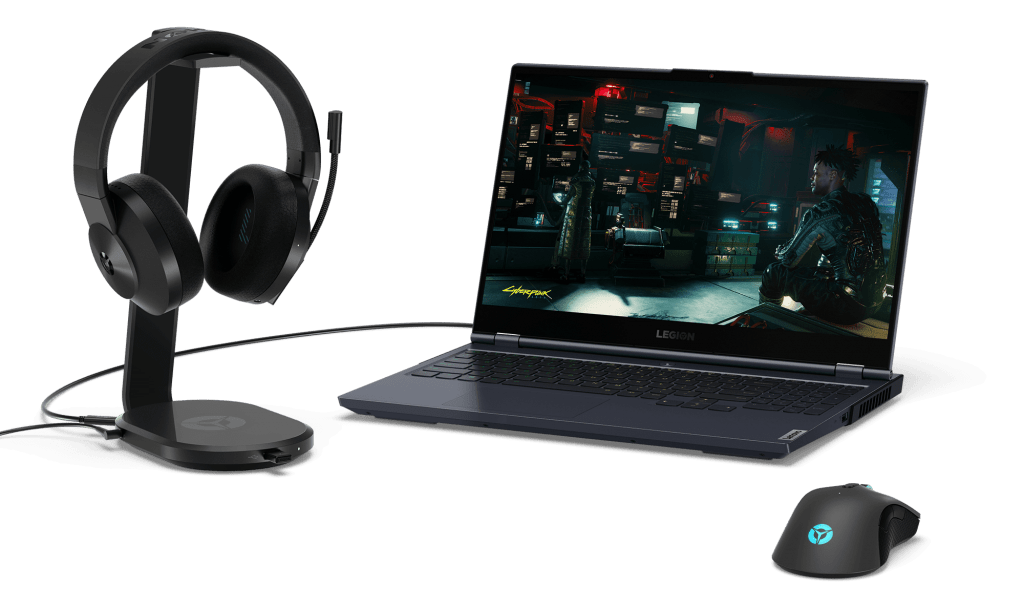 Wireless Keeps Battlestations Clutter-free: the new Lenovo Legion S600 Gaming Station and Lenovo Legion H600 Wireless Gaming Headset
At Lenovo, we listen to the evolving needs of our gaming community to create thoughtful products that provide an ecosystem of gaming experiences like no other, and the new effortless Lenovo Legion S600 Gaming Station is a great example of our customer-centricity. Stop forgetting to charge your headset, mouse, or phone between intense gaming matches on your new Lenovo Legion laptop at home.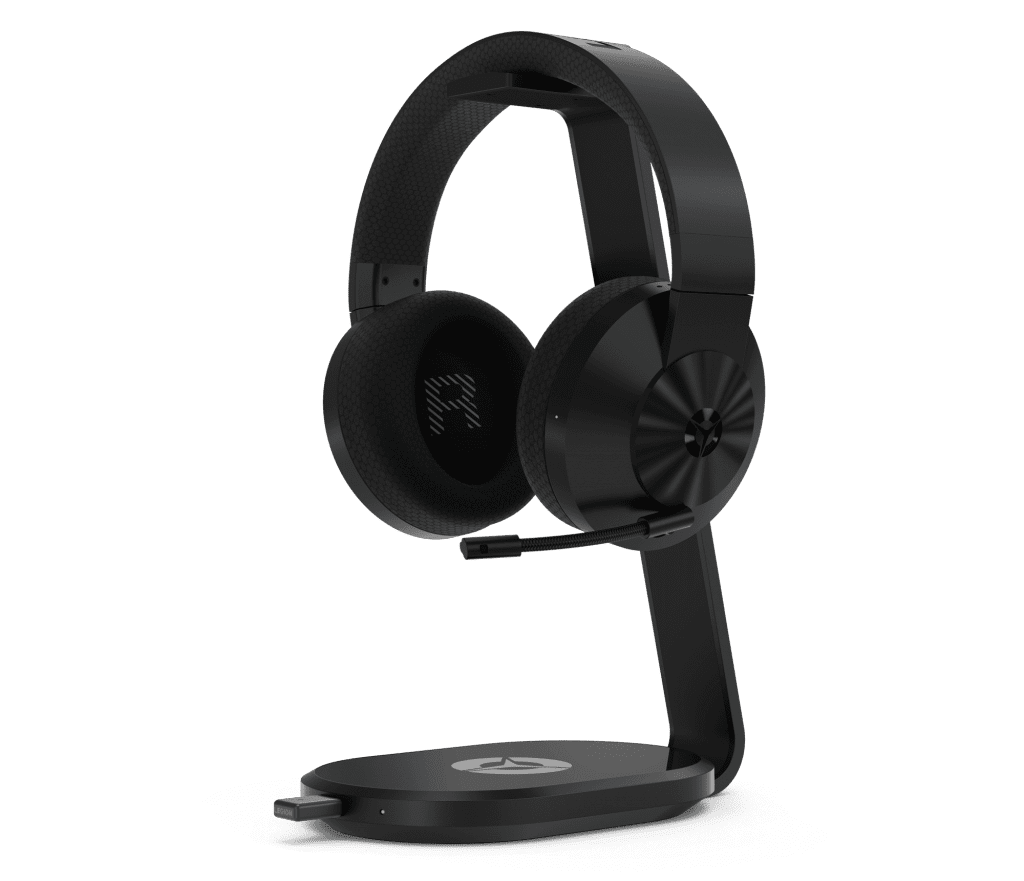 This convenient always-on charging station offers hang-to-charge technology for the new Lenovo Legion H600 Wireless Gaming Headset and a Qi-enabled base that keeps charging compatible smartphones (up to 10W output) and other supported gaming mice and wireless devices even when your laptop is off.
The station's modern-looking stand is lightweight at just 919 grams (2.02lbs) and features two USB-A pass-through ports on the bottom for high-speed connectivity and device charging, as you keep your Wi-Fi receiver close to your devices for maximum in-game performance. When milliseconds count, a poor wireless connection can mean defeat, as can poor in-game sound and latency. The Lenovo Legion H600 Wireless Gaming Headset provides tournament-grade audio and sports a premium 2.4GHz lossless wireless receiver with an impressive receiving distance of up to 12m (nearly 3 feet).
With a blazing fast latency under 35ms, it's designed for you to be able to perceive and act faster, while its ability to wirelessly charge when hung from the new gaming station keeps your desk cleaner. Carefully tuned for force and angle, the headband stretches and retracts to fit your head nicely and remain flat around your neck during breaks. The angle-adjustable earcups are made from memory foam and covered in a breathable cloth for ultimate gaming comfort. Also, the Lenovo Legion H600 Wireless Gaming Headset's 50mm audio drivers produce expansive sound with up to 3M bandwidth, and its unidirectional noise-canceling microphone provides flip-to-mute feature and crisp communication.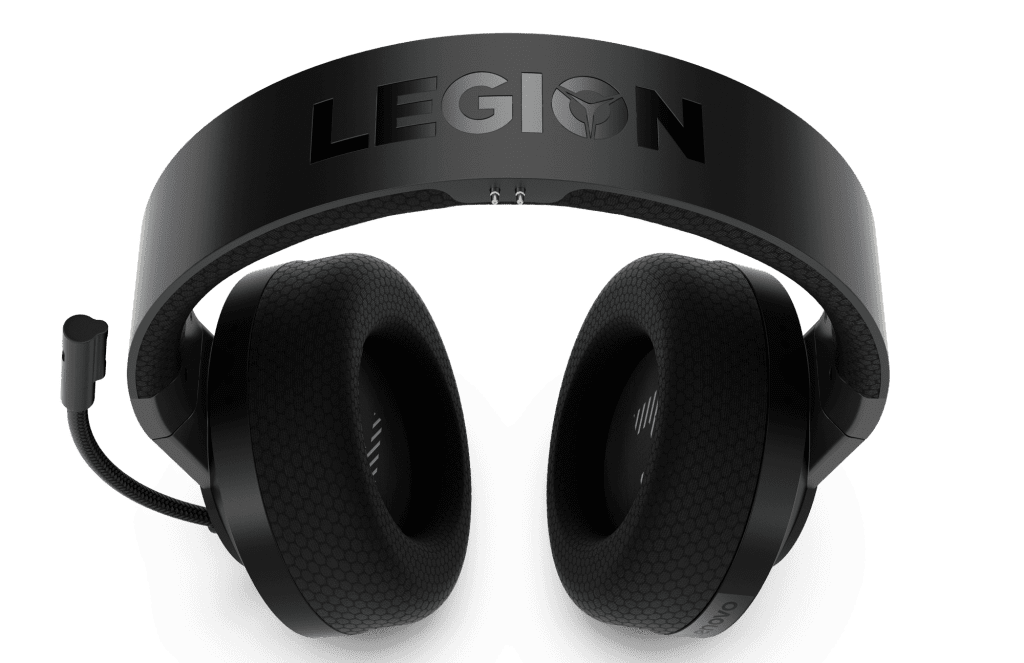 Lenovo is winning points with lightweight gaming machines too by putting more "fun" in functional with the new AMD-based Lenovo IdeaPad Gaming 3 laptop, ideal for entry-level gaming. Plus, you'll hear everything comfortably and clearer in-game with our new Lenovo Legion H200 Gaming Headset with breathable cloth ear cups that can rotate and mold to your ears while delivering richer audio at an incredible value for casual gamers.
Visit the Lenovo StoryHub CES press kit for images and full specs and Lenovo's CES homepage for more details.
U.S. Pricing and Availability18
The Lenovo Legion 7 laptop will start at $1669.99 and is expected to be available starting June 2021.18
The Lenovo Legion Slim 7 laptop is expected to be available starting May 2021 and pricing is not available at this time.18
The Lenovo Legion 5 Pro laptop (known as the Lenovo Legion 5P previously) will start at $999.99 and is expected to be available starting March 2021.18
The Lenovo Legion 5 laptop available in 15-inch or 17-inch screen size will start at $769.99 and is expected to be available starting March 2021.18
The Lenovo Legion S600 Gaming Station will start at $89.99 and is expected to be available starting April 2021.18
The Lenovo Legion H600 Wireless Gaming Headset will start at $99.99 and is expected to be available starting April 2021.18
The AMD-based Lenovo IdeaPad Gaming 3 laptop will start at $669.99 and is expected to be available starting June 2021.18
The Lenovo Legion H200 Gaming Headset will start at $49.99 and is expected to be available starting April 2021.18