Stuttgart, Germany – September 22, 2015: Following the opening of Lenovo's Global HPC (High Performance Computing) innovation Center in Stuttgart in March, Lenovo President EMEA, Eric Cador, officially opened the EMEA Enterprise Briefing Center (EBC) that demonstrates the commitment to its continuous transformation into a customer-centric focus.
Partnering for Success
The EMEA EBC, developed in collaboration with industry leading partners, leverages the knowledge and specific skills of Intel, Emerson Network Power, QLogic, Red Hat and Samsung Semiconductor, among number of other ecosystem and technology partners that are contributing to the EBC concept, to further expand capabilities and provide customers with more holistic solutions that meet individual business needs.This new state-of-the-art center offers a broad choice of briefing experience options, catering to customer needs in various segments and industries.
One-to-one customer briefings with tailored agendas
Video conferences with other Lenovo and technology partner locations globally
Multi-customer events addressing specific Lenovo systems and software offering
Solution testing and multi-day technical benchmarks for specific solution areas including HPC, Hyperscale and SAP implementations
(Hyper-)Converged infrastructure workshops with our ecosystem partners
In-center Proof of Technology and Proof of Concept implementations
Demo and showcase of all Lenovo products
Additionally, the center will host a rich portfolio of strategic seminars and technical events customized for resellers, distributors and integrators.
The EMEA Enterprise Briefing Center and its datacenter also hosts LENOX, the Lenovo's supercomputer ranked at TOP500® and the Worldwide SAP Research & Development lab. These resources fuel innovation and deliver best-in-class, proven solutions that address the unique requirements of enterprise clients.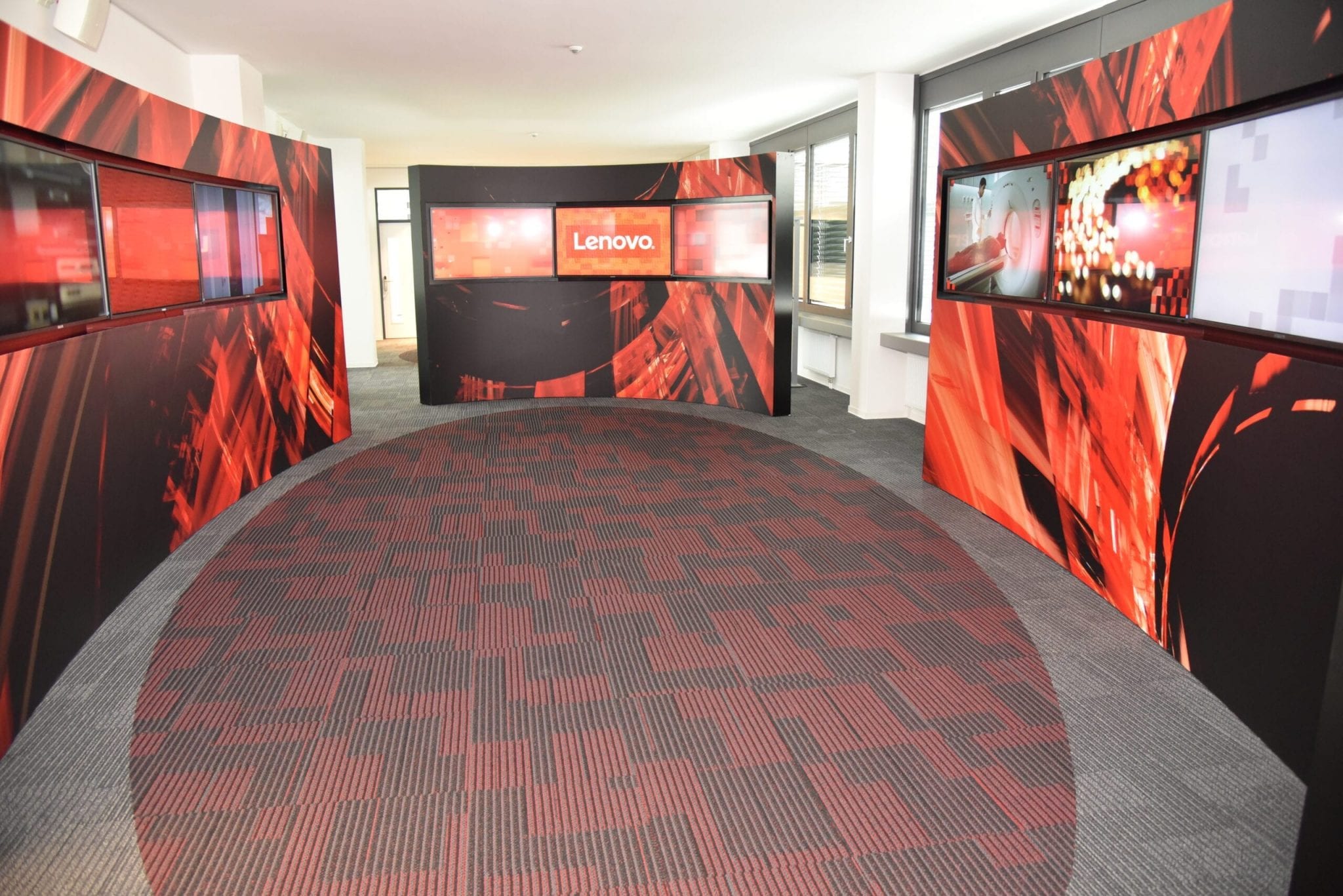 Quote from Eric Cador, EMEA President and SVP Lenovo Group
"This new Enterprise Briefing Center is critical for our future success and ambitions in the enterprise space as we seek to inspire co-creation with our customers and partners on large enterprise projects and ultimately become number one in the Open Systems market.  Our focus is not only to lead on product innovation but also to lead on engaging with customers on ground-breaking projects that have the capacity to change the way they do business."
Collaboration with CERFACS
Alongside the collaboration with key industry partners like Intel® and Mellanox Technologies, Lenovo and its HPC Innovation Center located in Stuttgart, continues to enlarge number of partnerships and initiatives to further expand capabilities and bring the commercial benefits of HPC to a broader spectrum of clients and workloads.
CERFACS is a research organization that develops advanced methods for the numerical simulation and algorithmic solution of large scientific and technological problems that are of interest for research. This advanced work requires access to the most powerful computers available. CERFACS was looking for a new HPC cluster to meet its needs of numerical simulation in various domains of activity. Lenovo's collaboration with CERFACS is focused on porting and tuning CERFACS' major code, AVBP, which is simulating flow and combustion in turbines. As part of Lenovo and Intel's joint Code Modernization Program, AVBP will be tuned to the latest Intel® Xeon® technology and later on to Intel® Xeon® Phi™ product family.
"CERFACS is looking forward to an effective collaboration with the Lenovo HPC Innovation Center as we work together to update our simulation code to take full advantage of the latest generation of Intel® Xeon® processors. Equally, we look forward to working with Lenovo experts to adapt and optimize the code to run on the Intel® Xeon® Phi™ architecture", said Mr. Monnier, CIO of CERFACS.
Transtec and Lenovo cooling down Karlsruhe Institute of Technology
Lenovo has teamed up with Transtec, Germany based, European HPC specialist, in order to provide Karlsruhe Institute of Technology (KIT) with a new HPC cluster solution consisting of more than 1,100 compute nodes. Valued at €6.9 million, the partnership is the largest deal in Transtec's 35 years history. The partnership will dramatically reduce the total cost of ownership for KIT. The Lenovo NeXtScale™ System will be equipped with direct water-cooling infrastructure, to provide an efficient cooling of all components, such as CPUs, main memory or I/O cards, delivering 40 per cent more energy efficiency than air-cooled systems. Another advantage is that the waste heat can be used for other purposes such as heating of the facility's office areas.
"We are very happy that we have been asked to deliver and deploy this very large HPC cluster, which combines innovative concepts with technical power, at one of the most renowned research facilities in Europe." Dr. Oliver Tennert, Director of HPC Solutions at Transtec, states.
About CERFACS
CERFACS (Centre Européen de Recherche et de Formation Avancée en Calcul Scientifique) is a research organization that aims to develop advanced methods for the numerical simulation and the algorithmic solution of large scientific and technological problems of interest for research as well as industry, and that requires access to the most powerful computers presently available. CERFACS is governed by a Conseil de Gérance with representatives from its shareholders, and benefits from the recommendations of its Scientific Council.  More at www.cerfacs.fr/
About Transtec
Transtec possesses unique IT expertise which is based on their manufacturing, computer retailing and high-performance computing (HPC) skills. Transtec offers customer-specific solutions, a comprehensive service portfolio and fulfils the very highest security standards with its cloud. Its customers include public institutions and companies from diverse branches of industry. The company is also represented by branch offices in the Benelux countries, Germany, France, and Switzerland and in 2014 generated sales of EUR 42.2 million. More at www.transtec.de/en/
About Lenovo
Lenovo (HKSE: 992) (ADR: LNVGY) is a $46 billion global Fortune 500 company and a leader in providing innovative consumer, commercial, and enterprise technology. Our portfolio of high-quality, secure products and services covers PCs (including the legendary Think and multimode YOGA brands), workstations, servers, storage, smart TVs and a family of mobile products like smartphones (including the Motorola brand), tablets and apps. Join us on LinkedIn, follow us on Facebook or Twitter (@Lenovo) or visit us at www.lenovo.com.