Google Meet hardware Series One room kits from Lenovo deliver easy to deploy turnkey solutions available for small, medium and large meeting rooms
September 15, 2020 – Lenovo announced today, in partnership with Google Cloud, purpose-built meeting room solutions that include a comprehensive collection of innovative and attractive hardware components to enable workplace collaboration. The Google Meet room kits from Lenovo provide collaboration solutions for new and existing G Suite and Google Meet customers who need to outfit spaces to address the challenges of new hybrid working models. Ready out-of-the-box, the kits include compute, controllers, cameras, soundbars, microphone pods and cables1 and are available in three distinct offerings for small, medium and large meeting rooms.
Outfitting spaces with collaboration technology often require lengthy and complex assessment and purchase processes, and sometimes result in a disjointed user experience caused by a multitude of different elements that don't necessarily work well together. In uncertain times when the future roles of office spaces are in question, it has become critical to ensure video conferencing solutions are easy to purchase, deploy and manage, and guarantee the best meeting experience for all users, whether in the room or remotely connected.
Flexibility Meets Design
Designed by Google Cloud and Lenovo, the Google Meet room kits complement a modern workplace ethic with minimalist design and a user-friendly interface for easy interaction. Lenovo and Google believe the future of work is fluid and flexible, and the Google Meet room kit were created with the new hybrid workforce in mind. Available in two colors, Chalk and Charcoal, the kits provide flexible and scalable options to specifically meet the customer need. Furthermore, the kits are backed by a three-year Lenovo Premier Support warranty and optional Smart Collaboration Managed Services are available2.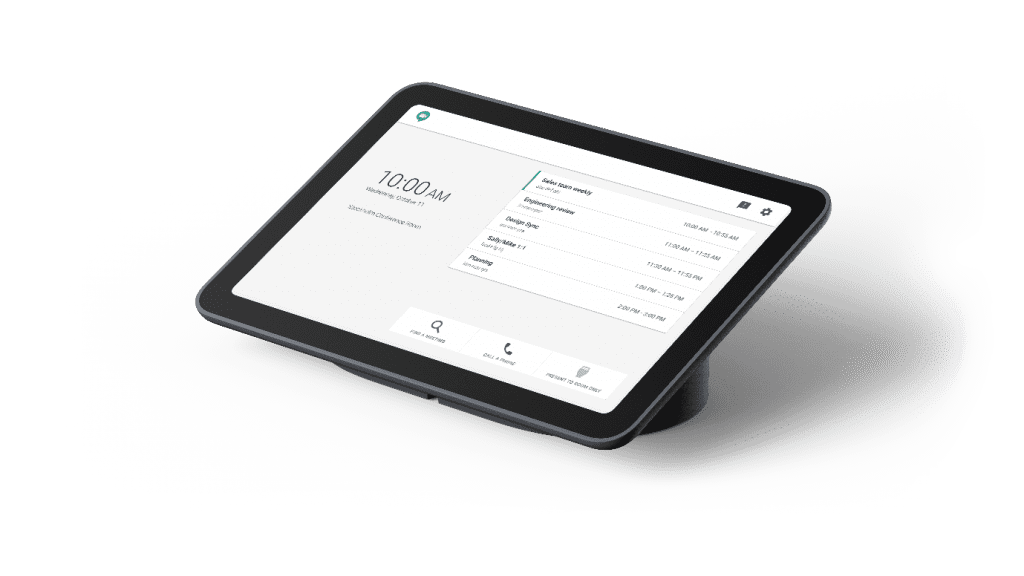 Intelligent and Innovative
Controlled by a high-performance compute device, the solution includes an exclusive Google TPU (Tensor Processing Unit) that provides AI and machine learning capability to maximize audio and video quality. Power over Ethernet (PoE) allows the compute device to carry low voltage power and network traffic over ethernet to the kit's components, such as the controller, cameras and speaker bars.
Google Meet Room Kits from Lenovo also include AI cameras with future-proof 4K capability for exceptional participant framing, and built-in TrueVoiceTM noise cancelation technology. To find out more about these intelligent technologies, check out Google's announcement today.
"We are delighted to partner with Google Cloud to deliver easy to deploy and scalable collaboration solutions," said Joseph Mingori, general manager, Lenovo Smart Collaboration Business." The Google Meet Room Kits deliver effortless meetings with intelligent features that make video collaboration natural and more human, leverages G Suite productivity and helps bring people together through challenging times."
Pricing and Availability3
Google Meet Room Kits from Lenovo are available in three different configurations:
Small Room Kit consists of: Compute device, 12MP Camera, Speaker Bar with integrated mics and a remote controller. Starting price expected to be $2699 with availability starting November 2020.
Medium Room Kit consists of: Compute device, 12MP Camera, Speaker Bar, one Mic Pod and a 10.1-inch touchscreen controller. Starting price expected to be $2999 with availability starting November 2020.
Large Room Kit consists of: Compute device, 20.3MP Camera with zoom, two Speaker Bars, two Mic Pods and a 10.1-inch touchscreen controller. Starting price expected to be $3999 with availability starting November 2020.
Visit www.lenovo.com/ThinkSmart for Lenovo collaboration solutions.
About Lenovo
Lenovo (HKSE: 992) (ADR: LNVGY) is a $50 billion Fortune Global 500 company that employs 57,000 employees and operates in 180 markets around the world. Focused on a bold vision to deliver smarter technology for all, we are developing world-changing technologies that create a more inclusive, trustworthy and sustainable digital society. By designing, engineering and building the world's most complete portfolio of smart devices and infrastructure, we are also leading an Intelligent Transformation – to create better experiences and opportunities for millions of customers around the world. To find out more, visit https://www.lenovo.com, follow us on LinkedIn, Facebook, Twitter, YouTube, Instagram, Weibo and read about the latest news via our StoryHub.
1 Google Meet Room Kits from Lenovo components vary by room size
2 Smart Collaboration Managed Services are available at additional cost
3 Prices may not include tax and do not include shipping or options and are subject to change without notice; additional terms and conditions apply. Reseller prices may vary. Availability dates may vary by geography and products may only be available in selected markets. All offers subject to availability. Lenovo reserves the right to alter product offerings, features and specifications at any time without notice.
LENOVO, THINKSMART, are trademarks of Lenovo. All other trademarks are the property of their respective owners.  ©2019, Lenovo Group Limited.