More than 90 percent of organizations today want a unified cloud platform to manage enterprise data, ensure network privacy and security, and provide agility as they expand. It helps to have compatible network equipment instead of disparate devices that each come with its own learning curve. The most successful IT teams are those that can devote their time to maintaining and upgrading company assets, testing new technology, and moving the company forward—not constantly putting out fires.
The business landscape is changing by necessity—remote, hybrid, and onsite work combined with expanding global business locations require always-on, always available network resources. In response, EnGenius has released its first enterprise-level security gateway—allowing big companies to build an entire cloud-managed network solution through one reliable vendor.
The modernized cloud solution includes the new EnGenius Security Gateway and new security access points that scan for threats 24/7. In addition, heightened security features and deep-level cloud management options make the new EnGenius Cloud the perfect solution for enterprise.
Fast Setup and Easy Cloud Management
The EnGenius Security Gateway is a high-powered router that is easy to set up and deploy. Simply scan the QR code on the back of each device, and EnGenius Cloud will register and configure the device automatically or according to admin preferences.
The security gateway and your end-to-end EnGenius network can also be centrally managed from absolutely anywhere with the EnGenius cloud user interface or Cloud To-Go mobile app. The security gateway gives you everything you need under a single pane of glass. The cloud interface allows users to view and manage a network where each device—access points, switches, and gateways—can be explored for more granular visibility and options.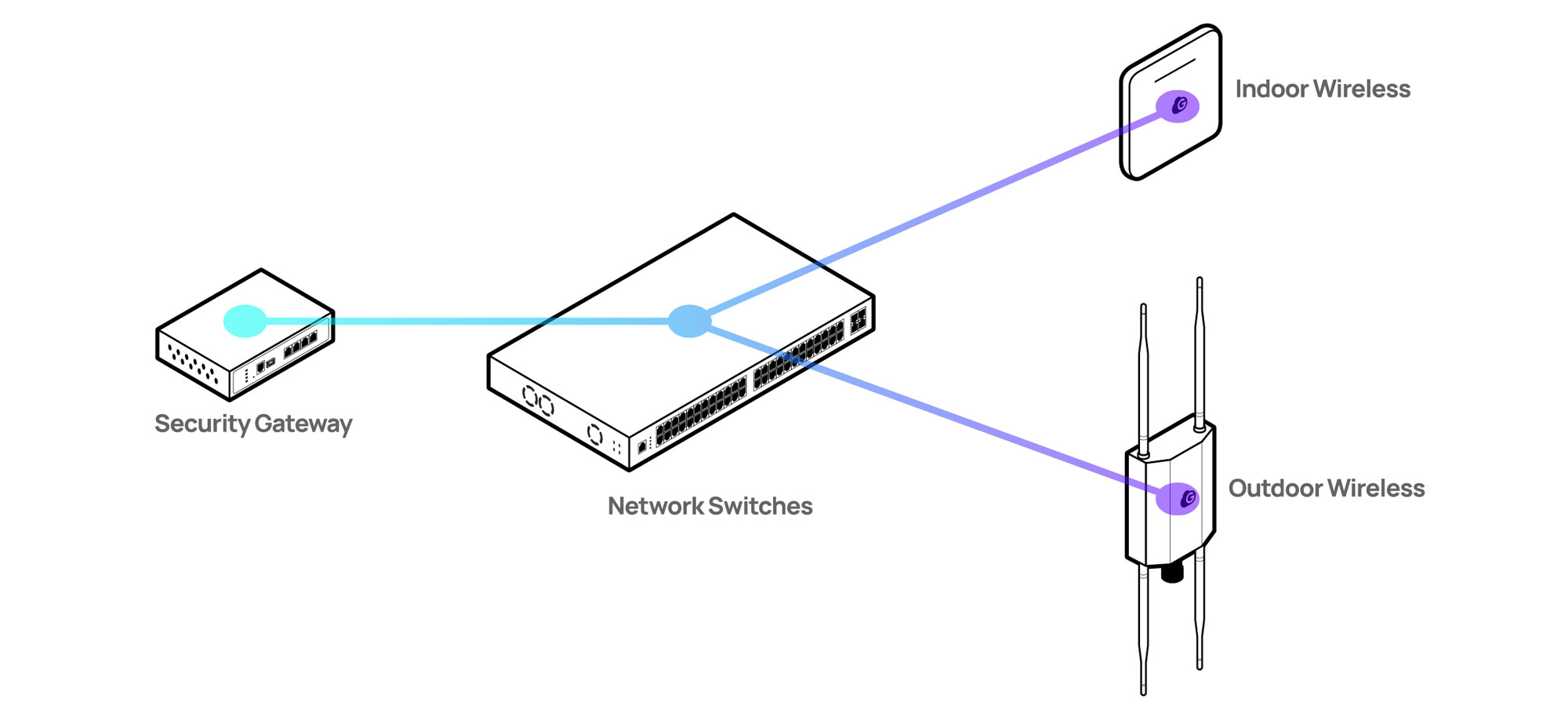 Uninterrupted Connection
The dual WAN ports are capable of highly efficient load-balancing when one port is overworked, increasing overall WAN bandwidth. The gateway also features redundant WAN link and cellular failover, automatically switching itself to a backup WAN or 4G/5G network in case the WAN uplink fails, keeping you connected at all times.
EnGenius Cloud also continually monitors the VPN connection between EnGenius gateways and will automatically update related VPN parameters to all peers while maintaining continuous VPN connection even in the case of WAN IP address reassignment or forwarding port changes. It's automatic.
High Performance WAN and LAN Ports
The security gateway has two WAN and two LAN ports capable of up to 2.5G speeds, which is more than double the speed of most gateways on the market today. The gateway has high-speed Ethernet connection and is designed with a high inline, 2.5Gbps architecture for lightning-fast uplink and downlink transmissions—including maximum firewall throughput up to 2.35Gbps.
Site-To-Site and Client VPN
Creating a virtual network for distributed office locations and remote workers couldn't be easier. The EnGenius Security Gateway features site-to-site and client VPN that can be activated in a few clicks without the hassle of configuring a multitude of VPN parameters. This important feature allows businesses to create secure, private connections for communication and remote work from anywhere.
High-Efficiency Stateful Firewall
The EnGenius Security Gateway has a stateful firewall with maximum throughput up to 2.35Gbps while quickly blocking the types of attacks that exploit protocol vulnerabilities. The stateful firewall integrates corporate security policies and real-time filtering of malicious internet traffic.

Security Access Points with 24/7 Monitoring
EnGenius cloud-managed security access points are ideal for information-sensitive financial, medical, and distributed networks. They come equipped with EnGenius AirGuard™, an intelligent wireless security system that identifies and eliminates intrusions and threats 24/7 while providing client devices with maximum performance.
Using dedicated scanning radios, AirGuard™ security APs continuously scan the environment for threats 24/7 without degrading network speed. Every enterprise-level business with highly sensitive data should have security APs to keep their workforce safe every second of the day. Businesses suffer serious loss of reputation when a data breach occurs. Don't let this happen to you.
Advanced Cloud Management Features
For enterprise class networks, EnGenius has newly-developed, advanced features perfect for dense, multi-user networks requiring an extra level of monitoring and protection.
While it's just the tip of the iceberg, EnGenius Cloud advanced features come with AirGuard 24/7 security threat scanning, spectrum analysis, client timeline, live client, MyPSK, VLAN pooling, customized network reports, and exposure analysis—tools that make the management of any size networks much easier. And, as is typical of EnGenius technology, it all comes with the ease-of-use customers have come to expect from us.
Give Us a Try
For the first time ever, EnGenius offers a total cloud solution for all businesses—especially enterprise-level organizations—that makes installation, configuration, and management a snap. It comes with the most advanced network technology, simplicity, and security you need for modest to massive communication needs.
Contact us to learn more about what we have to offer!
---