Organizations are increasingly relying on multiple clouds to remain competitive in today's demanding business environments. The need for data governance, data security and ease of operations while navigating multi-cloud operational complexities is becoming a reality.
The ongoing pandemic has created additional disruption with impacts to current workforce, challenges with hiring resources and IT labor shortages. Organizations are looking to offload the management aspects of IT infrastructure so their staff can focus on high value business priorities.
With Dell Technologies APEX, we help our customers focus on driving innovation and differentiation by offering a turnkey portfolio of as-a-service offers that radically simplify the on-premises cloud experience for our customers. We are excited to introduce the latest innovation between Dell and VMware with the launch of Dell Technologies APEX Cloud Services with VMware Cloud.
Announcing APEX Cloud Services with VMware Cloud
APEX Cloud Services with VMware Cloud is an Infrastructure-as-a-Service that provides software-defined compute, storage and networking with secure and consistent operations across multi-cloud environments – private, public and edge. The infrastructure is owned and managed by Dell Technologies, freeing customers from the hassles of day-to-day infrastructure management. We made it easier for customers to deploy their critical workloads with cloud instances and self-service capabilities. The offering can be used with VMware Tanzu, allowing customers to build, test and run cloud-native applications alongside traditional applications. Customers can get up and running in as few as 14 days.¹ The service is built on infrastructure that delivers 99.9999% of availability², giving customers the peace of mind that their cloud resources will always be ready for their developers. The service is also built with security and cyber-resiliency to help businesses keep their data secure and defend against cybercrimes.
Customers can choose how they deploy these resources, on-premises, edge locations or at a co-location facility with 1- or 3- year subscription term and flexible payment options – upfront, annual, or monthly. For those customers who would like to offload the additional responsibility of datacenter management, we are partnering with Equinix to integrate this service with colocation facilities, all in a single invoice (coming next year).
APEX Cloud Services with VMware Cloud is a compelling offering that will make it easier for organizations to quickly deploy application ready infrastructure." – Steven Kouvo, Technology Architect, Boston Scientific
APEX Cloud Services with VMC is designed to deliver a cloud experience. Let's take a look at how:
Seamless and secure multi-cloud operations
APEX Cloud Services with VMware Cloud offers secure and consistent multi-cloud operations across private, public and edge environments. The common infrastructure management framework and consistent network and security policies lowers the complexity of managing multi-cloud environments and allows the use of familiar VMware tools and processes. Customers can deploy workloads based on their evolving business needs. They have the ability to easily migrate workloads across cloud environments, without the need to re-architect applications, leveraging VMware HCX with application migration and mobility platform, all included in the service.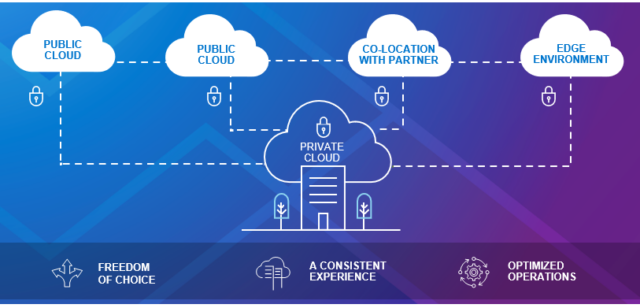 Focus on innovation, we'll do the rest
APEX Cloud Services with VMware Cloud ensures a worry free and hands-off exp.erience for customers where Dell owns and manages the underlying hardware and software stack. We provide installation and implementation services along with all updates, patching, remediation, and system upgrades. Customers have operational control of their workloads with the peace of mind to run their most mission critical applications
Self-service with a few clicks
Far too often, enterprise customers must go through a long, manual process to procure IT infrastructure solutions by negotiating complex price quotes from different vendors. APEX Cloud Services with VMware Cloud simplifies the technology experience providing self-service capabilities through the Dell Technologies APEX Console. The APEX Console is a unified cloud management portal that gives organizations one place to gain insight of their entire APEX journey, at the point of purchase and through its entire lifecycle. We have made it easy for our customers to not only subscribe to new services but also to provision, operate, optimize, and grow resources on demand. With just a few clicks, customers can browse a catalog of cloud products and services and have a cloud solution deployed and delivered in their data center, edge location or co-location facility in as few as 14 days.¹
Cloud instances for your essential workloads
To further simplify our customers' experiences and help them choose the right infrastructure services, the service is centered around instance-based configurations. We are making it very easy for our customers to stand up their applications with outcome driven solutions where we have tied essential workloads such as VDI, databases, modern apps etc. to match different instance types such as Memory Optimized, Compute Optimized, General Purpose and Large Scale Memory Optimized.

Easily monitor and manage costs
Using the APEX Console, customers can see their monthly pricing, monitor their costs in real time and review the health and performance of their IT resources all in one place. They can subsequently make the right decisions to align their cloud resources to their unique business needs. We understand how customers need to plan and love having more predictable IT costs. We have set out to provide exactly that by making it easy for customers to consume these cloud offers via a single, predictable monthly price that includes all hardware, software, and service components including lifecycle management of firmware and software upgrades, patching, proactive monitoring and remediation.
Built-in security for your most critical workloads
With the right security and service levels, APEX Cloud Services with VMware Cloud allows you to exercise new levels of control over your clouds to ensure that workloads are running in the proper environment without the threat of malicious attacks.
This offering comes with built-in cyber resiliency across the underlying technology stack. Data at rest and data inflight encryption with an included Enterprise Key Management System (EKMS) relieves customers from additional cost and complexity. Additional features such as secure boot, micro-segmentation, distributed firewall services and role-based access control allows for a secure IT architecture.
APEX Cloud Services with VMware Cloud brings the power of cloud to your VMware workloads.
The service is planned to be available to customers based in the US, UK, France and Germany by the end of Dell's fiscal year. To learn more about the service, visit the APEX Cloud Services with VMware Cloud webpage or call your sales rep to get started today. 
¹ Applies to select preconfigured solutions of Memory Optimized instance types only, contact your sales representative for details. Excludes orders over 704 instances for 1 phase racks or 1600 instances for 3 phase rack. Subject to customer acceptance of APEX terms, credit approval, site survey, and solution abstract must be completed before order is placed and no customization or deviation from the standard configuration is allowed. Product availability, shipping, holidays, and other factors may impact deployment time. Deployment includes delivery, standardized installation and hardware and software configuration. US, United Kingdom, France and Germany only.
² Based on VxRail field performance at the node level over eight consecutive quarters. Actual results will vary.