Until even a few months before ISC West kicked off at the Sands Expo and Convention Center in Las Vegas, we were still uncertain whether vaccine rollout would reach safe levels, trade events would be approved, and the city itself would open in time. As with everything else this year, the industry took careful, cautious steps forward. And to everyone's surprise and delight, after a year-long hiatus, ISC West 2021 happened.
With so many new innovations emerging in the industry, on top of a major market-wide period of disruption, recovery, and transition—it was good to see the security world come alive again. Even though so much of the world shut down because of COVID-19, global developments in technology and infrastructure, such as Smart Cities, IoT, and the Cloud, have carried on. Upon reflection, ISC West was a moment when the industry put its ear to the rail and reclarified its direction.
Seagate also noted an exciting milestone. This was the first time at ISC West Seagate offered solutions from edge to cloud (see our related on-demand webinar for new edge-to-cloud data and storage solutions for video security applications). Providing a full storage portfolio of video and analytics solutions built and tested for security. With SkyHawk™ drives for network video recorder (NVR) systems, Exos® and Nytro® drives and Exos X high-performance enterprise storage systems, and our video and analytics-optimized portfolio of Lyve™ solutions—including Lyve Mobile edge storage and Lyve Cloud storage-as-a-service—we've created a reliable foundation for storing and managing data that is affordable, flexible, scalable, and secure.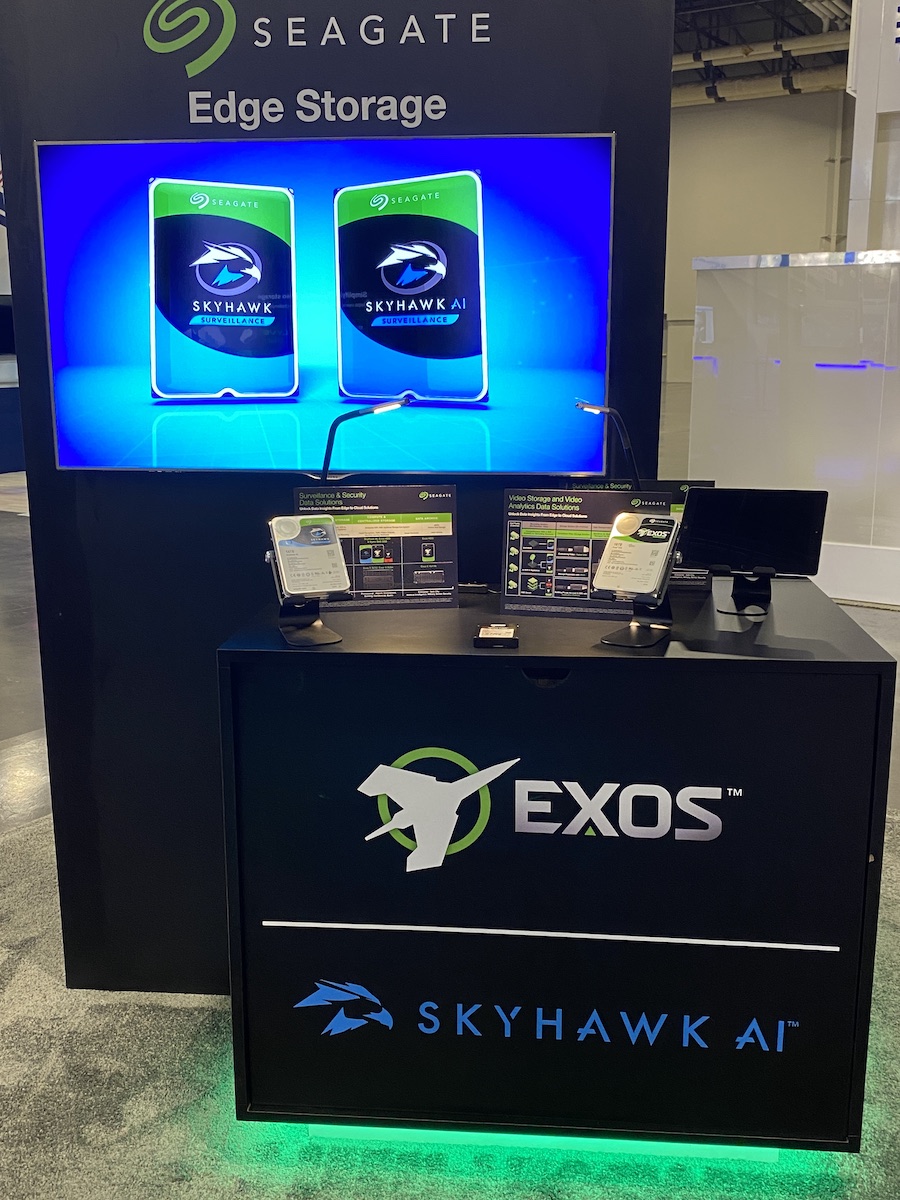 Seagate's solutions didn't go unrecognized. Security Today magazine announced the 2021 winners of its Government Security Awards—The Govies—with Seagate's Advanced Distributed Autonomic Protection Technology (ADAPT) announced as the winner in the Storage category. ADAPT was designated as a platinum winner, which is the highest level of recognition a product can receive. This award recognizes innovation and excellence in the security industry's products, services, and solutions. In addition, Seagate's SkyHawk AI 18TB hard drive also won a Gold Govies Award, winning the award consecutively for the past couple years as the best purpose-built video and analytics hard drive in the market.
Innovations in Video
At Seagate, we've remained watchful and proactive throughout this year and a half, knowing that, as the world began to recover, both public and private security efforts would be more important than ever. Our mission at ISC West 2021, then, was both to continue to address age-old challenges and reflect how we've evolved to meet the needs of customers in the industry today. Our focus and message was innovation, from the edge to the cloud.
In the sphere of video security technology, the challenges that ailed ISC West 2019 attendees have largely remained the same—i.e., out-of-date system deployments, fragmented systems that lack data integrity and are difficult to scale, failure to migrate to cloud solutions, and low-performing data storage infrastructure. Seagate's industry-leading portfolio of video and analytics solutions meet these challenges head on, as they're tested and built for video security.
From the edge to the cloud, Seagate delivers future-proof video storage solutions, supporting always-on security, machine learning, and AI, and managing data in any and every environment.
Two is Better Than One
We purpose-build our reliable and efficient edge-to-cloud solutions using our proprietary video and analytics storage technologies, but we also rely on our security partnerships to build end-to-end solutions for our customers. Seagate's Global Trust & Security department, for example, updated its global video security network this year combining Genetec's Security Center Omnicast™ software video management system (VMS) solutions together with Seagate Exos™ X 5U84 SA storage platform (see our report on that project: Building an Efficient and Cost-Effective Video Management Solution).
This is just one of many instances in which we bring together Seagate's intelligent data storage technology with trusted partners to deliver solutions that are easy to manage and access, and that provide maximum uptime. To achieve this, we've teamed up with key market leaders in the video security systems market, including Genetec, VXG, VisioLogix, BCDVideo, and Tiger Technology.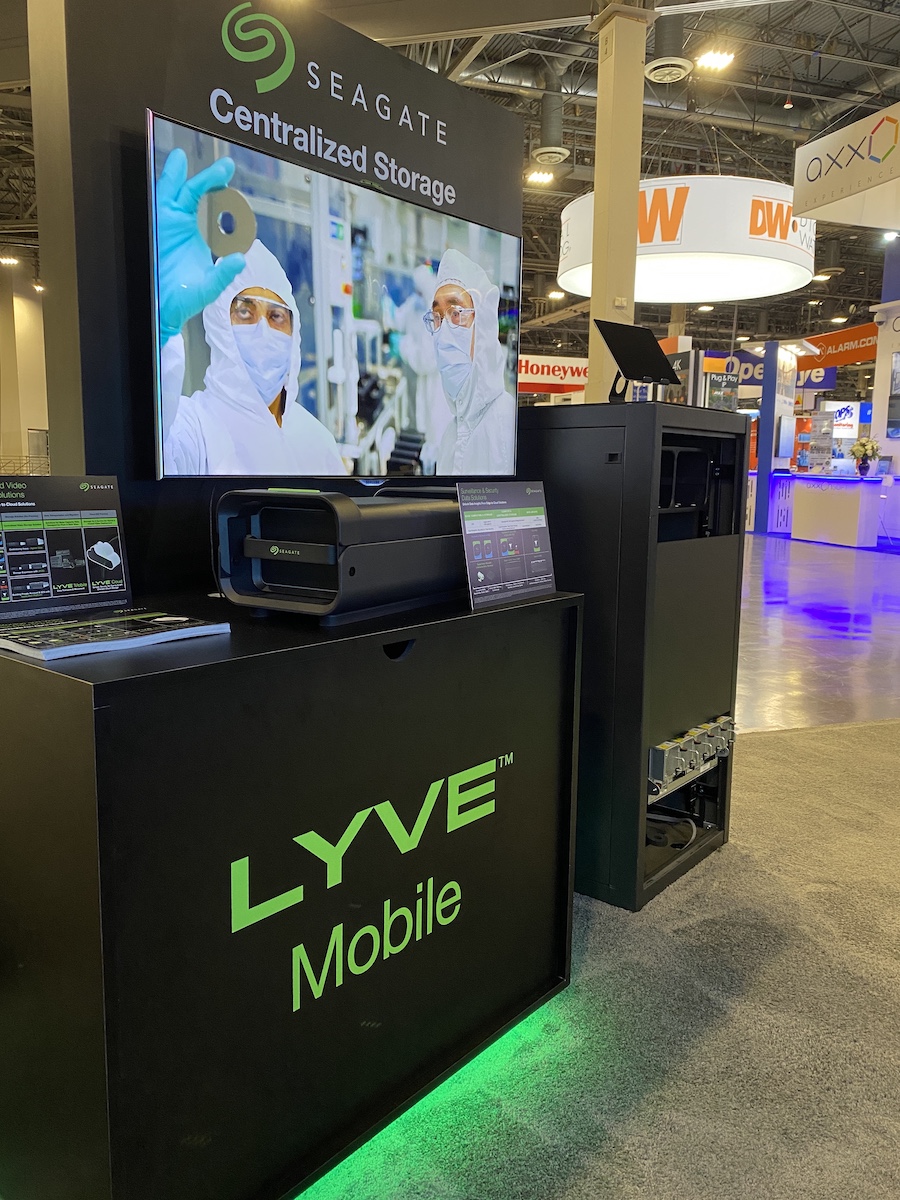 Data on the Move
At ISC West 2021, we unveiled Lyve Mobile—high-capacity edge storage systems delivered as a service—to enable businesses to aggregate, store, move, and activate their data for myriad applications including video and analytics. In a world that requires scalable, modular, and vendor-agnostic solutions on the go, this integrated solutions bundle eliminates network dependencies so end users can transfer mass-capacity data sets in an efficient and secure manner.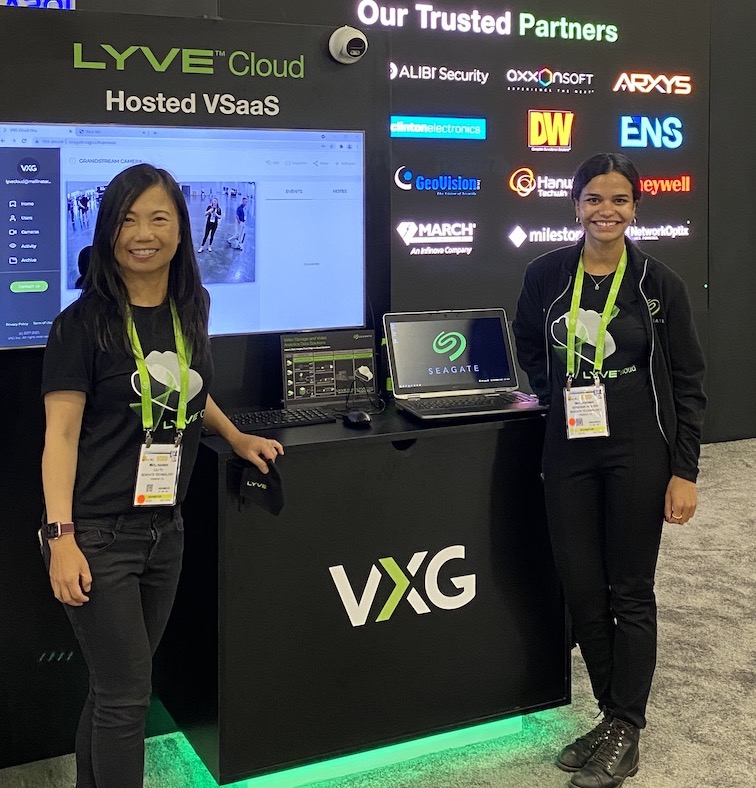 Also part of the Lyve family, Lyve Cloud provides a complete cloud-storage-as-a-service solution for hybrid and hosted VSaaS surveillance and working seamlessly with VMSs to enable real-time backup and long-term data retention.
"Video data has more applications beyond security," said Rags Srinivasan, senior director of Marketing for Seagate's Lyve Cloud business. "Arguably the camera lens has become the most information rich IoT sensor that is out there. By providing compelling total cost of ownership, Lyve Cloud makes it easier for customers to store more of their growing video data, store it longer, and do more with the data."
To support the complete storage needs for these designs, Lyve Cloud teamed up with VXG to help customers decrease operations burdens associated with maintaining physical storage and bypass maintenance and upgrade costs. The result is robust data protection and scalability at an incredible low cost.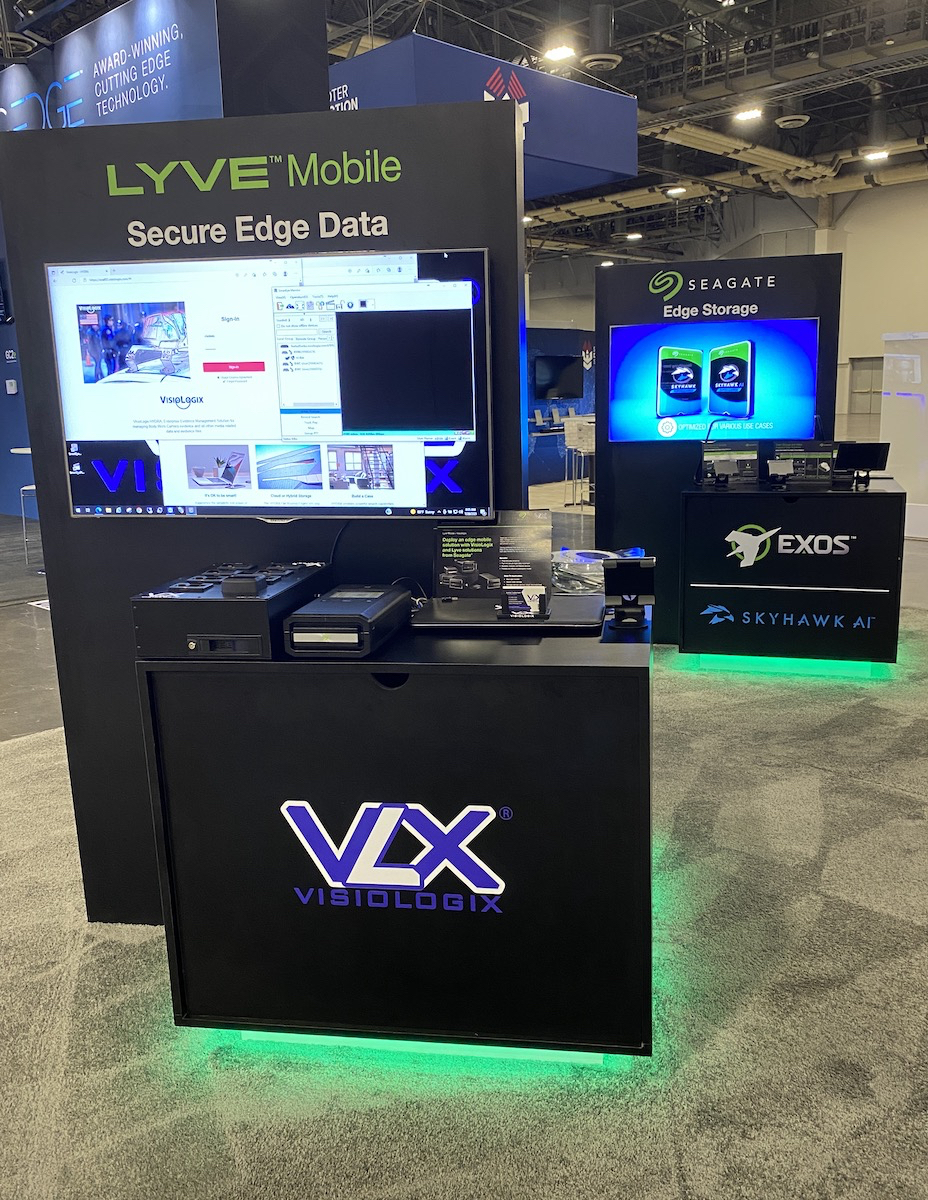 New Horizons
VisioLogix, likewise, is solely focused on video capture and large data management solutions for fixed and mobile assets, both on premise and in the cloud, for customers such as law enforcement and private security. After working with body-worn cameras for years, VisioLogix has perfected their technology in order to take it to the next level with Lyve Mobile and Lyve Cloud. The aim of this offering is delivering plug-and-play simplicity and fast and secure data movement, all in a scalable, modular, and flexible package.
"VisioLogix has developed a Digital Evidence Management Solution that enables fast and secure access to critical data," said Junior Sutitanom, technical product manager at VisioLogix. "With our File Routing Engine (FRE™) technology and Seagate Lyve Mobile, VisioLogix provides clients immediate access to critical data using local storage for a set period, as well as unlimited local storage with high availability access to data."
Sutitanom explained that the Seagate Lyve Mobile and Lyve Cloud enable VisioLogix to offer a complete automated end-to-end solution without the customer worrying about data security, integrity, and reliability.
Doubling Down on Data Security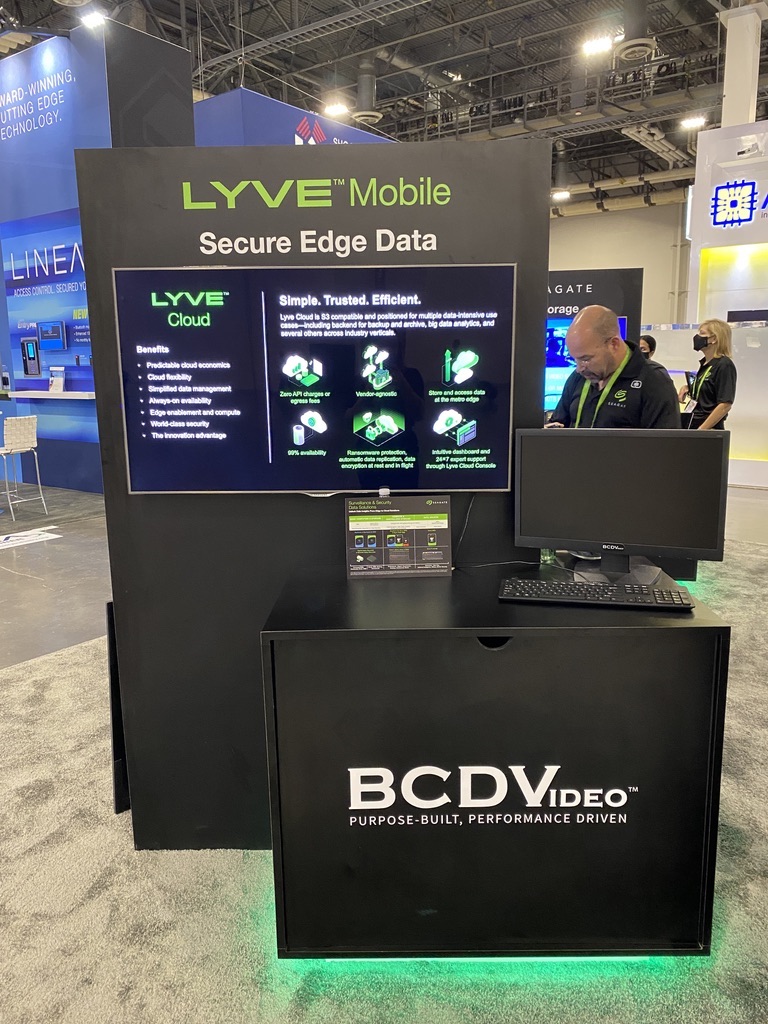 On the backend, Seagate's partnerships with BCDVideo and Tiger Technology extend on-premises video storage capacities by centralizing storage with Exos X and Lyve Cloud, providing hybrid or cloud video security with BCD, and delivering an efficient and seamless bridge between on-premises and hybrid cloud storage solutions with Tiger Technology.
The combination of Seagate's scalable Lyve Cloud offering, paired with BCD's trusted video data infrastructure solutions, including Harmonize Bridge powered by Tiger Technology, provides users with a simple hybrid-cloud solution that offers maximum flexibility and security, and the peace-of-mind that your data is housed with the industry's leading video and analytics storage company," said Jeff Burgess, CEO at BCDVideo.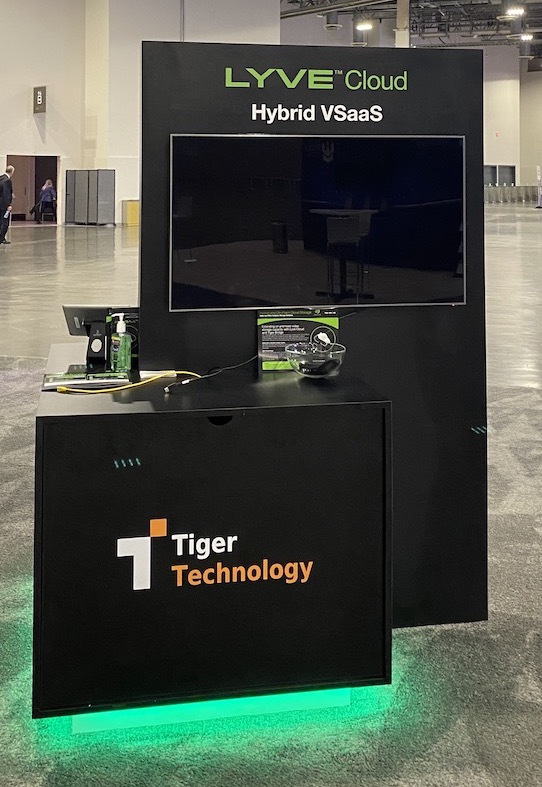 Tiger Technology executive vice president Lance Kelson also explained that Tiger Bridge and Seagate Lyve Cloud work together seamlessly.
"Our continuous data protection and storage management software, integrated with Seagate Lyve Cloud, offers customers a high-value option for storing and accessing large volumes of video data without billing surprises," said Kelson.
Last but not least, Skyhawk and Skyhawk AI drives proved themselves as purpose-built for NVR syatems, supporting always-on security, machine learning, and AI—delivering best-in-class performance for 10 years and running. Smart, safe, and secure, Seagate edge, enterprise and backup devices continue to exceed expectations, year after year.
Bright Futures
In testing times like these, only truly reliable brands will emerge as industry leaders. Integrators, dealers, installers, and consultants alike know the significance of balancing both tried-and-true technologies and rigorous innovation standards. Seagate continues to develop its advanced technologies, as well as its presence in the video analytics and security industry, with these goals in mind.
At ISC West 2021, it was our pleasure to reconnect with all the people that keep the industry's heart beating. After such a long pause—it's nice to be back.