Under the Lid
Our PCs and their features have evolved over time to match the way we work, play and communicate. Lots of innovations have evolved in the last 27 years – CD/DVD drives, solid state drives, advancements in processors and graphics, thermal designs and smaller, yet longer lasting batteries. However, one often overlooked feature, until recently, is the webcam – an innovation that truly connects you with someone on the "other side" of a PC.
Prioritizing features for the best experience
There's a lot of thought and consideration that goes into the design of the next Latitude laptop. We look at features our customers are loving on their current devices, which features they aren't leveraging and most importantly, the features our customers need on their future devices to be their best selves. In an ever-changing business world now powered by virtual meetings, webcams are paramount.
Webcams are tasked with a difficult job; they must capture the analog world and turn it into something digital the PC can use. And that's only half the job – as we've likely all seen, if the webcam isn't up to the task, a user can look washed out or grainy. To do this job well, from the lens to the sensor, bigger is better – yet, when we think of laptop evolution over the years, the first thing that comes to mind is thinner and lighter. These conflicting needs present all kinds of interesting design challenges.
To keep this balance, our engineers looked within and borrowed from our consumer devices, which feature some of the thinnest bezels in the industry and are designed to house some of the smallest cameras. This was no small task for our designers – five years ago, a typical camera would have been closer to 6mm, today our team has shrunk them to 2.25mm – a 62.5% reduction. They played with size and function, and also toyed with camera placement. It took some trial and error to produce the advanced cameras we have today in our portfolio.
The result? We now have an extra small camera at the top of your device that also packs the biggest punch, helping you look good during day-to-day video streaming experiences. Resolution, camera size, sensitivity, noise, dynamic range and color accuracy are things that probably never cross your mind when prepping for a big video conference presentation, but these features play a critical role in delivering that 'in-person' video experience.
Our investments in advanced camera technology go beyond the traditional features of a webcam. Take our Intel® image processing unit (IPU) 6 webcams for example. Intel® IPU 6 technology is Intel's latest image signal processor (ISP). It's a powerful engine integrated into the CPU that delivers pleasing image quality by making hazy images better and preserving details. Users also have more adjustment settings, such as white balance, ISO, shutter speed and brightness with Intel® IPU 6. Today, Dell provides Intel® IPU 6 on Latitude 9420 as well as Latitude 7320 detachable.
In addition, Dell was one of the first hardware manufacturers to include temporal noise reduction (TNR) into laptop webcams. This is a critical element of video quality for video streaming. TNR helps remove noise that occurs over time in a moving image – perfecting the video experience especially in low lighting conditions. After all your prep, Dell's Latitude devices make sure you look as confident as you feel – no matter where you're working.
Much like our PCs, the technology packed inside them will never stop evolving and this evolution goes beyond just a laptop webcam. For those who prefer to work with their laptop lid closed, the new Dell Ultrasharp Webcam provides the best image quality in its class of 4K webcams and is packed with intelligent features to enable you to adapt to any set-up and situation.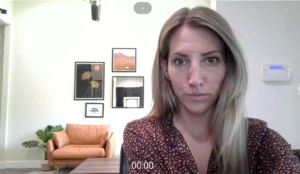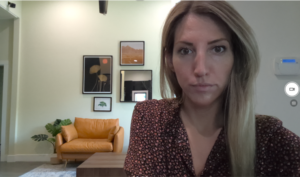 Benefits beyond video calls
Intelligence is built into our Latitude laptops and this includes our webcams. Imagine you're starting your day a little slower than you wanted to, rushing to jump on your first call – the last thing you have time for is trying to quickly type out your password. Or, having to manually sign-on again and again throughout the day every time you take a break or step away only to have your PC go to sleep.
Leveraging the same AI and machine learning that helps deliver longer battery life, ExpressSign-in detects your presence, and boom – your laptop is awake – all without you having to lift a finger. Using an IR camera and Dell Proximity Sensor with Windows Hello for facial recognition, you are able to simply log into your PC. It can also sense when you walk away and locks the device, keeping your most important data secure. No more booting up and typing in a password or remembering to lock your screen; your webcam allows you to easily flow through your day without thinking twice.
Signing in several times a day is one thing, but there are plenty more disruptions that appear throughout the workday because, let's face it, life is loud. Thankfully, we can embrace the chaos because Dell Optimizer delivers mic tuning, speech tuning and background noise reduction through intelligent audio. This allows you (and your audience) to focus on what's important, rather than what is happening around you.
And all of this can't be at the expense of security. Before 2020, if you are like me, you likely solved webcam security with a Post-it note – cutting edge, I know. As video calls are now a daily occurrence, the unsticking and re-sticking got old fast, so many just left their webcams uncovered. With Dell SafeShutter, available on the Latitude 9000 Series, your webcam knows when to automatically open or close by syncing to your video conferencing applications (if you give it permission) – allowing you to toss that Post-it and work securely and confidently without giving your webcam status a second thought. SafeShutter also lets you take control of your privacy with your keys to override these software settings if needed.
A new vision
Video calls aren't going anywhere, and our team will continue to focus on delivering the highest quality video experience while maintaining our industry leading form factors – no small feat. We continue to innovate to deliver solutions which help our customers stay secure, productive and connected—wherever you decide to work from for the day.