Taipei, Taiwan—02 June 2023—With Computex 2023, one of the world's leading technology trade shows was back on, and with it Synology's traditional product showcase. Held from May 30 to June 2 at Taipei's new POPOP Maker Space, the Synology Solution Exhibition presented the brand's newest solutions for data management, backup, video surveillance, and cloud services.
Innovation and excellence in data storage
Eye-catchers at the event included new dual-controller systems, SA3400D and UC3400, that epitomize high availability from the get-go. As has come to be expected of Synology, both systems facilitate seamless data management while ensuring maximum uptime for organizations of all sizes, whether for data center deployment or as a low maintenance, standalone data management solution.
Other systems on display, from 2-bay servers to units supporting up to 300 drive bays, showed how Synology's solutions meet a broad spectrum of requirements, from high-performance storage for VMs, to petabyte-scale storage systems, to versatile systems ideal for edge or data center use. Synology continues to advance storage and data management while providing a unique unified management experience as part of the award-winning DiskStation Manager(DSM) software ecosystem.
"Our commitment to system reliability and pioneering product design is evident throughout Synology's storage portfolio," said Jason Fan, Synology product management manager responsible for hardware design and next-generation storage products. "Our solutions portfolio combines high-performance storage for VMs and containers, petabyte-scale archival solutions, and versatile general-purpose storage. Built on a common software platform, these show our dedication to simplifying and improving IT management for organizations worldwide."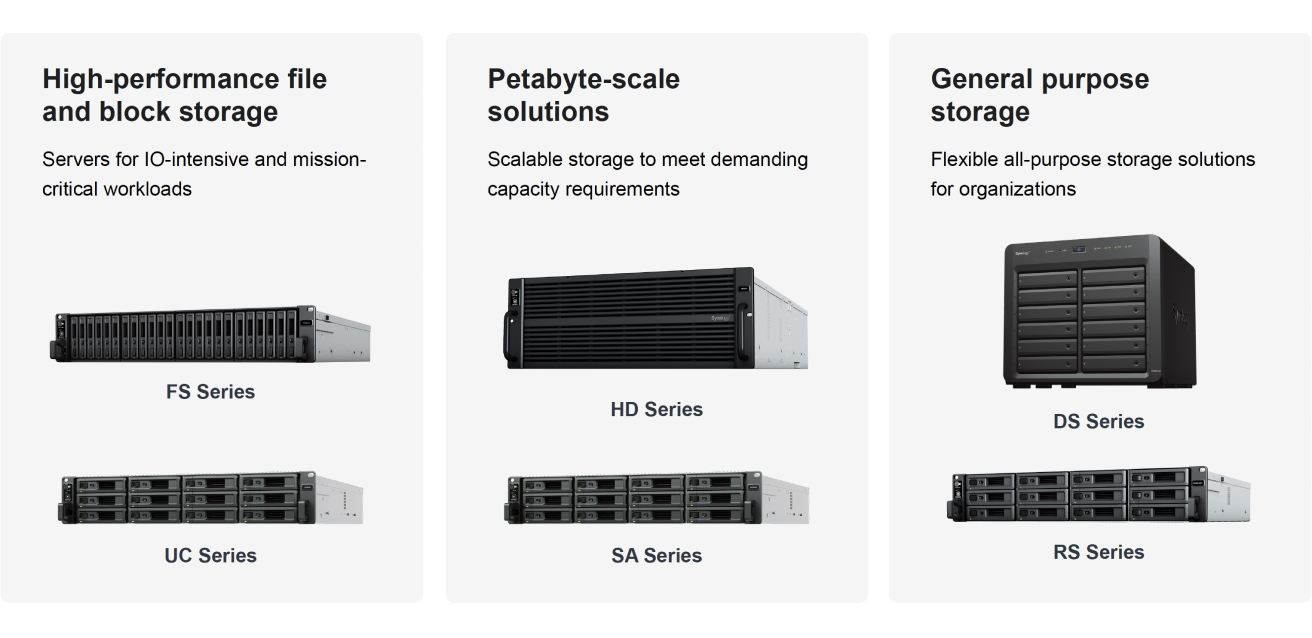 Integrated data protection made accessible
With live demonstrations on site, Synology advertised its evolving array of powerful, integrated, and cost-efficient data protection solutions. These solutions enable a multilayered approach to defend against the risks of data loss, ransomware attacks, and physical disaster by ensuring critical data is protected with multiple copies and versions in different locations at all times.
Organizations are keenly aware of the dire operational risk posed by cyberthreats and investment in digital asset protection has never been higher. However, deploying a comprehensive solution for larger organizations has not become easier. To address this, Synology has been working to consolidate and expand its backup and restoration portfolio onto a unified platform that can largely satisfy the infrastructure protection needs for organizations of any scale.
Synology Active Backup suite offers increasingly complete protection across all core business services, from Windows, macOS, Linux, VMware, and Hyper-V environments, NetApp and Nutanix systems, and cloud-based applications such as Microsoft 365 and Google Workspace. Proprietary solutions Hyper Backup and Snapshot Replication in turn ensure that backup and other data on Synology systems is kept securely replicated to failover servers and off-site locations.
Also on display was C2 Backup, a cloud-native backup solution complementing Synology's on-premises offering. With no required hardware investment, rapid scalability, and easy to securely deploy to employee workstations around the world, C2 Backup augments business continuity strategies while hybrid work and bring-your-own-device trends persist.
"The simplicity and scalability of our backup solutions enable organizations of all sizes to achieve comprehensive data protection," said Jia-yu Liu, Executive Vice President leading backup solutions. "We continuously strive to redefine what backup solutions can accomplish and ensuring their accessibility to businesses worldwide. Our Active Backup Suite and C2 Backup service exemplify this, as they provide comprehensive protection for critical services and platforms businesses rely on every day."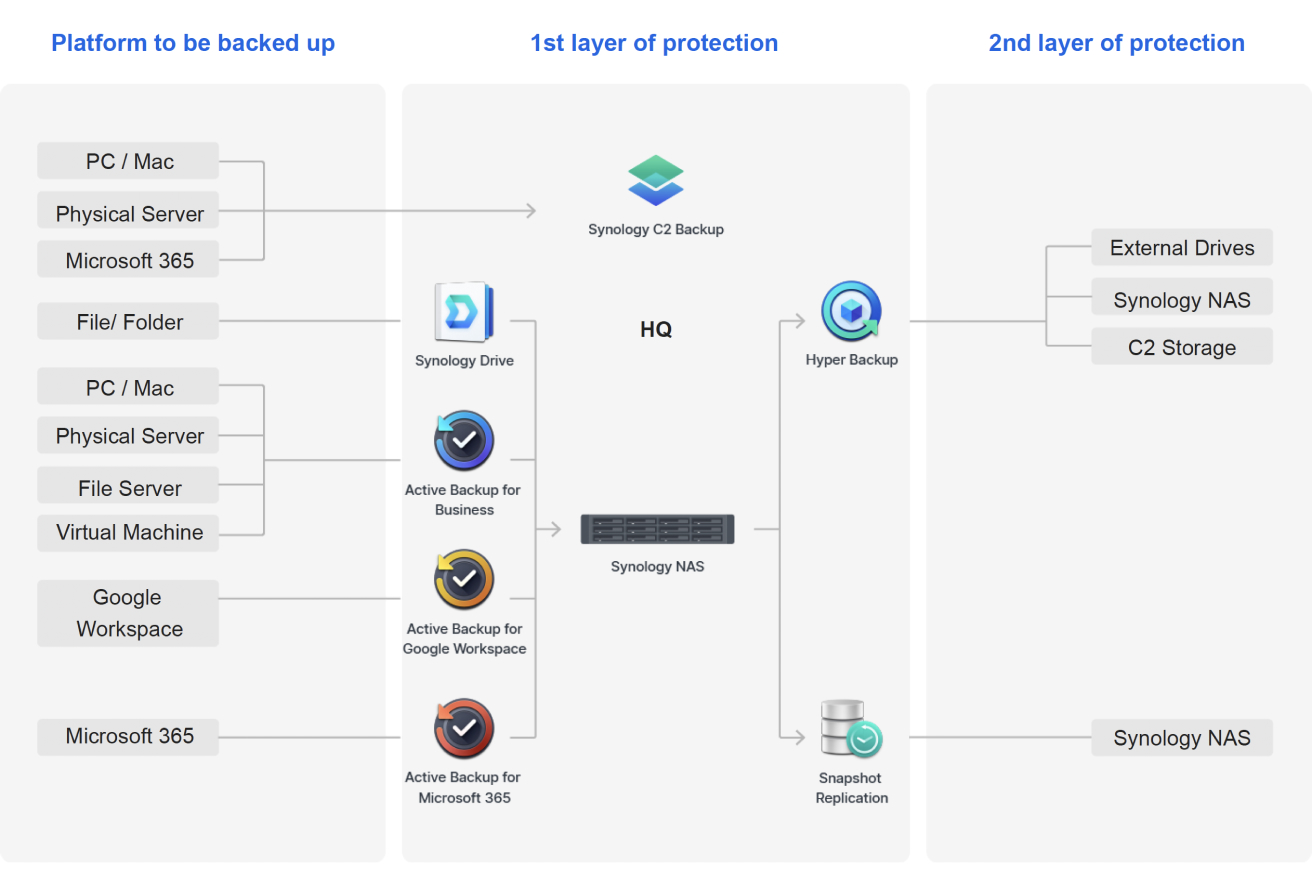 Advanced retention and compliance solutions
Synology's DiskStation Manager 7.2 operating system introduced write-once-read-many (WORM) storage and immutable snapshots, helpful solutions for organizations facing the dual challenges of sprawling data retention policies and emerging digital threats. Synology WriteOnce folders, a WORM storage implementation, allow IT teams to both meet data retention requirements and better protect themselves against new attack vectors.
To give admins more time to act on potential issues, Active Insight will receive a significant upgrade later this year, adding the option to monitor file activity across multiple Synology deployments for potentially malicious activities, such as a ransomware attack.
"Synology is dedicated to helping organizations protect business continuity in the face of both digital and physical threats," said Kuei-Huan Chen, Senior Director at Synology. "DSM 7.2 and our next upgrade for Active Insight is the latest step in our mission to provide robust, efficient, and secure data solutions to our clients."
Integrating AI-driven productivity aides
Synology continues to offer the latest in self-hosted productivity solutions by integrating generative AI capabilities into our office collaboration suite. Available for an early preview at the Solution Exhibition, Synology's MailPlus and Office solutions are set to benefit from the latest generation of large language models (LLM) and other generative AI solutions.
Powerful AI tools newly built into Synology MailPlus and Office will let end users revise or generate from scratch emails, text documents, and presentation slide content, while helping IT admins better control the flow of potentially sensitive business data with centralized management.
"Synology is building AI into our software solutions to provide our users with robust and time-saving solutions," Synology Senior Manager Rex Huang said. "Generative AI can help teams refocus efforts on their priorities, for example, by implementing creative ideas faster and automating or speeding up repetitive and tedious tasks."
Photography enthusiasts and professionals were not forgotten at the exhibit, with Synology announcing the return of a user-favorite functionality — object recognition in its photo manager. Previously featured in Synology Moments, object recognition will soon be available to millions of Synology Photos users, giving photographers an essential tool to manage and sort their portfolios offline.
Closing the loop in video surveillance
Launched this spring, Synology's AI-powered BC500 and TC500 cameras seamlessly integrate with the Surveillance Station video management system. A product of Synology's dedication to making surveillance management secure, scalable, and user-friendly, these high-quality cameras simplify setup and configuration while meeting US federal requirements as set in the US National Defence Authorization Act (NDAA) and Trade Agreements Act (TAA).
"We're seeing ever greater demand for solutions that emphasize security," said Josh Lin, Senior Manager at Synology. "Our new surveillance cameras are a significant addition to our versatile video management system solutions, and provide out customers with a solid system that they can trust."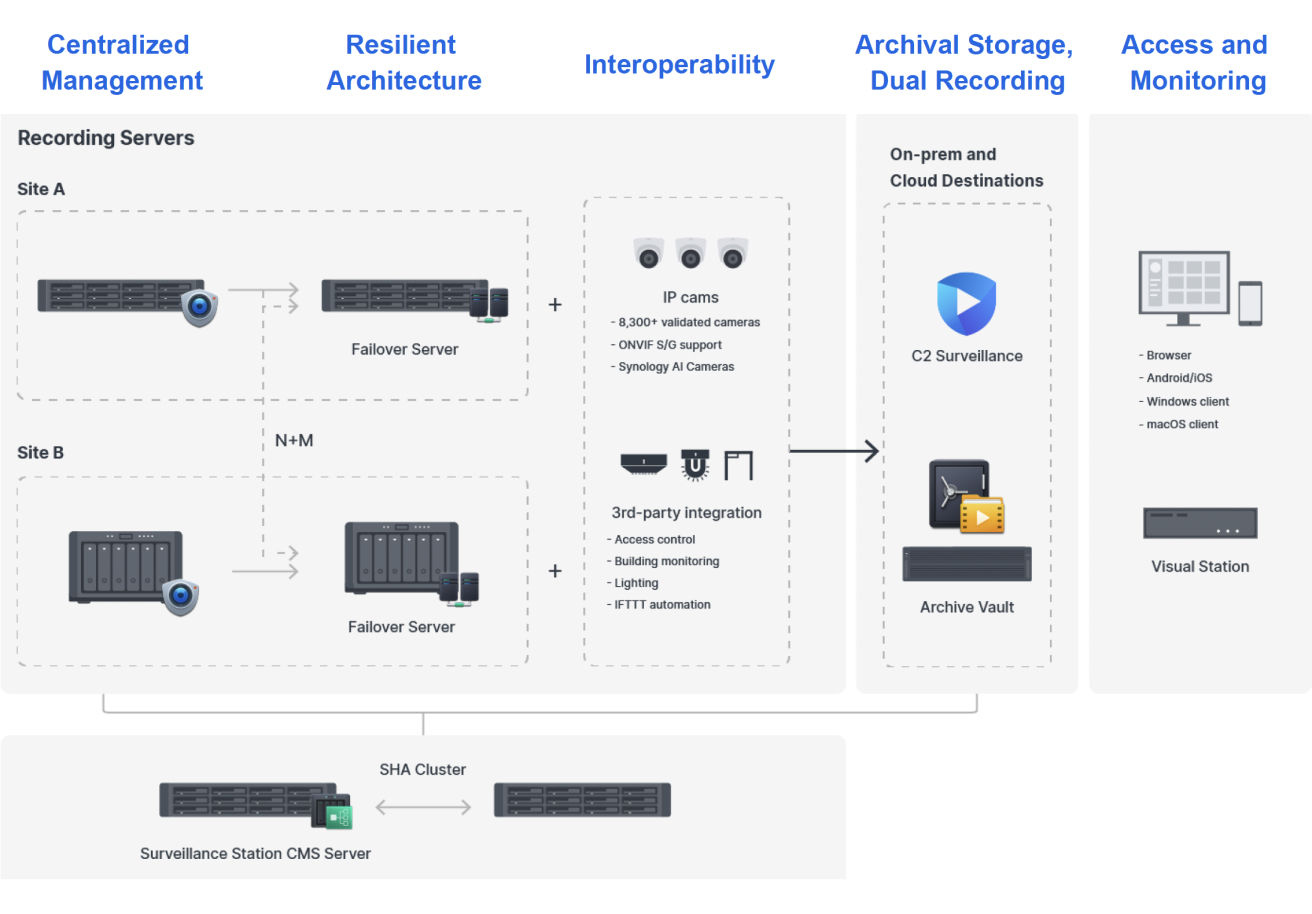 Cloud-native solutions for
heterogeneous
teams
With teams and projects spanning the globe and using dozens of systems and services, it can be challenging to manage employee devices and accounts across local and cloud applications. And when sensitive files are shared between teams or organizations, it can be difficult to ensure only authorized individuals have access. To address both, Synology launched C2 Identity, a cloud-based service that redefines how businesses handle their directory services, and C2 Transfer, a secure file-sharing solution.
C2 Identity streamlines deployment of directory services across devices, internal services, and cloud apps, no matter where users are located. It also introduces powerful single sign-on (SSO) capabilities across all platforms, as well as passwordless authentication capabilities (to be released). By preventing users from remembering multiple passwords, C2 Identity drastically reduces the chances of breaches related to leaked credentials while enhancing the user experience.
Complementing this, C2 Transfer enables secure file sharing by implementing strong identity validation. Safeguards such as download limits, expiration dates, and watermarking help prevent files being misused, while transfer monitoring and notifications allow file owners to keep an eye on download activities. C2 Transfer offers a convenient way to transfer files up to 20 GB without compromising on security.
"Our C2 services were conceived out of the need for secure, but easy-to-deploy and scalable solutions," said Kenneth Hsu, Senior Manager at Synology. "Strong security and cloud infrastructure are not mutually exclusive — and our C2 product line exemplifies this."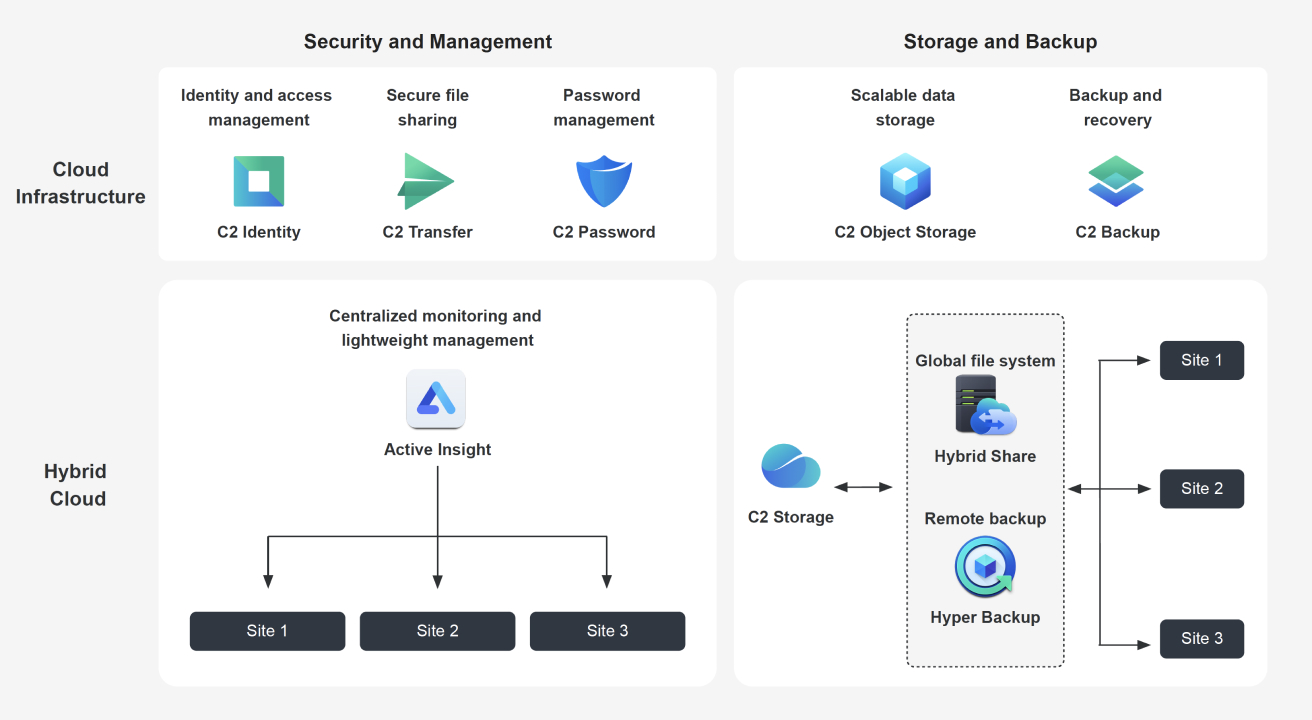 Safe home networks and pocket-sized backups
Just as Synology's surveillance and cloud solutions close the loop for enterprise users, its award-winning lineup of networking and personal backup gear empowers home users to build a secure environment for their family or home office.
Represented this year by the RT6600ax and WRX560 Wi-Fi 6, Synology's router offerings use a graphic interface inspired by DiskStation Manager to help newcomers and power users make the most of powerful network management capabilities. These include a business-class VPN server named VPN Plus, comprehensive parental controls, and a highly configurable web filtering solution, Safe Access.
A major addition, the newly unveiled BeeDrive shows what happens when Synology applies its backup prowess to a lightweight portable flash device. Designed as an intuitive backup solution for users seeking simplicity, security, and privacy, BeeDrive's intuitive client software facilitates automatic computer file backups and folder synchronization, offering up to five versions per file for easy restoration.
"We are very aware that backup needs come in all shapes and sizes," said Sabrina Chen, BeeDrive Director at Synology. "BeeDrive bridges the gap between needing to manage a network-attached storage appliance and the privacy concerns of cloud services."
BeeDrive features smart mobile device media backups, giving users an automatic photo and video backup solution without uploading files through the internet or paying monthly subscription fees.
"BeeDrive is intuitive, respects users' privacy, and has zero additional subscriptions," Chen added. "Both our routers and backup drive lineup helps keep devices and data safe with solutions that are convenient and simple to use."