Lenovo Foundation and Motorola are collaborating with UNESCO to digitize, preserve and promote indigenous languages, in honor of UNESCO's International Decade of Indigenous Languages
This year, the United Nations General Assembly proclaimed 2022 – 2032 as the International Decade of Indigenous Languages (IDIL). The declaration is an effort to draw global attention to the endangered status of many indigenous languages and mobilize stakeholders and resources for their preservation, revitalization and promotion. As a global company focused on delivering smarter technology for all, Motorola Mobility, a Lenovo company has developed the indigenous languages revitalization project, first introduced in early 2021.  
On December 13, as part of UNESCO International Decade of Indigenous Languages, Motorola announced the next phase of the project focused on native languages from India, which will arrive in the coming months. With support from Lenovo Foundation, Motorola is proud to be partnering with UNESCO to conduct further research on the impact and potential of digitizing endangered indigenous languages. 
 As new generations of indigenous people increase their literacy and use of technology, it is crucial that they be able to use their native language in new, digital formats to avoid the endangerment and loss of language. UNESCO estimates that we lose one indigenous language every two weeks, resulting in around 3,000 unique languages being lost by the end of the century. To help preserve human heritage, the unique histories of indigenous cultures, and empower the next generation, Motorola has been working in partnership with Lenovo Foundation to integrate languages into its smartphones. Kaingang (spoken in Southern Brazil), Nheengatu (spoken in the Amazon), and Cherokee (spoken in the United States) are already part of the more than 80 languages Motorola offers in its mobile interface.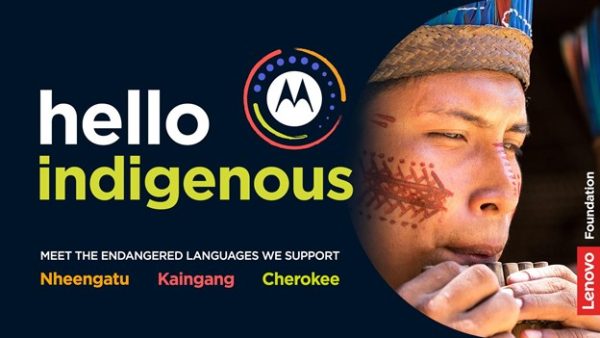 With this initiative, Motorola became the first mobile phone manufacturer to provide Cherokee citizens access to a fully localized mobile phone user interface and to fully support an indigenous language spoken in the Amazon. 
"We believe that the survival of indigenous languages is essential for the survival of indigenous culture and heritage," commented Janine Oliveira, Executive Director of Globalization Software at Motorola. "We support over 80 languages on our phones, but in early 2020, we recognized that indigenous languages of Brazil and Latin America were not represented on mobile user interface. Over 90% of indigenous community members we've worked with are using smartphones, but they could not navigate their phones in their native languages." 
Motorola has shared the characters, 360,000 translated words, and linguistic customizations on the Android platform so that other OEMs and companies can add the languages to their interfaces, paving the way for broader use and revitalization. In support of the effort, Motorola's parent company Lenovo is exploring integration of the languages into the PCs. As a start, the Lenovo Research and Development Team in Brazil has worked to include Kaingang and Nheengaatu on Lenovo's Linux PCs from 2023 onward. 
Motorola President and Lenovo Vice President Sergio Buniac, along with Lenovo Foundation and Motorola Globalization representatives – were part of Tuesday's Paris event that brought together high-level representatives of UNESCO Member States, Indigenous leaders, the UN system, civil society national research organizations and representatives from the public and private sectors. These stakeholders were convened in Paris to discuss how to integrate and preserve indigenous languages around the world and how they could cooperate towards a more inclusive future.  
"This project gets at the core of our smarter technology for all vision," commented Charlotte West, Lenovo Executive Director of Global Corporate Communications and Lenovo Foundation Board Director who was present at the Paris event. "As a global technology leader, making the commitment and effort to ensure indigenous communities are included in our innovations honors our company's inclusive culture and respect for global diversity." 
As the project continues over the next decade, Motorola and Lenovo Foundation hope to increase awareness, bring action toward the survival of endangered languages, and empower future generations of indigenous communities to use technology in their native language. "We hope that this initiative raises awareness towards language revitalization, not only by impact the communities, but paving the way for more endangered indigenous languages to be added to other smartphones," shared Sergio Buniac. The team is looking to the future and has set sites on collaborating with UNESCO's New Delhi, India office. Together, they will develop a set of guidelines and project blueprint to share best practices for digitizing endangered indigenous languages.