Recent media attention has been drawn to issues surrounding privacy and security among security cameras, with a major vendor exposed to have glaring security flaws as well as not living up to their privacy claims. In this article I will clarify how our surveillance solutions ensure the privacy and security of your data.
Your data is 100% owned by you
Synology Surveillance Station is a video management system that supports over 8,300 IP cameras from over 140 brands, including all ONVIF-compatible IP cameras. Recording to a Synology NAS or DVA means that you have full ownership over their recording and you can retain your videos as long as you desire, given sufficient storage space. We do not upload any of your information to a server, not even mobile alert thumbnails as DS cam, our smartphone companion app for Surveillance Station, does not transmit to the cloud and gets all of its surveillance data directly and only from your Synology device.
Secure from recording to archiving

From recording to the archival process, your footage remains secure. All Surveillance Station Client, web, and mobile app connections can be routed through HTTPS to ensure data privacy and prevent tampering while network transfers from IP cameras to Surveillance Station can be protected through SRTP or HTTPS.
Folder encryption
While the recordings are on the Synology server, they can be secured behind an encryption key using Shared Folder Encryption which uses AES-256 encryption. Once a shared folder is encrypted, those without the encryption key will not be able to access or modify the encrypted data even if they remove the hard drives from your Synology NAS and mount them on another device.
Video footage (client-side) encryption
An additional layer of security is provided through recording encryption. Recording encryption protects individual videos from security breaches and data leakage. Users will need to enter the encryption key to view recordings in Monitor Center and other players. And again, if users forget their key, not even we at Synology can help you recover the footage.
All AI is processed locally
The advanced analytics that our Deep Learning NVR Series offer are 100% processed locally. No information is ever sent to the cloud, or any server.
Advanced analytics include Face Recognition, Intrusion Detection, License Plate Recognition, People and Vehicle Alerts, and People Counting.
C2 Surveillance — our secure cloud designed for surveillance videos
While Synology surveillance solutions are primarily based on local storage, we offer optional cloud access and storage through C2 Surveillance, our cloud service designed to provide an extra layer of security by simultaneously recording to the cloud. Cloud storage brings many benefits including easy access and sharing capabilities, but users should have privacy concerns whenever their files are stored on third-party servers.
We resolve these concerns with client-side video encryption. Client-side encryption is an optional feature that encrypts your footage before it leaves your Synology device. Without the encryption key, your footage cannot be viewed. It is not enabled by default because of the inherent risk of zero-knowledge encryption: if you lose their private key, your surveillance footage is lost forever — not even Synology can recover it.
Additionally, no analytics are run on your footage by C2 Surveillance, it is purely a secure storage, access, and sharing solution.
Introducing BC500 and TC500 AI Cameras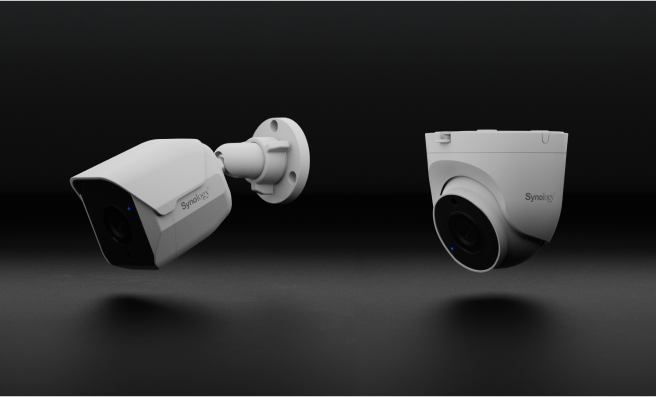 In order to provide a complete surveillance solution inline with the Synology standards that our customers are familiar with, we are launching our own line of IP cameras with built-in AI capabilities, the first of which are the BC500 and TC500 series.
Synology cameras are designed to pair with Surveillance Station to provide unparalleled ease-of-use with quick and easy setup, batch configuration, and seamless firmware updates. They feature camera-based AI that enhance Surveillance Station deployments with smart capabilities—bringing some AI analytics features without requiring a Deep Learning NVR unit. Security is also at the forefront of their design, with SRTP support and NDAA and TAA compliance. Keep an eye out for more information regarding these exciting products as the release date draws closer.