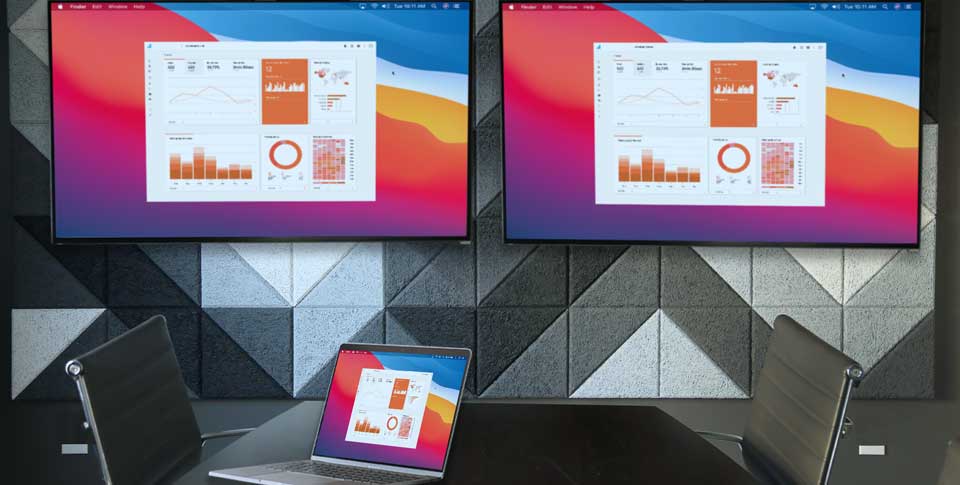 This guide shows you how to wirelessly mirror your Mac to multiple Apple TVs at the same time.
It's possible to send Mac audio to multiple AirPlay 2-compatible devices such as Apple TV or HomePod. However, you can't use the native, built-in AirPlay on your Mac to mirror your macOS computer screen to two or more Apple TVs simultaneously.
Fortunately, there is a way to do this.
The best AirPlay alternative is Ditto, which allows you to screen mirror your Mac to two or more Apple TVs at once. This is a great way to quickly share content to every screen in your space for ideal viewing during meetings, classes, presentations and more. With Ditto, you can wirelessly screen mirror all your favorite Mac devices, like the MacBook Pro, MacBook Air, iMac, Mac Mini and Mac Pro.
If you're searching for a way to AirPlay to multiple screens, you'll find a great alternative to accomplish your goals here. 
Want to become a screen mirroring expert? Read The Ultimate Screen Mirroring Guide.
How to use Ditto to screen mirror your Mac to multiple Apple TVs
A brief setup is required before you can begin. This should take about 10 minutes. First, you need to create a Ditto account (30-day free trial available).  
 
Then, set up Ditto on every Apple TV you want to mirror your Mac to. Learn how to set up Ditto here. This won't take long. You'll add each Apple TV as a receiver in the Ditto account portal, then group them together as part of the same "Ditto room." Follow the step-by-step instructions. 
 
Now you're ready to mirror your Mac to all your Apple TVs. Ditto is compatible with popular macOS versions, including Big Sur, Catalina, Mojave and High Sierra.
Step 1
Open the Ditto Connect application on your Mac. If you do not already have the app, you can download it here (it's free). Allow permissions for the app if prompted.
Step 2
Make sure the Ditto Receiver application is open on your Apple TVs. 
Step 3
Enter the room code displayed on your Apple TV into the Ditto Connect application on your Mac and click "Connect." 
Step 4
Click "Start Sharing."
Step 5
Your Mac will automatically mirror to every Ditto-enabled Apple TV.
Pro Tip:
To mirror a specific application and keep the rest of your desktop hidden, click "Specific Application" in the Ditto Connect window. Choose an open application from the list, then click "Start Sharing." The application must not be minimized.
Want to mirror your Mac to a Windows receiver instead? Simply set up Ditto on your wireless Windows receivers and follow the steps above.
With Ditto, you can also share iPhone, iPad, Chromebook, Windows PCs and Android devices. Try Ditto today. 
Related Reading