In India, if a village manages to bridge the digital divide and the school-going children become computer savvy, it is bound to draw attention.
This is just what has happened in the remote village of Boru in Gujarat's Gandhinagar district. The local Public School managed to bridge the digital divide between the urban and rural communities by sourcing tablets from Lenovo and ushering in the information technology revolution.
Boru is an unassuming village with a population of a little over 5,000 people. Despite the village's relative obscurity, it was not spared from the COVID-19 pandemic, and the Public School was forced to shut down as the country went into a complete lockdown.
This school is the only school in town that underprivileged children relied on for good English education and a promising future. The pandemic and the resultant shutdown put an end to that. Most students who were from low-income families did not have access to any device or laptop to learn from home and thus their education was severely affected, highlighting the digital divide that exists between the privileged and the disenfranchised. The pandemic only widened the digital divide further: Data shows that rural broadband penetration is only 29 percent against the national average of 51 percent.
The school had to do something as children were missing out on their studies due to the unavailability of devices and lack of Internet connectivity, and so the administration launched a campaign where 144 students from classes 5 to 8 were provided with Lenovo's cost-effective M7 second-generation tablets with 2GB RAM, and sim cards that allowed them1.5GB of data daily.
The results were magical. With almost 100% attendance, the students got back to studying online and did not face a learning gap. Moreover, there were no dropouts.
The school wanted to ensure that the students did not misuse the tablets and reached out to Lenovo for support. The Lenovo tablet team advised the school on the use of educational solutions to make sure that the devices were used only for educational purposes. They deployed the Lenovo ThinkUEM software that allowed for constant monitoring and a check on the content being viewed. The Geofence feature of the program ensured the students were within the defined parameters set by the school.  Additional features such as the online status and screen mirroring of the devices allowed teachers to monitor the real-time activity and helped in the quick resolution of any issues.
Another example, where we are bringing in our smarter technology to solve for digital divide is with one of our largest customers 'Nanhi Kali' who have been using the Lenovo M7 Tabs for education. Nanhi Kali, a project jointly managed by K.C. Mahindra Education Trust and Naandi Foundation, has been empowering underprivileged girls across India since 1996. Nanhi Kali provides girls with daily afterschool academic support, through centres that operate within government schools. The girls receive access to personalized, adaptive learning software pre-loaded on digital tablets sourced from Lenovo. At present, over 180,000 girls from disadvantaged families have access to Lenovo tablets through this project.
In recent years, the digital divide has attracted much debate, especially in the wake of the pandemic. In India it creates exclusion, endangers social integration, and hampers economic growth for around 360 million students in the country.
However, the intervention of Lenovo technology directly addresses the gap between the digital haves and have-nots, and information technology reaches the doorsteps of even the remotest villages—like Boru. Initiatives such as the CSR partnerships between Lenovo and the NGO Meghshala Trust have resulted in over 5,000 teachers getting trained in 2,300 schools in Karnataka and Manipur. This partnership has assisted more than 210,000 students and 7,000 teachers across India from 2020-2021.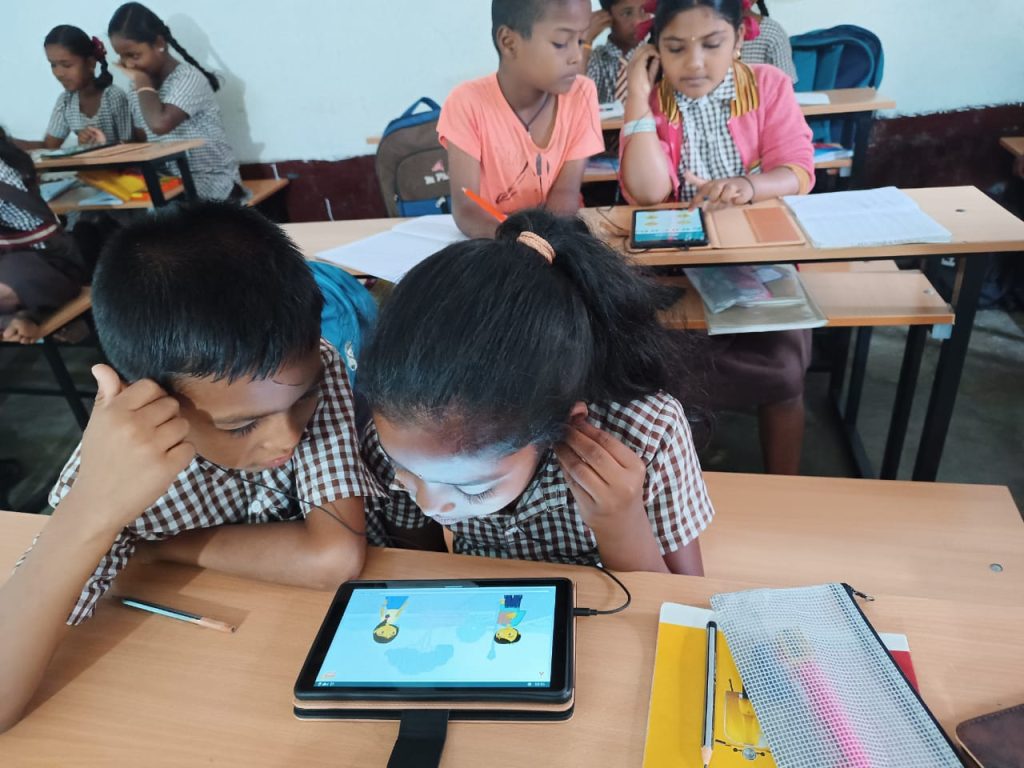 Despite the setbacks due to COVID-19, teachers and educators have innovated at an accelerated pace to provide students and families with educational continuity. Through Lenovo corporate philanthropy, the partnership with Yuva Unstoppable, a not-for-profit working on setting up school infrastructure, resulted in a tablet-based learning and lending initiative, with 2,590 Make in India tablets to 79 government girls' schools in Gujarat in 2021.
Lenovo's partnership with Agastya International Foundation also supports STEM education with mobile science labs in government schools in Bangalore, Delhi, and Mumbai, reaching 8,400 children, and has also created a unique STEM model known as Lab-on-Tab.
By leveraging technology with educators, NGOs, and other stakeholders, Lenovo is helping reinvent learning by adopting a more student-centric approach, providing access to technology to the population that needs it the most. Even local, targeted donations and support can be hugely impactful.. It helped build access to technology in rural areas.
This underlines Lenovo's belief in providing Smarter Technology for All by empowering under-represented communities with access to technology and STEM education.