At Lenovo, as we move further into Intelligence Transformation by creating smarter and more predictive devices, we're also applying technologies like AI, Blockchain and more to transform our business. From supply chain to customer service to functions like product development, legal and marketing, we're using AI-based algorithms to help us serve customers better. No matter what business you're in, AI can open a new way to become more customer-centric.
Here's a look from some of our leaders at how AI is helping us across the board:
Q. What are we doing in supply chain to deliver products faster?
A. (Art Hu, CIO) We're using machine learning to develop predictive and demand forecasting models largely in our PC business. It helps us manage these very complex scenarios where we have lots of structured and unstructured data – think things like sales orders, marketing and promotions, weather, seasonality, new product launches, social media and the list goes on. The beauty of machine learning models is that they improve over time, and we're already seeing them improve our forecasting accuracy by 10%. We're also using it to forecast demand for components used in our products, which helps us consolidate orders and drive efficiency. We also use simulations to better, more accurately manage our inventory. When we manage our supply chain more accurately and effectively, it lets us get the right product to the customer as quickly as possible.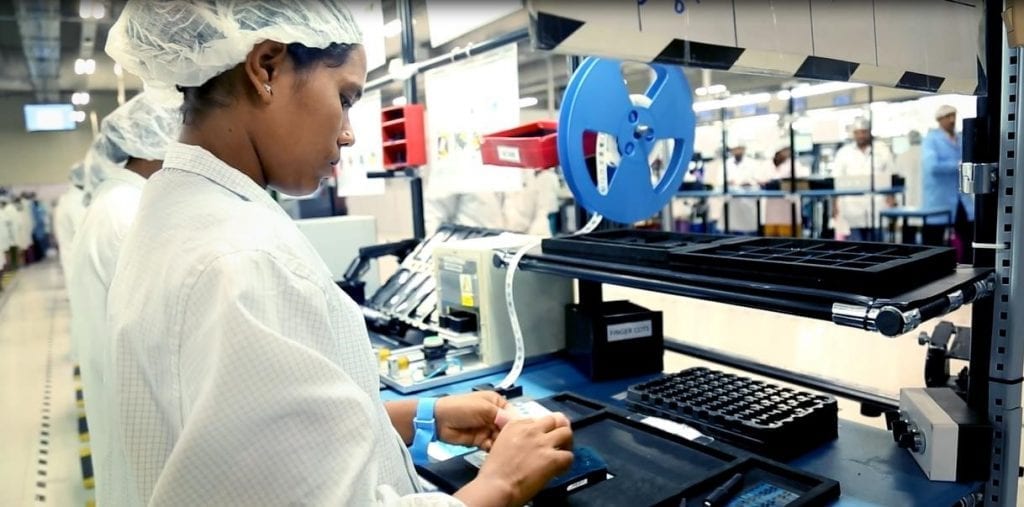 Q. How do we see AI show up in customer service?
A. (Art Hu, CIO) We're using AI to transform customer service with chatbots and virtual assistants, and it's comprising a growing part of our support volume. Natural language processing across multiple languages and knowledge graph building is helping improve customer satisfaction and increase our own efficiency. For Moto alone, are using AI in customer service support calls and solving them with a high degree of accuracy.
Robbie, our IT robot was rolled out internally to Lenovo employees to provide IT service. Robbie is powered by an AI engine, supporting English and Chinese, and it allows highly engaging, conversational experiences through text messages. We've customized the language and scenarios and rolled it out to HR and Administrative services, and we plan to launch Robbie in mobile devices with speech recognition.
We are also using Analytics to identify the root cause behind Repeat Repairs – by using analytics we hope to diagnose the core issue so we fix it right the first time. These two programs are fundamental to serving customers better.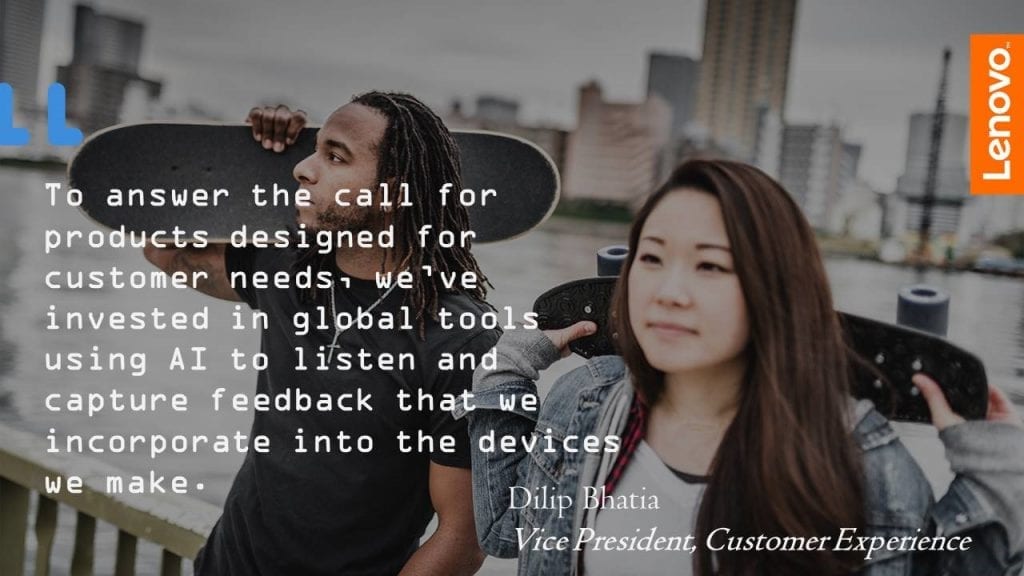 Q. How is AI helping us know the customer better?
A. (Dilip Bhatia, Vice President, Customer Experience) Customers tell us they care most about: high quality products, easy/fast problem resolution, quick product delivery time with good delivery communication, and high quality account management (for commercial customers). That's why we're focused on each step of the customer journey. To answer the call for products designed for customer needs, we've invested in global tools using AI to listen and capture feedback that we incorporate into the devices we make. We get feedback comes from 'advisory panels' of 10 to 20 people, and we combine that with the millions of real time data points from our 'customer insights dashboard' and our 370,000 CX surveys collected and analyzed with AI. Feedback has led us to create #LenovoServiceLive in India on Facebook, Twitter, Instagram, Snapchat and on our own LenCare App. It asks customers to share feedback on any PC issues with us. The "Super Response Time" program ensures you get helped within 30 minutes across all channels.
A. (Brian King, Vice President, Global Analytics and Operations) Artificial Intelligence helps our PC business succeed at every level. For example, we're using machine learning and advanced analytics to improve decision making. Today, "Building Blocks" are a common challenge – it's a term we use to describe the disparate pieces that come together to form a device. We're developing algorithms to predict which building blocks will be in market at the time of product launches. This lets us reduce the number of building blocks, making the development process less complex, and it creates a cycle of efficiency, from reducing cost for components to more easily servicing products.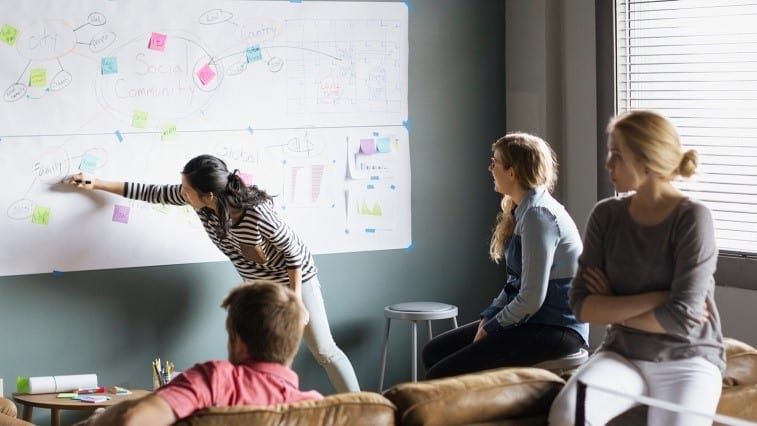 Q. How is AI being used in Human Resources to attract more diverse candidates?
A. (Yolanda Conyers, Vice President and Chief Diversity Officer) We're currently piloting an AI tool to analyze job descriptions and suggest changes to help us appeal to female candidates. The tools helps provide a gender-neutral job title and description, a more simple understanding of the core competencies of technical positions, plus the information on day-to-day activities and compensation.
For example the tool would identify 'strong personality' as a more masculine word and suggest changing it to 'trusted partner'. As a result, the tool can identify 23% more applications from women, a 25% increase of candidates qualified enough to interview, and it creates applications that are 17% faster to complete. A study for the American Psychology Association reveals that when job advertisements were constructed to include more masculine wording, the number of women applicants were very low.
Masculine worded descriptions subliminally tell women that they are not qualified for the job nor would they fit the company culture.
A. (Torod Neptune, Vice President, Global Communications) We're using AI-based tools to measure the impact of our communications efforts around the world. Having this intelligence helps us understand what type of stories resonate with our key audiences and which ones are actually moving the needle to help us build the brand. Having this insight will help us better decide which work to do, how to do it and help us know ahead of time the expected results of the effort. In short, it helps us operate much smarter than before.